Pesto is a typical sauce originated in the region of Liguria (its capital is Genoa, hence it is known as Genoese pesto) in Italy. Its main ingredient is Basil. Usually they also grind pine nuts and garlic, all with a little olive oil and Parmesan cheese.
There is also a Sicilian red pesto, which I promise to bring you in another express recipe soon. It is a variety that includes among other ingredients, the tomato that gives it a red color.
It has many versions, but the real is made with pine nuts and Parmesan cheese. Once completed, a sauce thick and very powerful flavor and aroma... that makes magic. A single teaspoon of this sauce will make irresistible about tomatoes and even a lettuce no more. Of course be accompanied by wonder all kinds of pasta, and why not?, a pizza with Genovese pesto will surprise you pleasantly.
At home we eat the leftover pesto just with bread and we love it. Here is my version of this lovely sauce. You can change the amount of ingredients according to your taste, but I love it as showed here.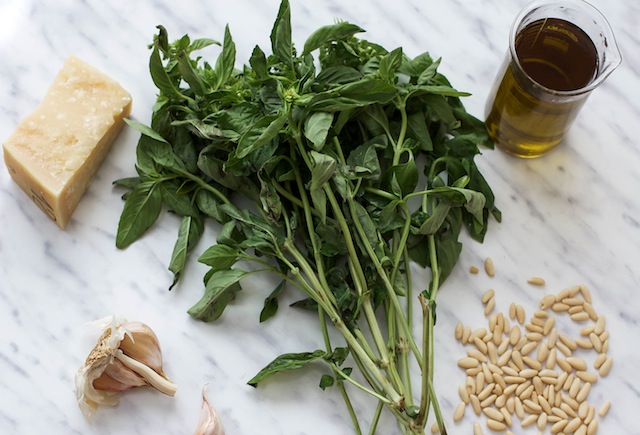 Ingredients
80 g Parmesan reggiano ground cheese €1.78
60 g of pine nuts €2.25
1 large bunch of Basil €1,50
100 ml extra virgin olive oil €0.30
2 cloves of garlic [€0.15
Total €5.98. Bearing in mind that with these quantities, you'll have to garnish pasta for about 12 people, we're talking about €0,50 per person, which is not much compared with the power of taste and aroma that you will obtain from this sauce
Directions
1. In a mortar crush garlic and pine nuts.
2. Once you get a paste start adding basil leaves gradually working mixture with the pestle to incorporate all the Basil. You can also do this with a cooking robot.
3 Then begin to add the oil to get a paste.
4. At this point add the grated Parmesan and end up working well so dough is homogeneous. As explained you can do it with the help of a cooking robot but the texture of the sauce will not be as authentic.
Tips and Tricks
Prepare and store it in the refrigerator up to 3 weeks
Replaced pine nuts with walnuts or almonds
Freeze it in an ice cube container and defrost pesto cubes as you are going to need them. Each cube equals one serving of sauce
Add a chilli to give a touch of spice
Add a bit of grated pecorino cheese if you prefer a stronger cheese flavor
If you like my posts and my recipes, remember suscribring to the blog and following me on social networks. Thanks!