I love this garlic bread and cheese that I prepare whenever I have friends at home. you know the amateur I am evenings of football with friends, and the week in which there is a match, a final or something that is the perfect excuse to meet arriving this time is rare.
This bread has become a fixed our evenings of football because I can prepare it in advance and served with a table of cheeses and cured meats solved me much of snacking. In the intermediate we took a table of cheeses with sausages accompanied by this cheese, which I give a space heater in the oven at the last moment to be as freshly brewed, and all do me the wave at home.
Others are eager to have fun, and there is always who brings a wine, a beer or a sweet to finish the pecking. The last time Carlos brought a wine that is over immediately. is from Bodegas Verum, a few wineries in Tomelloso which had visited a few weeks earlier, and acknowledge that he did not know. A wine that is easy going went well with everything what was on the table and be ended immediately.
My mnarido loves this bread with serrano ham and my son with tomato. It is a bread that NIPs that eats very easy and there is no cut, because the way to form it allows power cost him pulling just eats.
A different bread, that has most work and that will be great at home.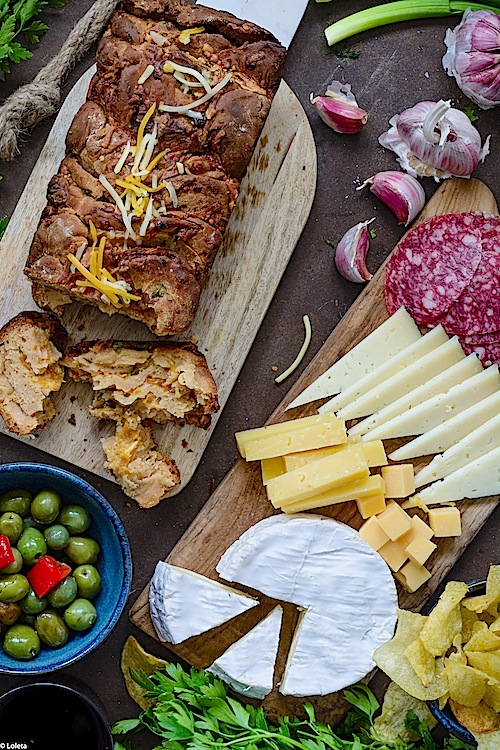 Ingredients
For dough
250 ml lukewarm milk
57 g of soft butter
3 tablespoons sugar
2 teaspoons salt
2 eggs
2 teaspoons dried Baker's yeast
570 g of flour strength
When we go to baking
3 tablespoons soft butter
1 tablespoon and a half of chopped parsley
2 tablespoons chopped garlic
80 g grated Parmesan
2 tablespoons of grated cheese (mozzarella and cheddar or your favorite melting cheese mix)
Directions
1. heat the milk so that it is warm (I do it in the micro). Add the butter and let it melt. Add sugar and salt and let it to temple. Add eggs and beat.
2. in a bowl, sift the flour and the yeast. Make a hole in the Center and add the mixture and knead until a smooth dough. I first mix with a spoon and then with your hands.
4. when well-mixed knead until dough not sticking to your hands. Put the dough in a buttered Bowl and cover with a cloth (I already know that I use my shower CAP) let in a linking draught-free for a couple of hours until it has doubled its volume (because you know I leave it in the oven because there nobody touches it and is protected). You can also let stand covered overnight in the fridge which will give even more flavor to the mass.
5. now we will make the cream which will allow us to spread our bread. With the help of a spoon or a few rods, beat the butter with chopped parsley, and garlic. Book.
6. on a well-floured surface, dough sheeters to a 20 x 30 cm rectangle approximately. Spread with the butter mixture evenly, then sprinkle with the Parmesan cheese and the grated cheese.
7. cover the pan with paper of baking so that it is not small. Cut squares of dough and put them side by side until filled mold completely. Cover with a damp cloth and allow to stand between 45 minutes and an hour. The dough should nearly double again.
8 after the first 30 minutes, preheat the oven to 175 ° C.
9. once the dough has risen again, sprinkle cheese on top, then bake, discovered, about 60 minutes extra, or until the cheese is well browned on top and the bread is cooked (if it is roasted too much, cover with foil to avoid that you Golden in excess) let cool a few minutes before removing from pan. Serve hot with cheeses and cold meats.
Tips and Tricks
The bread goes great with a good red wine like the one Carlos brought and I've already told him he has to bring back
You can flavour the bread with your favorite herb: Basil, Rosemary...
Preparation time: 3 hours
Difficulty: easy
Servings: 8