In this recipe for super quick and easy homemade pizza almost without kneading dough you'll discover that you don't have to be pizza or have a wood-burning oven to have the best pizza at home.
There are three things to consider to achieve a good homemade pizza: dough that I like that it is easy to do to be able to make it at any time. You do not knead almost, rather than to unite all the ingredients and what we will do will be to leave it resting between an hour and two hours and this will make our dough to air out and becomes soft.
If to join the ingredients you see missing a little water add them very slowly to not spend. Also you can knead it with the help of a food processor and then it is super easy.
The tomato, which is simply crushed tomatoes. Does not need to be tomato sauce which gives it a natural touch that I like a lot and also much descomplica the preparation of pizza. You can grate the tomato once we have removed the skin and seeds, but it is much easier to use crushed tomatoes of good quality.
Finally, the theme of the oven is also crucial. As at home do not have wood-fired oven, you have to use a high oven temperature. We will put the oven at 300 degrees then cooking the pizza to 240-250 for few minutes. Thus it takes a color and texture similar to a wood-fired oven (although it will never be the same).
Anyway, I hope you like my quick pizza dough. Another day I will bring you the of Neapolitan pizza dough, but that has more preparation and above all requires more time, which is what we often lack. for those times where you want to take a rich homemade pizza without having to wait a day or two, you have that you will love. I leave the video so you can see how easy that is.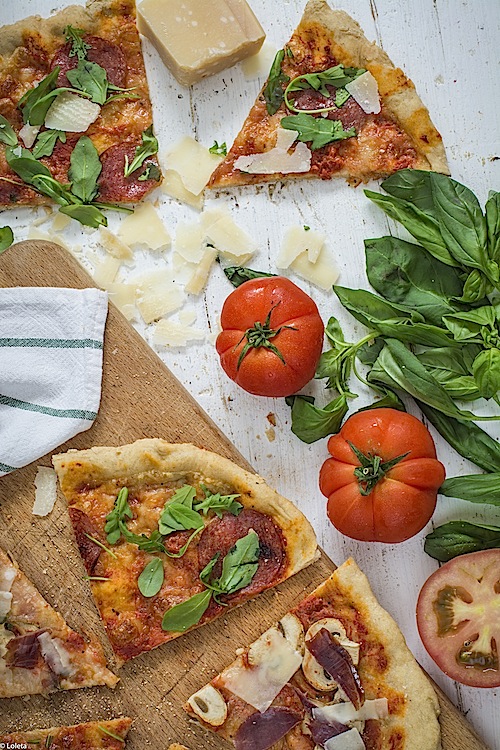 Ingredients
200 ml warm water
50 ml extra virgin olive oil
400 g of flour strength
7 g of dried baker's yeast or 21 g of fresh baker's yeast
2 teaspoons salt
200 g of tomato paste
2 balls of fresh mozzarella
a few fresh basil leaves
your favorite ingredients
a handful of semolina or semolina flour
Directions
1 in a bowl mix water and oil and heat for 30-40 seconds in the microwave. Mix the envelope of yeast and mix well. We reserve.
2. in a large bowl mix the flour with the salt. We form a volcano in the Center and add the mixture of liquids. With the help of a spoon mix to incorporate well. Mix by hand until there is loose flour and then spend the dough to the countertop. We knead 1 minute.
3 we have a ball with the dough and leave it in the bowl that we rubbed a few drops of oil. Cover and let rest between an hour and half to two hours. If necessary we can use it before. But then the texture will vary the flavor will continue to be good
4 we preheat the oven to 300 degrees.
5. on the top put a piunado of groats and other meal and deal well the surface of refractory is on which we are going to form the pizza. We put gum a portion of dough with care not to touch it with your hands muchjo. Care co extend the dough to form USA circle.
6 put two tablespoons of crushed take. A few pieces of cow mozzarella and fresh basil leaves.
7 we bake 250 degrees 7 minutes on the bottom of the oven and then 4 minutes more on a plate of oven placed at medium altitude.
Tips and Tricks
You can also use whole wheat flour if you prefer though the masses with wholemeal flour not as much as the normal flour levan
Use your favorite ingredients and remember that a pizza we can put all
Preparation time: 5 minutes more time of rising
Difficulty: easy
Servings: 3 large pizzas