Today I bring you the home easier pie dough, a few empanadas stuffed with tuna and eggs that are a fixed on those afternoons of beach which are already so close.
The truth is that it is my dough pie home is the easiest and also a wild-card recipe serving it to a barbecue, a day at the beach, or a quick dinner.
And Yes, already is that make pie with precooked dough is very comfortable, but is not equal to eating a pie dough pie that breeze with mass or precooked pasta for more comfortable to be with.
This mass is also super fast because you don't need rest and knead almost as one: with the help of a robot of kitchen or some dumbbells in a hand mixer, you will get the perfect texture. Then you stretch and list. You can also save it a couple of days in the fridge before using and even freeze it wrapped in paper of baking, as those sold rolled, but it will be your homemade pie dough.
This mass can fill it what you like, and then if that simplify because there are brands that make you very easy without having to give up the best quality life. And is that instead of making a homemade Ratatouille, or a FRY tomatoes and peppers, to my I love to use the piperade canned Gvtarra, a family business of canned vegetables from premium quality of la Ribera del Ebro (Navarra and La Rioja) which carry more than one century sold in glass jars a marvel of vegetables and to start a collaboration with which I am delighted.
They make their fry with a mixture of tomato, pepper, onion and garlic, seasoned with salt, oil, and a touch of sugar which I love and which has so much flavor that no one would know that it is canned. Also has very few calories because it is natural and is so easy: open and use.
Finally let me know your pie and I want those photos please!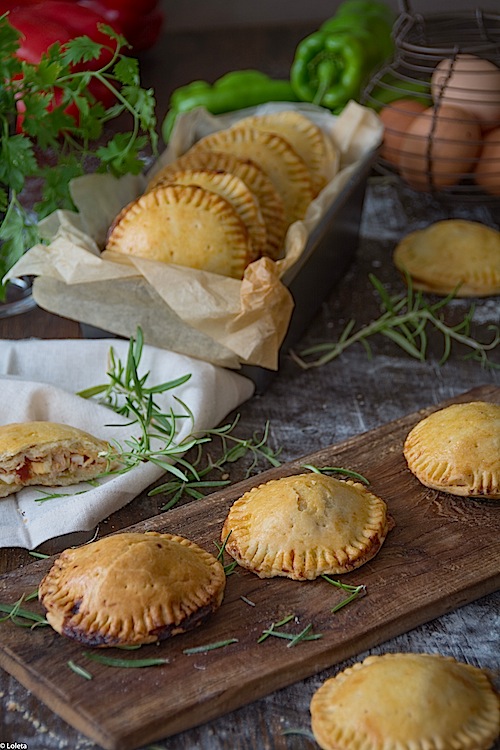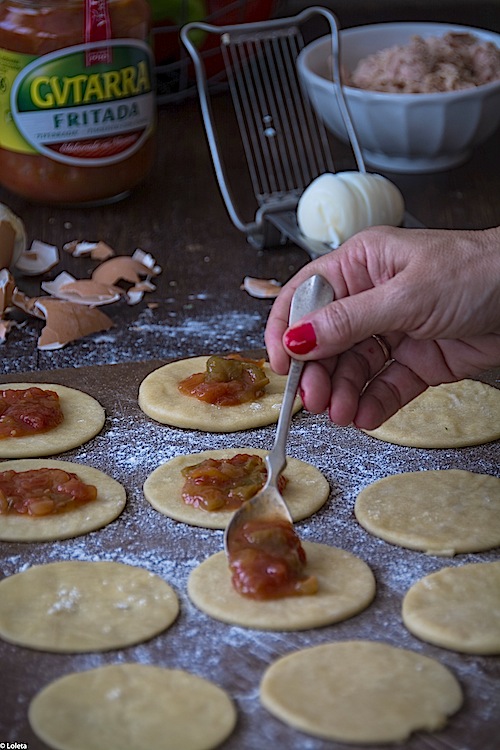 Ingredients
45 g of water
50 g extra virgin olive oil
70 g white wine
100 g of lard
1 egg
35 g of fresh yeast bakery
500 g of flour strength
1 teaspoon salt
1 egg to paint
2 hard-cooked eggs
1 jar of piperade or FRY Gvtarra
3 cans of tuna in olive oil
Directions
Preheat oven to 200 º C
In a glass tempering water. Crumble the yeast in it and book.
In a large bowl put the white wine, oil and lard and heat 20 seconds into the MIC. Add the salt, flour, egg and water with yeast and mix until a smooth and soft dough. We can do it in the thermomix, in a hand with attachment of kneading mixera electric mixer with dough mixer or with the hands
When we have an elastic mass and even divide the dough into two parts and roll stretch them on a paper of baking.
I wanted to make these individual pies that I love to take to the beach and barbecues (because they are easier to have that cut a big, but if you prefer you can make a large). To do this, once stretched the dough, and with the help of a cutter, cut circles of the same size.
On one of the circles of dough, put a spoonful of FRY or piperade, over a wheel of boiled egg and ended up with a little tuna. Cover with another circle of dough and using a fork, close the contour of the pie. Repeat with all the circles of dough and we will knead and stretch the remains of the first batch until all the dough.
When they are ready, we painted them with beaten egg and make a few holes in the dough so it can breathe and do well on the inside. I used a fork. We hornearemos to 200 degrees for 20-25 minutes until patties are dioradas.
Tips and Tricks
For a version vegan uses your favorite vegetables of Gvtarra and replaced the butter with margarine
Frozen pies before baking and defrost them when you go to take them. they will be as freshly made
Preparation time: 45 minutes
Difficulty: easy
Servings: 10