"I have not the strength to give up"
Finally here's the day, Thanksgiving. It is the Big Day family in U.S. and Canada. Since its origin, it has been held on different days of February and October, but in 1941, President Roosevelt set the Thanksgiving on the last Thursday of November in Autumn, and since then the day has not moved
Thanksgiving day emerges as Christian tradition to celebrate the end of the harvest. The first time was in Plymonth in 1623. It was a dinner of brotherhood between native Indians and Christian immigrants thanking the good harvest after a hard time.
In 1777 it was finally declared as national holiday. In almost five centuries of history, it has become the most important day where Americans give thanks to God for all his blessings and mercies year, But above all, it has become the Famioly Day most important through the year
For them, it is even more significant than Christmas day. In United States the distances are huge, but in Thanksgiving, they all travel thousands of kilometers to be together in Thabksgiving. The family meets around a table, and normally begins with a prayer of thanks. The main dish is the roast turkey traditionally served by a cranberry sauce Besides vegetables, sweet potato and gravy sauce is added. Walnuts Pecans cake dessert, but the most popular dessert may be the pumpkin pie. They enjoy it as we do with on Christmas Eve.
The following day is the Black Friday or Black Friday in which begins Christmas shopping season with big discounts and rebates in some States. Among others, Apple has become so fashionable in the rest of the world.
My friend Cris is to blame for us celebrating Friendsgiving. She always prepares a delicious dinner for Thanksgiving, to continue this beautiful tradition she celebrated when living in the USA. She prepares a great Thanksgiving dinnerand she showed me these receipes that I bring to you today. ...They can go perfectlñy with our Christmas Eve or Christmas lunch so I hope you like them and maybe prepare a little of everything. So this from Thanksgiving to Navidad postsmay help you plan your beautiful lunch and dinner this Christmas.
In both Thanksgivings dinner and Christmas Eve dinner, we need time in advance to organize and prepare our meal, since otherwise there would be no way to prepare so much food with so many oven hours unless you have 2 or 3 at homeThe week before we shpuld order the turkey and those less common vegetables (e.g. Sage, which in many places is not yet easy to find).
A few days before you have to choose the tablecloth, glassware and linens, so that the day of the event we do not waste time in making the choices. Also thinking about the decoration with time is always nice. They don't have to be flowers, or not only flowers. We must use our imagination. I chose to decorate with candles and nuts: walnuts, chestnuts, corn cob, pumpkins... which give a beautiful autumn and warm air to the table.
In our case we were a lot, so I decided to set a dinner buffet so that each one can help himself to his favorites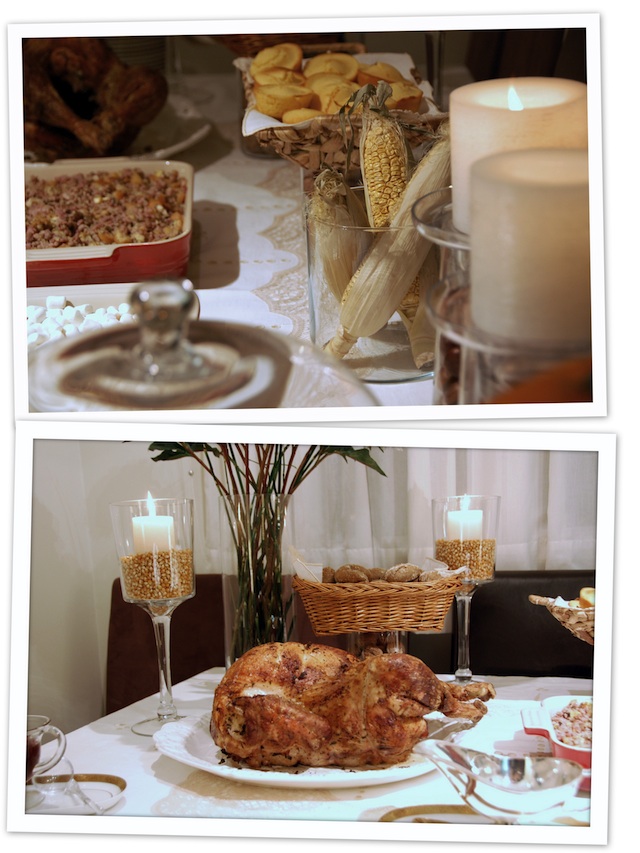 The Roast turkey It is the main dish around which Thanksgiving dinner goes. Turkeys are around 10 to 11 kilos, but Spanish turkeys are between 5 and 7 kilos. When cooking them there are many different options: boneless, with the bones, stuffed,...
In my case I prepared a six kilos turkey stuffed with vegetables that I served with gravy sauce. I hope you enjoy it. What I can assure of this recipe is that the Turkey was so juicy that there are almost no leftovers.
My son It had long been asking me to do a whole with potatoes and tomatoes, Roasted Turkey as that show the cartoon and moviesso that better occasion than, autumn, Thanksgiving day and the secrets of the Cris recipe: ingredients and roasting times, and how not?, left most tender and perfect. It is a recipe for a spectacular dish that will please everyone, so encourage them for one more special occasion... do you dare to make this recipe for Christmas?

Level of difficulty: difficult
Preparation time: 3 2 hours (and the day before)
Servings: 12
Ingredients
a Turkey of six kilos you shouldl consider 1/2 kilo per person, but if you serve other dishes then 350 g will make it) They say that the female turkey is more tender than the male turkey. €26,00
1 orange 0,15 €
2 glasses of wine, preferably oloroso, but you can use red wine if cannot find oloroso€1.13
2 glasses of brandy (cognac) €1.11
2 pouches Chicken Broth Concentrate €0.07
2 onions €0.40
1 stick of celery €0,75
4 carrots €0.18
2 tablespoons mixed herbs: thyme, Rosemary, oregano, black pepper, mint, Basil €0.55
200 g goose lard (if you cannot find it you can use butter) €0.99
a handful of coarse salt €0.05
a bunch of fresh Sage or any other herb if you cannot find sage €1.20
two apples €0.35
thread for tiding the turkey €0,05
1 glass of water €0.01
Total for 12 people (and you will have some leftovers hopefully!) €31,38, per person are €2.62. Delicious, Christmas and very economical for large quantities.
Equipment
a baking tray
a grate furnace
fridge
syringe
a cooking thermometer
various utensils: bloes, tables, cutlery, etc.
Pairing
Recently I enjoyed a tasting in the Bodega Vetas arriate (Serranía de Ronda, Málaga), one word sums it up: incredible. They are storage, that they hold very well in bottle, little production (just one hectare) of farming and craftsmanship in French oak barrels. Monoparietal-grape Petit Verdot 100%, the Red Gran Reserva 2004 It is impressive and convincing. Very suitable for a gastronomic session well sitting like this. It is powerful and subtle flavored wood at the end. They have nothing to envy some wines from the Sierra de Malaga like this, the big one of best-known appellations of origin. Its price, €41,66
Directions
1. tThe day before baking it, we need to marinate the turkey . In a large bowl we place onions celery and carrots all sliced. PlaceTurkey over vegetables, add orange juice, a glass of wine and a half glass of water.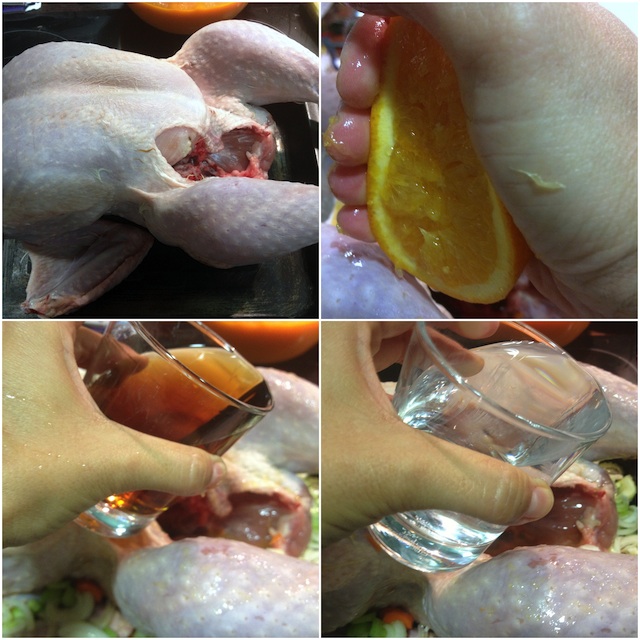 2. Add herbs sprinkling them over the turkey. With the help of a syringe inject brandy into turkey.. Let stand overnight in the refrigerator, preferably covered with film.
3. Next day drain Turkey and set aside vegetables.
4. Preheat the oven to 200ºc.
5 Make a mixture with goose lard, a handful of coarse salt and the chopped Sage and massage the entire Turkey (up and down).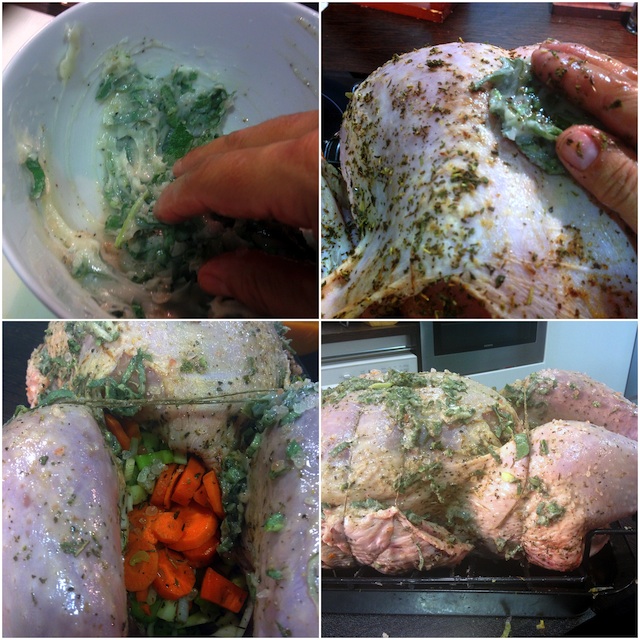 6. Peel two apples. mix with the set aside vegetables from the marinara and stuff turkey with them
7. With the help of string, tie turkey so that the legs are together and body tightened
8 Set turkey on a rack inside a baking tray with half a glass of water, half a glass of wine and half a glass of brandy.
9 Bake half an hour at 200 degrees. Water with the rest of wine, brandy and water every now and then baking for 2 hours and 15 minutes over 150 ºC
10. After this time insert a thermometer into the turkey breast. It should be about 160 °. If it is below this, then turn turkey to oven and roast for another 15 minutes until temperature is reached.
11. When turkey is ready, remove from oven and let it stand for at least two hours before serving.
12. Remove vegetables from inside and set aside for the sauce Gravy. Keep also all the juices.
13. Place turkey on serving plate. You can serve it sliced or in one piece but it is much more beautiful swerve without slicing it. Enjoy!.
But don't forget to make some of these sauces... or both!
The sidesauces:
There are two sauces that can not miss with Thanksgiving Roast Turkey, and those are the Gravy and cranberry sauce. You'll love them.
It is very simple and tasty. It is ideal for those who love mixing savory and sweet flavors, and essential accompaniment to Turkey.
Ingredients
250 g of blueberries red dry. You can use fresh blueberries,. €3,20
Juice of 2 oranges €0.30
2 tablespoons sugar €0.15
50 ml of water €0.01
In total are €3.66 to be divided between twelve portions it comes to €0.30 per portion
Directions
1. in a saucepan put to boil cranberries with orange juice, water and sugar over high heat
2. When it starts to boil, lower the heat and cook over low heat until the sauce has thickened and is a kind of light jam.
This sauce is a must when preparing a Thanksgiving dinner. There is never enough and people loves it with turkey but also with leftover vegetables. Yummy!
Ingredients
The vegetables used to stuff the turkey
Juices releasedwhen roasting the turkey
1 teaspoon type Bovril beef concentrate €0.04
1 pouche Chicken Broth Concentrate and a spoon of bovril €0.04
Since the ingredients are from the turkey no extra cost is added
Directions
1 Place vegetables in a blender together with juices.
2 Blend them iuntil cream texture
3. Add the spoonful of bovril and the Chicken Broth Concentrate and heat sauce. If it is too thick, add a little water. Serve very hot.
This sauce is great with all potatoe versions: mashed, roasted, cooked...
– You can follow the day-to-day of the blog on social networks: Facebook, Twitter, Pinterest, Flickr or Instagram
-Also you can subscribe to receive updates in your email HERE.
And finally. I leave the link here for the next Course Indian and Vietnamese cuisine (latter already complete) in Inossidable; and the next Loleta Tarts Workshop in Cuco Events (Saturday 24 at 10:30), if you want come and share with me how to make the cakes so wonderful that you put in the album Sweet Dreams. I hope, you'll like... thank you for all!.