"The talent is something attributed to the open, never to the obtuse minds"
One of my essentials when passing through London is Portobello, in Notting Hill. I don't know that it has, but I always find anything new that catches my attention. Contradiction is a curious, it is a market of antiques, but articles and the latest trends are, I suppose that the proliferation of shops, stalls and related businesses completed the offer in the area, above all, the rest of the week. Perhaps Portobello reflects that classic spirit and innovative London flashing.
As almost everyone you know, along the Portobello Road and its adjacent streets, Saturday formed a constant bustle of outsiders and some Londoners seeking antiques street market, offering and the picturesque style the essence of "british" contemporary culture. The area is eminently tourist, but not for this reason, continues to be one of my favorite visits from the more traditional "London". I like their homes, low and colorful English patios, vintage air, its shops filled with souvenirs, trinkets, souvenirs, antiques, its auctions, and its dining venues. Even recognizing the touristic character of the market, attractive is I really in every way.
I know that many have the place rather than visited, but the ability to reinvent itself the capital of the United Kingdom is shown in a walk along this street. I propose that I join and wondeful by a brief itinerary to discover you a couple of sites. To those who know him will be the nostalgic touch of the memory of the trip, and no, I think that will provide you an attractive view to include it on your next visit to London.
Let's go to Notting Hill Gate underground station (Central, Circle & District Line), go out and take front Pembridge Roadright on the first street on the left, with Kensington Park Road intersection. Returning to Pembridge Road, we agree one hundred meters later to Portobello Road, here there is no loss, go straight on till the end of the street. Colorful buildings of low height, the local flashy located at street, and the striking positions, make promenade a delight. It must not be hurry, to savor it, go with at least two hours ahead, there are a thousand and one objects that will call you the attention and will surprise you. My recommendation is that you complete the tour of back and forth along Portobello Road, and down, get to make a couple of stops
Among the streets Westbourne Grove and Lonslade Road (just right) are two sites that I want to talk about. To have a snack or make a quick stop to eat, your "lunchtime" don't miss the fabulous sandwiches of Gail's Artisan Bakery (corner of Lonslade, 138 Portobello Road) of different types of bread are freshly made, with combinations of fresh and natural ingredients. The atmosphere is urban, warm and friendly and the price is quite affordable. Keep in mind that on Friday and Saturday is full of people at noon. Do not ask here for dessert, book for the following...
The Hummingbird Bakery located at number 133 from Portobello Road. It will not disappoint. It belongs to a chain of bakeries, which has five stores in London. Opened in 2004, but I discovered it on one of my visits, when I decided to meet my usual walk by the Portobello flea market. While I penetrated into the heart of the shops and premises, walking among souvenirs and trinkets, flooded completely by the environment to worn vinyl, I found surprise with the new pastry: huh? Is Hummingbird!... the book...
In a previous post I told where how I met in Cambridge the magnificent book that I recommend (in English) If you love pastries. Entitled "The Hummingbird Bakery CookBook", and is published by Ryland Peters and Small. The recipes are innovative because they focus on contemporary American pastries and confectionery of desserts (desserts), pies (cakes), cupcackes (cupcakes or muffins), muffins (muffins without coverage), tarts (fine cakes) and browniescombining flavors, colors and textures very novel, giving them one return to the recipes of a lifetime, in addition, the picture is very careful and denotes the magnificent quality of the Edition. As well, after several made recipes and with excellent results (and is what I like about the book, apart from good photos, explanations are clear), I ended up putting it in a special place in my library of cooking, in fact, the recipe today comes from the same.
And you can not imagine how I enjoyed. I was in the Temple of the new American cakes recipes, but it had everything: cakes, cupcakes, muffins, pies, etc. The Notting Hill branch is small and cozy. Decoration flirtatious and presentation dinner-pails of Crystal on the countertop showcase colorful suggests an eat me! immediate. The place was crowded of people by which meant that it had been successful and it was.
Put it in your preferences on any visit you make to the capital British if you have time, you'll love. First, for being Portobello step allowing you a peaceful walk and how not? by its sweet temptation. Delicious!.
You can see the surprise that you wear to try these cupcakes. Some you may seem priori that they know to Cologne or something weird, but the truth is that the flavor is very soft and original. At home is chuparon fingers and the children enjoyed them. Dedicated to my great friend Cris and Vicki who was very generous and helped her mother take the wild lavender for me. Thanks to the two. Without you probably not I would have thrown to make them!.
Essential: be Lavender. dare you to do them with me?

Level of difficulty: difficult
Preparation time: 45 min.
For 12 units
Ingredients
For the mass of the cupcake or cupcakes:
120 ml milk €0.07
3 tablespoons dried Lavender flowers. The flowers have to emulsify the milk from the previous day in the fridge. So we put in a glass milk. Add the dried Lavender flowers and leave in the fridge overnight. The best thing to do is to catch the wild lavender field, but if you can buy a plant with flowers nurseries €2.40
120 GR flour €0.18
140 GR white sugar €0.12
1 teaspoon and a half of baking powder dessert €0.15
40 g butter at room temperature unsalted €0.16
1 egg €0.12
12 Lavender flower sprigs for garnish (optional)
For the frosting or cupcakes coverage:
25 ml of milk €0,20
1 tablespoon dried Lavender flowers. The flowers have to emulsify the milk from the previous day in the fridge. So we put in a glass milk. Add the dried Lavender flowers and leave in the fridge overnight.
250 g icing sugar (I used the English mark Tate) €1,00
80 g butter at room temperature unsalted €0.08
a little dye purple €0.05
Total €2.13 if you have Lavender or €4.53 If you have no lavender, and much love in the kitchen for 12 cupcakes. You can not pay less for a such a high reward. They are delicious.
Utensils:
12 paper cupcake molds
an electric mixer
oven and 12 cupcake tray (optional)
spoons and bowls
Pairing:
As I rush to recommend that you take these cupcakes a good lemonade. Now that is good weather and for those evenings of heat, I recommend a cold lemonade that also enhance the sweet flavor of this recipe.
Preparation:
1 turn on the oven to 170 º.
2. strain the milk with Lavender flowers and book. We must on the one hand strain milk cupcakes and other milk of coverage, and keep them in separate vessels.
3. put the flour, the sugar, yeast and butter at room temperature in a bowl. Beat on low speed until a species from arena gorda has formed.
4. gradually add Lavender milk until a soft cream is formed. Lower don helps a spatula cream which has been pasted on the walls of the bowl.
5. Add the egg and beat well.
6 distribute 12 capsules of paper for Cupcakes and bake for about 15-20 minutes until slightly browned. If we click them with a needle it should come out clean. If it remains, should leave the muffins in the oven a little more. Remove from the oven once are lists and allow to cool.
7. While the cupcakes are cooled, we make the coverage. This beat on low-medium speed with help of a blender with rods, icing sugar, butter and coloring. It is best to gradually add coloring to achieve desired color, as if from the beginning too, the color would be gone too. Beat well until mixture is uniform.
8 download speed and mixer and gradually add the milk of lavender. Once you have incorporated it, raise the speed of the mixer and mix for at least 5 minutes. The more coverage you beat or frosting, soft and creamy will be.
9. when cupcakes are completely cool, cover each cupcake with a generous layer of frosting with the help of a spoon or a spatula. If you want you can garnish the cupcakes with a sprig of lavender, although not to eat, only to decorate.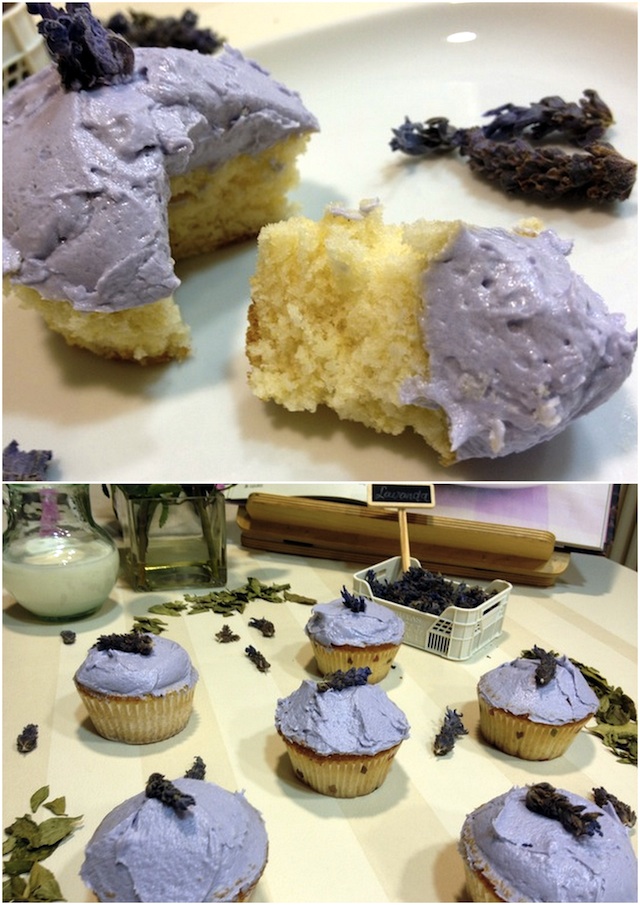 I hope you like them as much as me. And enjoy!. Ciao!