"If you give a cup that you could fill with what you want, what llenarías it?"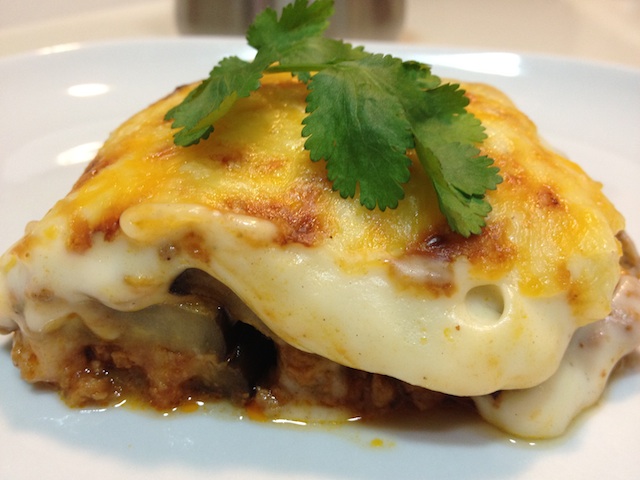 The musaca (from the Greek mousakàs) It is a traditional dish of the Balkans and Middle East, a kind of lasagna with eggplant. The Greek version, which is more known internationally, dishes consists of layers of minced meat lamb, Eggplant slices and tomato, covered with a sauce béchamel (built in the 1920s) type and everything baked.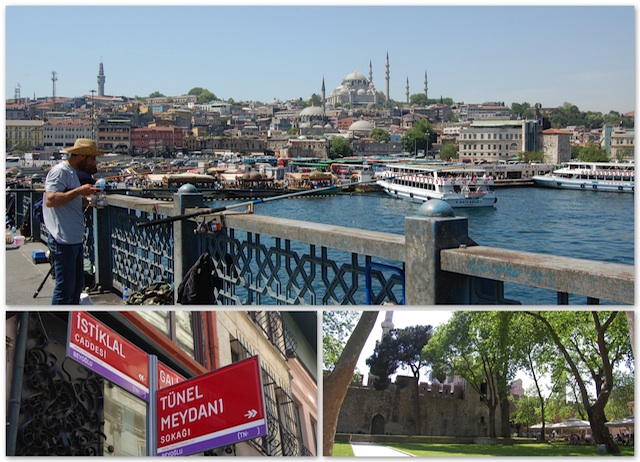 In Estambul, crossroads between East and West, also tried it, and it is like a cooked salad made of tomatoes and eggplant, similar to caponata of Italy, and served cold as an appetizer. Despite being an Arabic name, the moussaka is usually considered Greek dish in the rest of the world. Balkan versions contain potatoes instead of Eggplant, and a layer of potato puree is used in the Anglo-Saxon. Normal is terminated with sprinkled cheese or bread crumbs and then Broil in the oven.
However, to my lamb is a meal to say I'm not passionate about, so I set out to create my own version of the moussaka with minced meat of pork and beef (half and half) and a homemade tomato sauce spicy and tasty. It is really delicious.

Difficulty level: intermediate
For 4 people
Preparation time: 40 min.
Ingredients
1/2 kg of minced meat half of beef and pork €5,00
1 onion €0.23
4 cloves of garlic €0.18
1 can crushed tomatoes large €0.69
4 large eggplants €1.35
1 cup of olive oil, a little salt and freshly ground black pepper. €0.85
A bit of turmeric, cumin, oregano, thyme, Rosemary, parsley, nutmeg and a little Mint. If any fail spice missing you nothing, but the flavor will change. €0.17
1/2 liter of milk €0.30
60 g flour €0,27
30 g of butter €0.16
An envelope of grated Gratin (to my I like that comes in several kinds mixed plastic sachets: cheddar, emmental, gouda, mozzarella...) €1.19
Total: €10.39 to be divided between four, €2.59 / person
Equipment
Large pots and pans
Fuente rectangular cerámica honda apta para el horno
Oven
The glass ceramic gas cooker
Wooden spoon, chopping boards, a sharp knife, various containers, etc.
Pairing
For this dish, so we changed, my advice is a sparkling wine, because although they are usually recommended for starters and desserts, bubbles also degrease the food, perhaps a cava fresco rosadofor example Cava Segura Viudas Lavit Brut Rosado, price, about € 8,00. Remember that the consumption of this type of wine cellars must do you more than 1 months since you buy it.
Directions
1 turn on the oven to 180 ° C.
2. in a large skillet Brown the garlic with the onion. When the onion is soft, add the minced meat and season with a little oregano and parsley to taste. Saute until the meat is done. Salt and pepper to taste. Set them aside for later.
3. in a large skillet Brown the garlic cloves. Once they are golden, add the can of tomato paste and FRY to fire medium for about 15 minutes. Add spices: Mint, turmeric, thyme, Rosemary and cumin. Add the minced meat, mix well and FRY all together for 5 minutes, salt slightly. Let stand.
4. wash the eggplants and cut into 1/2 cm thick slices approximately. Put them on a plate on absorbent paper to go only water. Let stand 5 minutes. Transfer to a baking sheet on tracing paper and bake at 180 degrees until they are soft and pinches them.
5 lubricate with oil a ceramic bowl suitable for the oven. Place a layer of Eggplant and cover with minced meat. Place another layer of Eggplant and cover again with minced meat. It ends with the minced meat.
6 we are going with the bechamel sauce: in a saucepan in the vitro put a tablespoon of oil and butter to fire medium. When it is hot add the flour by moving a few rods that do not burn until it has a golden color and a paste is made.
7 go adding milk slowly without stopping to move the rods. Add a little salt, pepper and nutmeg. To my personally I like to know to nutmeg, but go anadiendola just because we can move on and can become slightly bitter.
8 Cook the béchamel sauce for 5 minutes more until to try it, don't know to flour and you notice that it is well-done.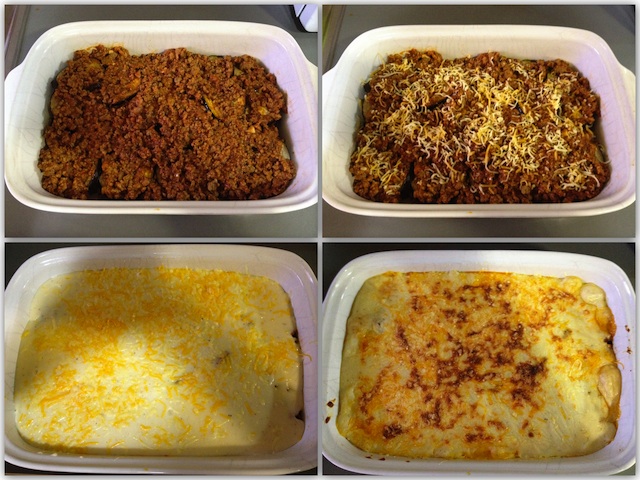 9 put some cheese over the last layer of minced meat.
10 cover with the hot bechamel and add more grated cheese.
11 au gratin in the oven until it has a golden color. You will already see as it was worth. I am sure that will be impressive.