"Looks good for life and good will you go in life"
Good PT huh?. No, I have not confused me. It is called Vortex and it is of mushrooms (the meaning of which in German is "swirl"), and in this case the strudel is not a dessert but a plate of salad that it can be served as the only that as a starter. The presentation is elegant, so it is suitable for, for example, a dinner with candles or with a few friends, that you leave happy, believe me. Strudel is a pastry originating from Central Europe, is especially typical in the German and Austrian, kitchen usually is filled with apples and nuts, although it is also sometimes filled with fruit and cheese. There are some advocates committed to origin Turkish of the strudel, which comes from the baclava (mother of strudel) introduced in Austria and Hungary when the Ottoman conquests, being mutated then the recipe.
The mushrooms on the other hand, are a delicious and very typical dish of the fallwhich combines very well in this case. The problem, is that they can sometimes be very faces by its scarcity due to lack of rain, and there are always easy to find, but don't worry because for this recipe you can use bags of frozen mushrooms which can be bought in any supermarket or large area.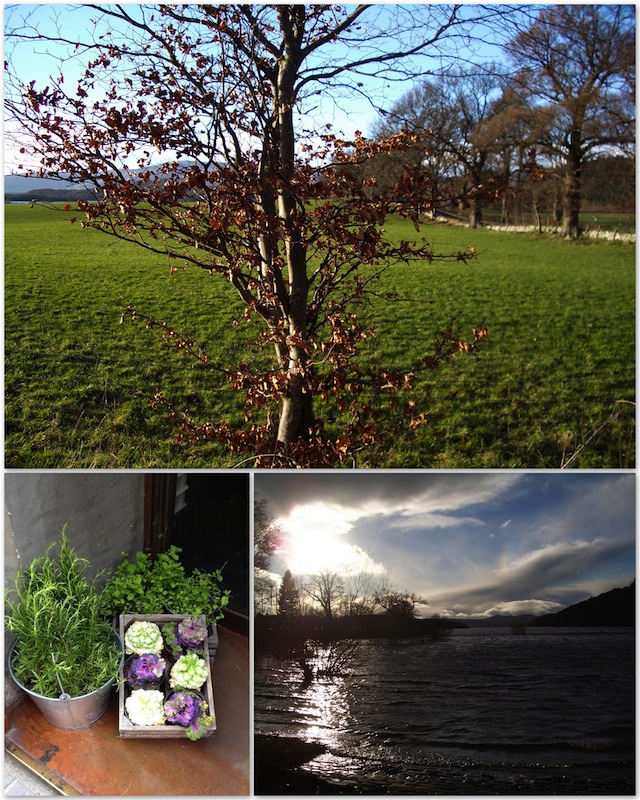 When I cooked this dish for the first time, I could not imagine the success that would have. But it is that it is rich, it is cheap, ingredients are very easy to get, and has a magnificent presentation. All the times that I've done, and I assure you that there have been many, it has been a success. I hope you enjoy it as much as I. To the kitchen!

Difficulty level: intermediate

For 4 people
Preparation time: 50 min.
Ingredients
For vortex:
3 leeks or 3 shallots chopped €1.00

1/2 package of chives €0.37

1 kg of mushrooms (this recipe is so grateful, that can be done with assorted frozen mushrooms). Does not need to be fresh, so the dish comes out very good price. €1.85

50 GR butter €0.26

200 grams of ham chopped €2.39

6 sheets of pasta filo €0,99
For salsa:
A few grains of pepper rose €0.10

A cup of beef broth €0.22

200 ml of liquid cream €0,44

1/2 package of chives €0.37
Total: €8.07 to be divided between four, 2,01 €/ person. Do best price for a dish so got?.
Equipment
The large saucepan Sarto

Oven

The glass ceramic gas cooker

Wooden spoon, chopping boards, a sharp knife, various containers, etc.

Brush to paint the paste

Baking parchment
Pairing
Finca Resalso, the Bodega Emilio Moro (D. O. Ribera del Duero) breeding 2010. Red wine young, of 100% Tinto fino grape and four months in French oak barrels. I like it because despite being young, and note, maintains a very subtle wood background (and I like those who know wood). Price also okay. Price: €7,50
Directions
1 turn on the oven to 180 ° C.
2. in a large skillet cook to temperature medium leeks or shallots well chopped butter. Sauté well until the vegetables are soft but not to Brown.
3, when the leeks are ready, add the mushrooms. If we bought them frozen, no thaw them before, but that we can throw them directly. Saute over medium heat until all the liquid has evaporated.
4. once has evaporated, add the chopped ham and give spins for a minute. Then add the chopped spring onion and sauté for another minute on medium heat. Add some ground black pepper and salt to taste.
5 we now turn to mount the strudel. Melt the butter in the microwave at full power by covering the container with plastic wrap so that it does not jump.
6 take a sheet of pasta filo with care of not to break (if you break a bit, happens nothing, because we are going to superimpose 6 sheets).
7. place the sheet on a flat surface sprinkle a bit of flour. With the help of a kitchen brush, paint the sheet surface with melted butter. When it is fully painted, place another sheet of pasta on top edge and paint it again with butter. This must be repeated until you have a total of 6 sheets of pasta filo superimposed one on top of another.
8 put the mushroom mixture on one side of the dough, leaving site to be able to get the edges of dough.
9 start to roll them at one end to form a package (Eddy).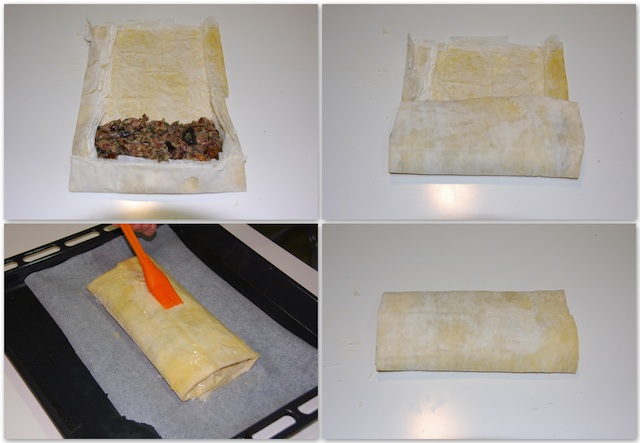 10. once formed the package placed on a sheet of tracing paper in a baking tray and brush with butter.
11 Bake at 180 ° C until it is golden brown (about 15-20 minutes)
12. While the strudel is baked, we turn to make the sauce. We offer heat to fire half the cream with the beef broth to a boil in a saucepan. Add the chopped spring onion and pink pepper, and let it boil over medium heat until reduced by half. A very concentrated sauce will be. Salt to taste.
13. Once you are golden, get it from the oven and with a knife saw and very gently so that will not break, cut it into portions. We put a slice on a plate and cover it with a bit of sauce. Garnish with a few stalks of chives. Enjoy it!