"Don't be boring because you will regret the lost time".
Monkfish en papillote in Spanish
The papillote is a cooking technique originated in in France. Basically consists of wrapping paper (I prefer vegetable even though many people use aluminum foil. The reason is that with the tracing paper not stick ever, while there are times that we use aluminum foil could result). In other kitchens, as the East, leaves of banana, Palm, lettuce, vine or cabbage are used for cooking in papillote.
With this technique, foods are cooked in its own juices with the steam that so better retain moisture, and are tastier. With the foil are squeezed to the maximum the squeezed and the maximum Since cooking in closed packages, they do not leak and are more concentrated.
The only thing that must be taken into account on the one hand, is that all the food that will be cooked in the same package must have cooking points equal, and on the other that everyone should have similar sizes. since otherwise, some remain raw or soft-boiled. If any of the ingredients is harder, it desirable to cook it or Sauté a little before putting it in the foil. Finally, the package must be tightly closed so not open anywhere.
The wrapper allows us to cook in a more light wayhighly recommended for times of diet!.! The most usual procedure is to put on two aluminum foils a drop of oil and over the food you want to cook. From there we can put different ingredients (herbs, lemon, vegetables...) and season. Cover it with another foil and close papers, in such a way that it forms a kind of fully-sealed envelope. We bake it a few minutes and serve it. To me, as I've said before I like most do it with vellum and if we cut the large piece, it's not necessary to use two, but only one.
The first time took it was in cartridge form, Baked Pasta with Lobsteri.e. pasta with lobster. The pasta was fresh and had finished cooking in the cartridge of aluminum foil with a lobster half. It was dressed with a little black pepper and lemon, and I knew delicious, but that is another recipe...
Cheer up: it is a basic technique of kitchen that many want to use it because it seemingly difficult, but it is quite the opposite, it is very simple and exquisite. In addition, the presentation through a few pods on the plate with food, it continues to be fun surprising because until it does not open, no one knows what's inside... I devised this recipe a day which came me a dinner at home on the fly. I had a bit of rape that I overran a paella and some frozen shrimp and I was reminded of the foil. I hope you enjoy it. My guests are chuparon fingers.
Do you dare?

Level of difficulty: easy
Preparation time: 30 min.
For 4 people
Ingredients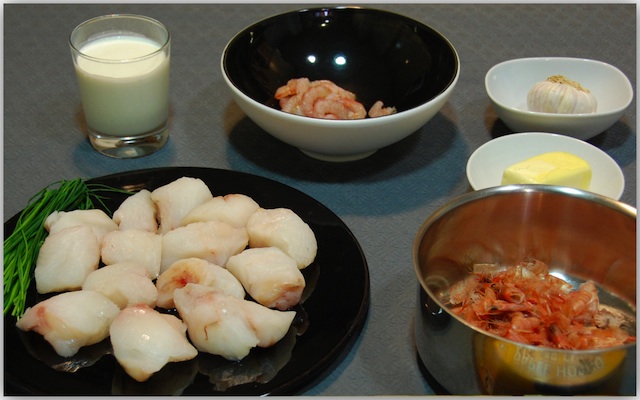 1 kilo of burbot in pieces. You must ask the fishmonger that remove skin backbone and leave us without skins loins €10,00
1/2 kilo of prawns or shrimp uncooked €4,00
1/2 kilo of potatoes, large or small. €0.25
200 ml of liquid cream €0,44
1 tablespoon of flour €0.05
1 clove garlic, minced very €0.03
Four tablespoons of oil extra virgin olive, salt and pepper €0.15
A cayenne pepper (optional for which do not like anything the spicy) €0.05
A sprig of parsley, cilantro, chives, mint or any other green herb to adorn €0.10
Total divide among 4 people €15.07 €3.77 per person. A delicious meal that you will be surprised your guests
Utensils:
Oven and gas cooker or electric, vitroceramic...
Buckets, pans, bowls, wooden spoon, spoons, knives
Ovenproof Pyrex
Cooking parchment
Pairing:
With this dish are very good white wines. On this occasion I recommend a cava brut (dry) of Fermi Bohigas wine cellars. In Spain we are used to make cava almost always after meals. However, it is a pleasure to accompany some dishes with Cava or Champagne, and this is one of them. We recommend to serve it at 8 ° - 10 °. Good price to be a dry cava: €4,30
Preparation:
1 turn on the oven to 180º.
2. Cook the potatoes in salted water with salt until pricking them with a needle or with the tip of a knife, are tender. If large potatoes, are used once they are temperate, should remove the skin and cut into thick wheels, of 1 cm and a half. If small potatoes have been used, then it not necessary to remove the skin or cutting them. Book.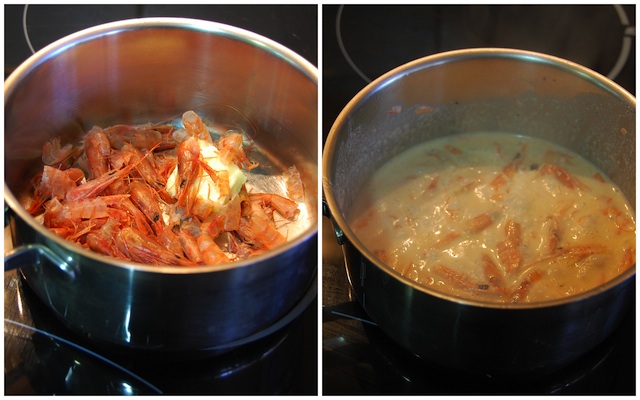 3 Peel the langoustines or prawns keeping shells and book bodies.
4. in a saucepan put one tablespoon of Virgin olive oil extra and fry over medium heat crushing with a spoon the heads and shells so well loose the juice.
5. once they have taken color (should be more orange), add the cream and simmer over medium heat for a couple of minutes. By then creme will caught all color, aroma and flavor of the shrimp. Add a little salt and freshly ground black pepper to taste, and remove from heat. Strain and reserve the cream of shrimp
6. now we will prepare a béchamel sauce with the cream of shrimp. To do this, in the same saucepan clean shells, add a tablespoon of oil. When hot, add the tablespoon of flour and move with sticks or with a wooden spoon until it is slightly toasted. Then gradually add the cream of shrimp without stirring so that no lumps. (If you ever lumps form you make a béchamel sauce, no tremble with fear. Just put it in a plastic container and pass it with the help of the mixer. Once the clumps have disappeared, return to a boil without stirring it. You can also prevent lumps if a few rods instead of a spoon are used to make the bechamel sauce, taking into account that if the Pan you are using is nonstick, you should use some silicone rods so no scratches on the teflon of the Pan). You have to boil the white sauce until you don't know to raw meal and the texture is smooth. Adjust salt and pepper if necessary.
7. with the help of a knife, clean pieces of monkfish ensuring that no rest of skin, has been with the heat, the skin shrinks and this would spoil our presentation.
8. Once clean, open the pieces of monkfish in book: open in half but without cutting at all, so that they can be opened but on the one hand they are closed.
9. with the help of a spoon, put a tablespoon full of bechamel in snuff and close the lid.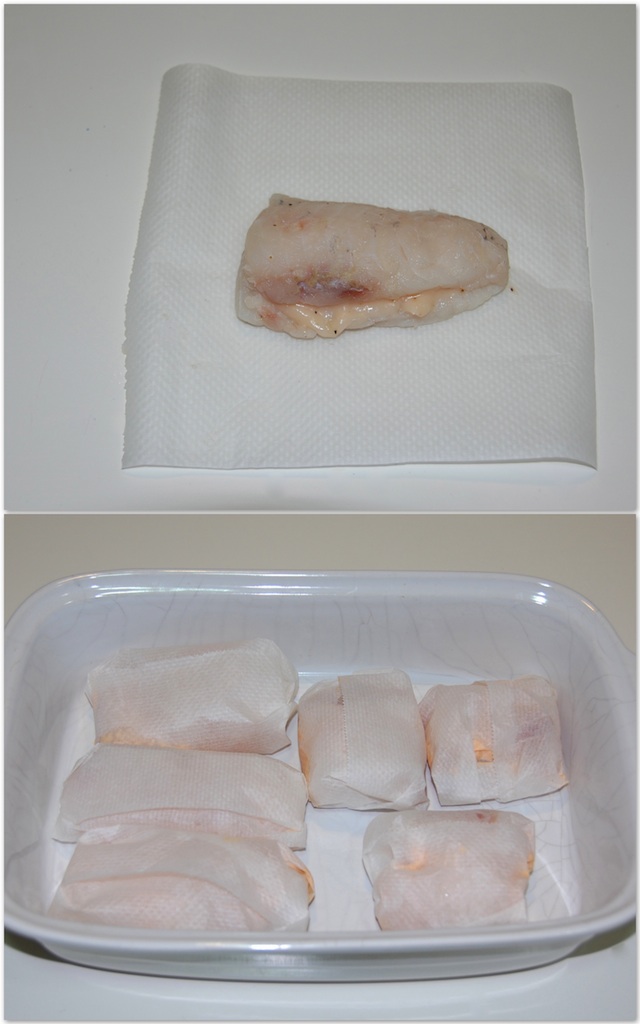 10 cut squares on tracing paper. The size should be which will allow us to place a piece of monkfish filling in the Center and wrap it as if it were a package. Normally a piece of about 20 × 20 cm is more than enough but it will depend on the size of the rape that we have sold the leave pieces of fish more or less large, so you'll have to find the correct size that will allow you to place the monkfish in the center of the paper, close the package above and put it on the sides, so that the snuff is fully wrapped.
11 place in a suitable baking dish packages and bake for 10-15 minutes at 180 degrees depending on the size of the pieces.
12. to prepare the garrison, in a frying pan, put two tablespoons of oil and very chopped garlic clove. FRY a bit until it has caught a bit of color. Then add the Cayenne and clean the prawns or shrimp. Sauté until they are made.
13. Please a packet of monkfish served with cooked potatoes in the dish. Put a couple of tablespoons of the shrimp in garlic sauce on top of the potatoes. Garnish with a sprig of green grass: parsley, mint, cilantro or chives
Don't you know the rich that is and as you can see in the photo very nice presentation. Give a try it because although it seems a very sophisticated dish, it is very easy and very attractive. You can also do this with hake or salmon but with monkfish is exquisite truth. Enjoy!