AI understood that everything requires its moment, that everything happens in its moment.
We already have the result of the draw: Of the 390 participants, random has decided that the lucky one (in this case) is... Elena! What I know about her is that she has a blog called Los desserts de Elena. Please contact me at loleta@loleta.es for shipping details and arrange delivery Congratulations and thank you all very much for participating!
The time has finally come: ! We are sweeping the blog! Thanks to the friends of BRA, you are going to cook like real professionals. From today, you have the possibility to make them with this magnificent batch of kitchen products with BRA, in a very simple way. If you are thinking of renewing your utensils, if you want to improve the ones you have, or simply to move to the expert mode, follow the steps I describe below and participate in the draw.
As you can imagine, I not only adore them in the kitchen, but they have become essential to me. We raffle one of the lines that I like the most, in this case the TERRA (non-deformable cast aluminum, with Teflon coating® Select inside, non-stick of the highest quality), because it allows me to make delicious and spectacular recipes that go beyond the traditional use of pans and saucepans, such as this unique Tarta Tatin that I bring you today to celebrate the draw.
The complete piece batch It is composed of:
-Low saucepan of 24 cm. diameter Terra (the one I like the most to bake my cakes and make my tatin)
-Saucepan of 16.5 cm. of Diameter Terra,
-Lot of 3 Terra pans, and
-Bra Air tweezers.
How is it going? Not bad, huh?
The bases to participate and conditions of the draw are:
– Draw period: From April 1 to April 22 (23:59 hours)
– Limited to Spanish territory
– The winner of the draw will be announced in the same week.
Conditions for participation (yes, if... we must comply with all that we check):
1) Become a follower of Kitchen with Bra en Facebook
2) Become a follower of Loleta. Life, Market & Cooking on Facebook
3) Share photo Cocina del draw with Bra on Facebook
4) Leave a comment on this blog post
Good luck to all! Let's go with the recipe!... As my friend Evelyne Ramelet, from French Cuisine of TV Channel Canal Cocina, I don't know if it should say tarta tartin or tatan (which is what the "i" sounds like in French). This tatin cake is quick and easy to prepare and although it is very simple it gives an extra chic touch to something that we could easily make in the form of pizza.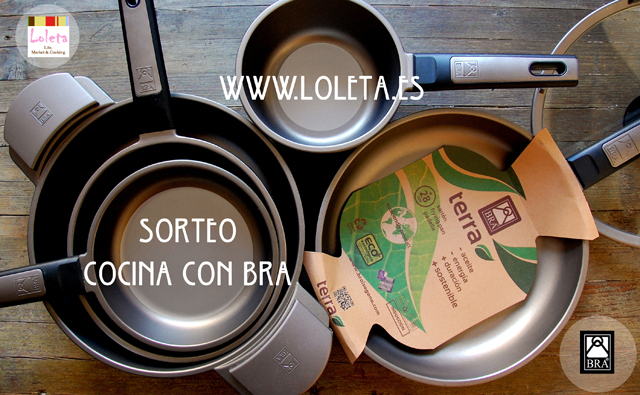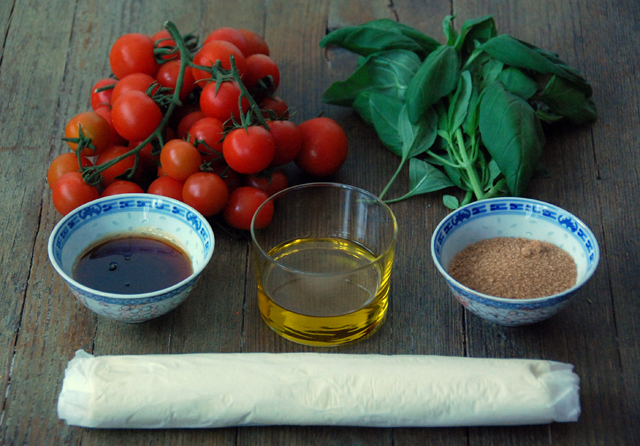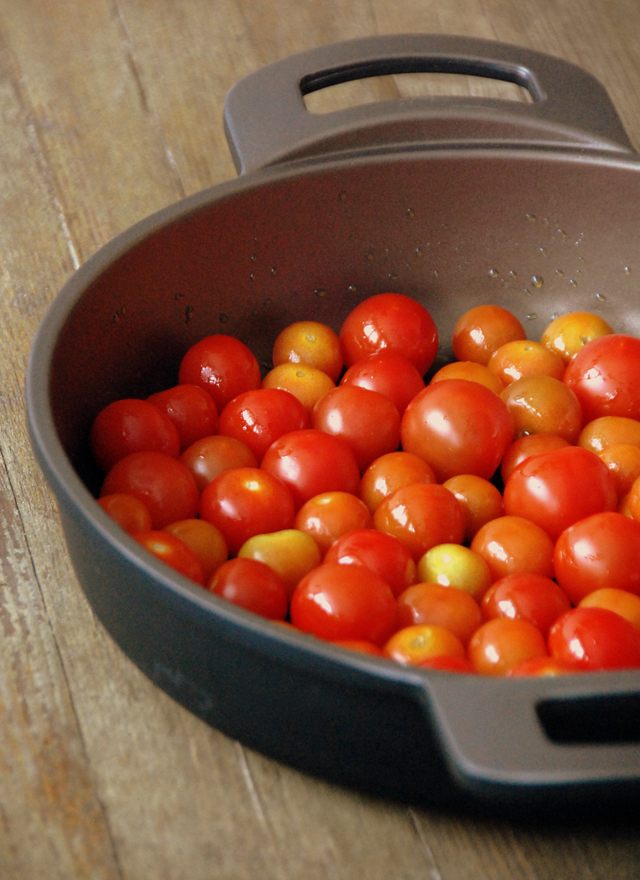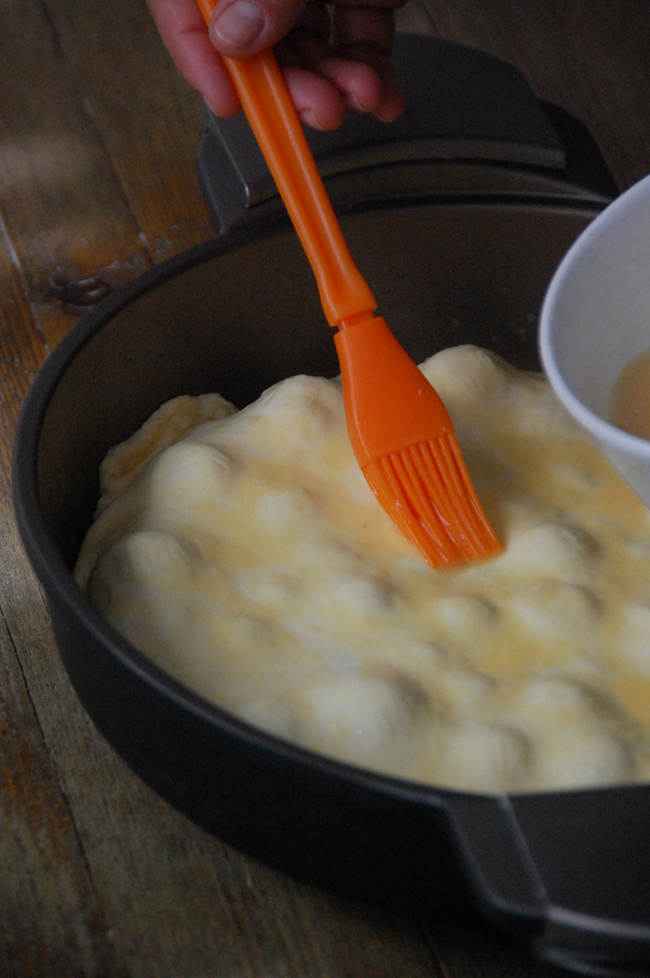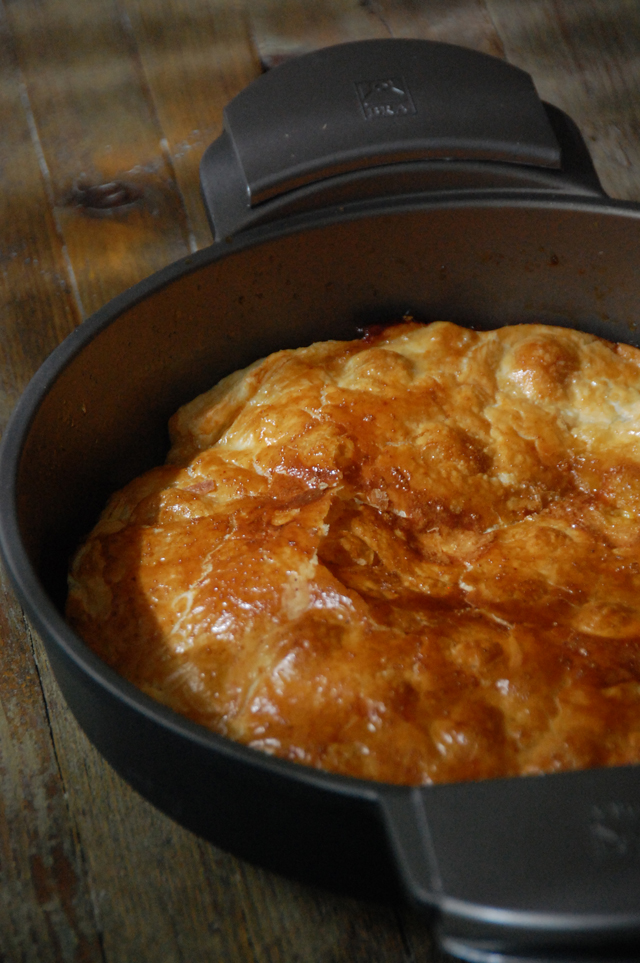 Ingredients
A puff pastry plate (you know that I really like the Lidl brand because it is cheaper and because it goes up a lot) 1,00 €
Two packs of cherry tomatoes – here it will depend on the diameter of the pan or mold you are going to use and the amount of tomatoes you want to use 1,90 €
Some chopped dried parsley €0.10
2 tablespoons brown sugar €0.10
2 tablespoons flower honey €0.20
2 tablespoons olive oil €0.09
A little salt €0.02 -One egg €0.12
A few flakes of grated Parmesan or Parmesan cheese €0.35
A handful of basil leaves €0.90
A pinch of parsley €0.10
It adds up to a total of € 4.88, which divided among 6 diners, comes out at € 0.81 per serving. Cheap and very original flavor.
Directions
1. Turn on the oven at 200 degrees (resistance up and down)
2. Wash the tomatoes and dry them well.
3. In the saucepan or pan put the oil and brown the tomatoes until they are browned and begin to release the water.
4. Then add the sugar and honey and leave to the heat moving the saucepan with enveloping movements. Little by little a caramel will be formed that will cover the tomatoes and they will be shiny.
5. At that moment we turn away from the fire. If we are going to bake in a mold, at this time we will pass the tomatoes to our mold taking care to pass all the caramel with the tomatoes. If we are going to bake it in the pan or saucepan it is not necessary to change them. We sprinkle a pinch of parsley on top.
6. Remove the puff pastry from the packaging and unwind the dough. It is not necessary to stretch it anymore because this type of dough is already stretched.
7. Place the dough on our pan or mold taking care that the entire surface is well covered. If the dough we have used is square, we will have some peaks left over that can be cut. I like to put them underneath and not cut them. This will make that in those areas the dough is then juicy and chubby. If you prefer it to have less dough, you can cut what you have left over but taking into account that you always have to make sure that everything is well covered.
8. With the help of a fork or with the tip of a knife, make some indentations on the surface of the puff pastry. This will cause the liquid of the tomatoes to evaporate and not stay under the puff pastry.
9. Beat the egg in a bowl and with the help of a special brush for food, paint the puff pastry completely.
10. Place the saucepan or mold in the oven and bake for about 15-20 minutes until the puff pastry is well browned. After this time, remove the saucepan from the oven and let stand for a few minutes so that the mold or pan is tempered a little.
11. With the help of a knife or wooden fork take off the dough where it would have been stuck. Normally it will not have stuck, but if it had it is convenient not to use metal cutlery that grates the Teflon of the molds and pans and pans.
12. Place a plate on the saucepan, mold or pan and turn it over. The operation is the same as what we do when turning over an omelette.
13. Put on top some flakes of Parmesan cheese and a little chopped fresh basil. A pleasure for smell... and for taste!
Tips and Tricks
If you do not like the mixture of sweet and salty, do not put sugar or honey and add some chopped black olives
Replace the basil leaves with arugula leaves and use your favorite cheese.
Adds tus favorite vegetables like eggplant to mushrooms
If you throw yourself into the salty, decorate with some taquitos of ham or salami
Level of difficulty: easy
Preparation time: 30 min.
Diners: 6 units For this dish I recommend a new rosé wine that I tried in the gastronomic meeting "Me como Málaga" of my land. It is from Bodegas Bentomiz and is called Ariyanas Romé Rosado, with 100% Romé grapes (D. O. Sierras de Málaga). A wine with a lot of... Taste of Malaga