"The world is a book and those who do not travel read only a page."
Do you know? We have a good friend that passion for the field. Usually we visited a couple of times a year to his flirtatious finquita and we always happy to. Welcomes us with a tremendous kindness, children spend a fun time running around the garden, surrounded by nature, which do not see such which by no means in the city, and always, always, always, makes us the trunk of the car with fruits or vegetables of season that is growing.
On the farm you have chickens, orange trees, lemon trees, avocados, strawberries, beans, chard, onions, rocket, etc. Colors, flavors, lectures giving us to identify what grows, and their super pool for the summer, ultimately, the good time spent with friends, makes us back... "reluctantly" whenever he calls us.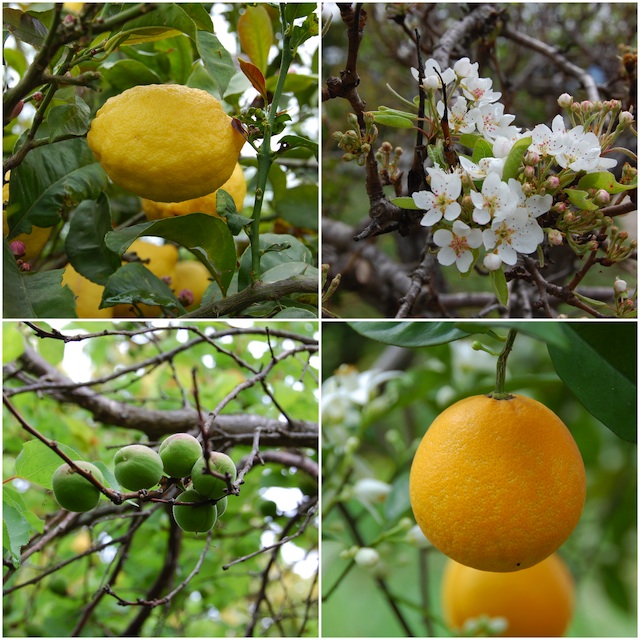 Recently my husband went through there, and Francisco, as generous as always, gave him a lot of fresh produce from the garden, all of course, ecological. He had brought also a box of oranges, so we decided to desayunár them to us in a whole week, but I wanted to make them even more. I grabbed one of my favorite recipes from the book "The Williams-Sonoma Baking Book"a lime tart. The book is baked, sweet, savoury pies and breads, recommended me it my good friend Cristina and has carved a niche among highlights of my kitchen.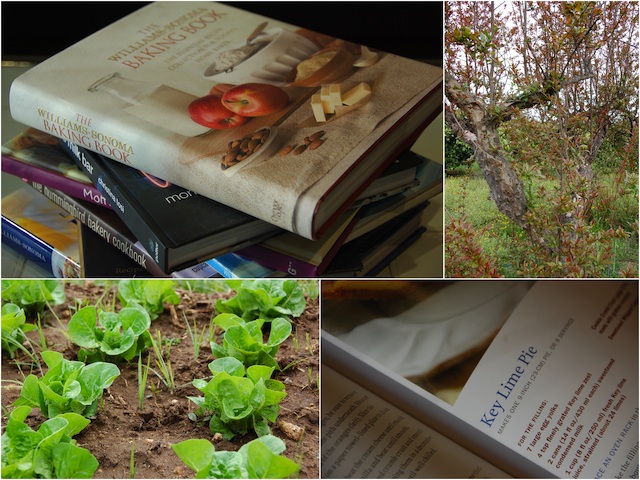 As it had a good basket of oranges, I decided to adapt the recipe, so I made a little from here and there, changing some ingredients, adding and removing others, and left this delicious cake. Everyone who tested it was delighted with the invention and I left me with mine: take advantage of super Francisco oranges. To work, pantries!

Level of difficulty: easy
Preparation time: 45 min. (and 4 hours in refrigerator to cool)
For 10 servings
Ingredients
For the pie dough: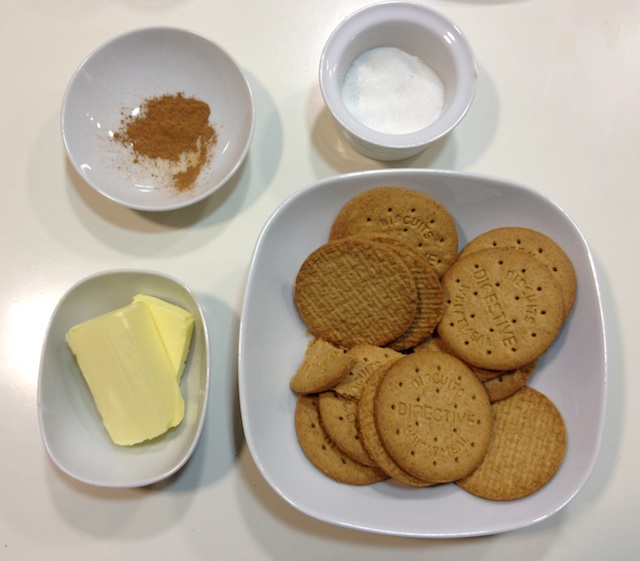 200 g digestive biscuits €0.40
75 g butter melted €0.35
1/2 teaspoon cinnamon powder €0,05
2 tablespoons sugar €0.25
For Orange cream: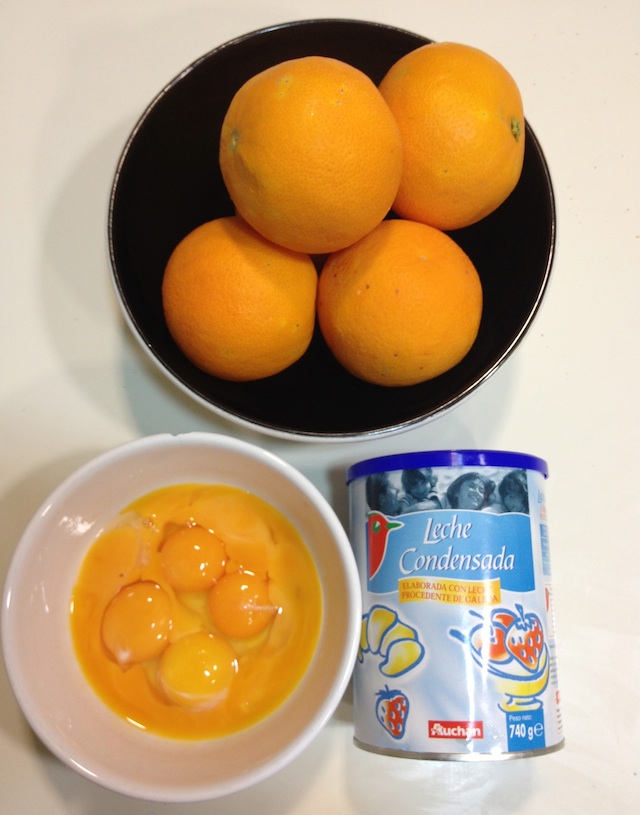 5 oranges which we need, on the one hand the grated peel but only the Orange part, not the white and 250 ml of orange juice. €0,70
7 egg yolks €0,88
1 can condensed milk large € 1.57
1 tablespoon cornstarch dissolved in a finger of milk cold €0.07
If a bit of cream to decorate €0,50
Total €4.77 to be divided between about 10 servings approximately €0.48 the portion. Very good, fruit of the season and very soft.
Utensils:
a low mold removable about 23 cms cake
bowls, wooden spoon, spoons, knives
a fine grater
If you have a sleeve pastry bag with a tip of the 21
Electric mixer if you have, or a few rods.
Pairing:
Any sweet wine goes well with this cake. I recommend, for example. a Moscatel Iberia, of Malaga López brothers wineries. It is a soft Muscat which will highlight the flavor of oranges. The price of the bottle leaves at €4.05
Preparation:
1 turn on the oven to 165 °.
2 grind the cookies with cinnamon and sugar.
3. Add the melted butter.
4. with this paste, lined a low cake mold about 23 CMS. If it is larger it will have to put more biscuits and butter into the mixture to be able to cover it completely. Once wrapped, bake at 165 degrees for 10 minutes.
5. grate the skin from the oranges using a fine grater, carefully not scratch the white part of the skin. This white part, bitter by what would lose our delicious cake. I would recommend you that the do with care, or if you can afford you, you buy you a fine Microplane grater which is fantastic because only grab the skin and not white.
6. for the filling, mix with the help of a mixer or with a hand rods, the zest of orange with the egg yolks for 1 minute.
7. then add the condensed milk and orange juice. Mix and add the cornstarch with milk and beat until everything is well incorporated.
8 stir Orange mix until the cream is uniform and all the ingredients have been incorporated completely.
9 carefully pour cream over mold with cookie dough. If needless it cream, you can do like me: grease a small flan moulds and the cream inside. We will also do some individual!
10 bake for 20-25 minutes. Click and if the needle comes out clean, remove from the oven. If the needle does not come out clean, allow 5 minutes. Allow to cool until it is at room temperature. Put it then in the refrigerator at least 4 hours for that is well cool.
11. in order to present it, make a few mounds with whipped cream around the cake and one in the Center, or if you prefer to completely cover it with whipped cream. A sleeve can be used to decorate it, pastry. It can serve you the nozzle number 21 to do so and some cream roses can be made. In the case that you have done it, you can add a little grated chocolate and a sprig of fresh mint.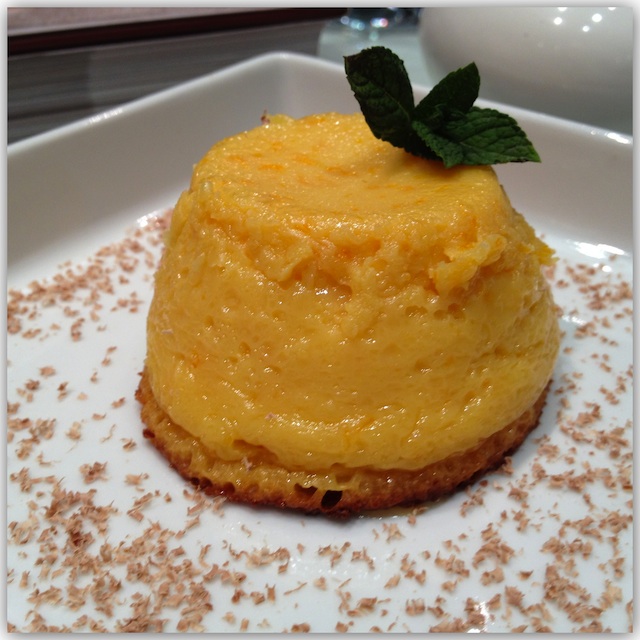 This cake is very soft and delicious. The texture is like of a flan and cookie dough has a light cinnamon flavor that goes very well with the Orange. In addition, you can also like me, ahead of an invividuales custard. As I sobro me a little of mixture, take advantage and did one. Simply engrasad individual flan molds. Fill with orange mixture and bake. When they are cold, desmoldad first passing a knife blunt edges, so unmolding is well and not break. Serve it with a little cream or, with a little grated chocolate.