"Entrepreneurship is rob adventure time to death"
White Chocolate Cheesecake in Spanish
The chocolate cake, as it is well known, had its origin in the American cocoa, specifically in the Aztec period. They took it as energy drink, toasting the seeds of cacao, crushing them and made them boil in water, adding: chile, vanilla or honey to sweeten and corn flour to thicken it, getting a drink bitter and sometimes spicy.
Historians say that we were the Spanish who introduced the chocolate Belgium after bringing the cocoa from America. Cristóbal Colón approached Europe as a present of his trips to the Catholic monarchs. From the 17TH century begins to be ground and done in chocolate, replacing the water with milk. He became the Belgian country a tradition give chocolate as a symbol of distinction, and it was there where created the first tablets, tablets, forms and figures.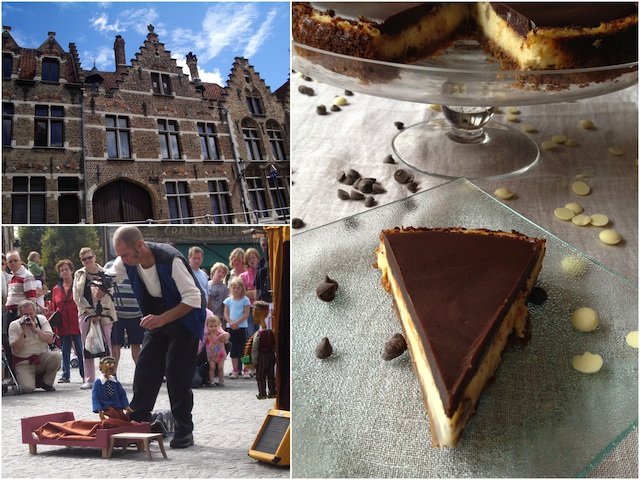 Belgium the cradle of Tintin, is of those destinations that initially feels gray, rainy and full of bureaucratic offices, but nothing to let us move over there, and I have good friends with whom I've done so much, we find a dazzling country squares with impressive markets, flamboyant Gothic in its towers, dreamy waterways and its countryside green. The jewel of the Belgian tourism is Flanders, and Flanders I am with Bruges, without ruling out other places of interest that will tell you later since they were all a discovery for my. I remember the first time I came to Bruges ("Brug" is bridge in flamenco, hence its name) drive, it was raining to seas, and hard penalties circulated through its narrow streets cobbled hotel... did not see anything. The next day was presented with a perfectly with the sun shining and we enjoyed its medieval flavor, welcomed us with the magic that is customary, its palpable antiquity in its architecture and unique prints that leave us their canals that cross it top to bottom.
In addition to walking in a city that was still nestled in the 18th after his the Golden Age, and visit all the monuments, walls, towers, canals and old buildings of interest which are many and a stylized and decadent architecture reactivated tourism, can not miss the most beautiful store in which I have been gifts and related items with the and itcalled The White Pelican with, with two plants: precious floor and a basement lined with stone and brick vaults. The place is magical and charming, very much worthwhile and is located in one of the streets leading to the main square or Markt Place (Vlamingstraat 23)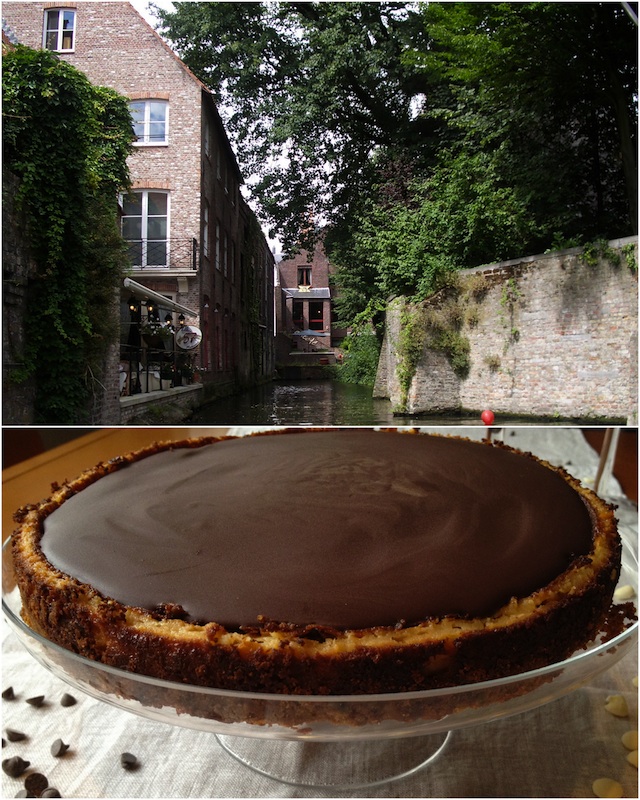 My other recommendation is the restaurant Breydel The Coninca cute and cozy place, located on another Street in the same square, Breidelstraat 24, where we spend a pleasant evening, with a succulent and typically Belgian dinner where there was no shortage mussels, irrigated with a nice French white wine, we still remember with a pleasant smile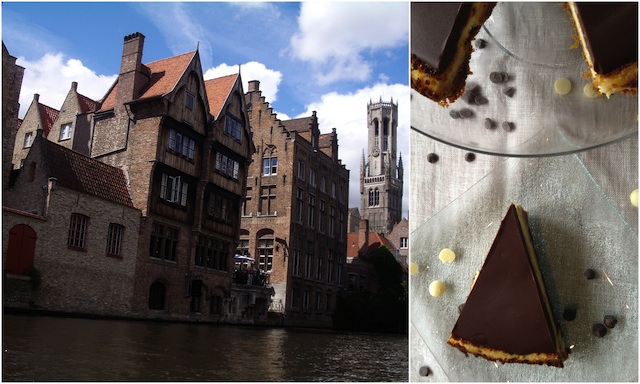 As I have already mentioned once, I am lucky to have some great friends. One of them is called Susan It's amazing, loves cooking and the two comes to us from caste, as the Greyhound, our passion for gastronomy. We now live in different places, but that does not prevent to continue putting us all day. To it I have this recipe that found me impressive, took it from his blog: Pura Vida that I invite you to visit because you will find a few original and delicious pastry recipes.
I admit that I adapted it a bit, something from here, a little there... Encourages you to make this recipe, sure that you will love as much as I liked my son. Do you dare?

Level of difficulty: easy

For twelve

Preparation time: 20 minutes more about 4 hours minimum to cool
Ingredients
For the cookie base:
175 grs galetas type Digestive €0.32
50 GR of chocolate pearls €0.50
100 g butter melted €0.40
Cheese filling:
350 g of white chocolate €2.13
150 ml of liquid cream €0.35
450 GR mascarpone cheese (can use half cream cheese type Philadelphia and half of mascarpone, but my love to use this cake all mascarpone) €3.51
3 tablespoons sugar €0.15
a pod of vanilla or 1 tsp. vanilla powder €0.15
5 eggs €0.48
1 tablespoon and a half of flour €0.08
For coverage:
150 g chocolate coverage or for desserts €0.66
50 g of liquid cream €0.12
50 GR butter €0,20
Total €9.05 between 12 generous servings, €0.75 per portion. Deliciously cheap and creamy.
Equipment
1 bottom loose cake pan
Electric mixer or rods
Bowls, wooden spoons and knives
Buckets and Cutting Boards
Oven and microwave
Pairing
This chocolate cake would go very well with a fresh horchata now that we are in the summer. Tiger nut milk enhances the flavor of the chocolate and cheese and the combination is very appropriate. Other day I leave the recipe to make it at home, but meanwhile, you can buy it in ice cream parlors, horchata parlours, or in the supermarket. The mark Chufi isn't bad if you take the Frost and is very cheap: €1,20 the litre.
Directions
1. crush cookies until they are completely broken. Add chocolate chips and melted butter. Mix well with a spoon. Pour onto a removable cast. Put in the fridge to cool and harden the butter while you prepare the other ingredients.
2. put the white chocolate with the cream in a bowl and melt in the microwave. Go to testing every 30 seconds if the chocolate is melted. Mix well and let cool.
3 mix the cheese with the sugar, flour and vanilla until a uniform mixture.
4. once obtained a homogeneous mixture, add melted white chocolate. Mix and add one by one the eggs.
5. with the help of a spoon, pour mixture carefully into the mold with the biscuit base.
6 Bake at 170 ° for 45 minutes, taking care that will not burn up. The cake should be slightly soft in the Center. Remove from the oven. Wait for it to cool completely to room temperature.
7. once the cake is cool we started to prepare the chocolate coating, put the chopped chocolate, butter and the cream in a bowl. Go to heat 30 in 30 seconds so not to burn the chocolate. It is better to be patient and do it slowly, because if we go, the chocolate will burn and we will not use it.
8 pour the cream on the cake and let cool. Cream must cool down well so when cutting the cake, chocolate will not collapse.
This cake is always surprising because everyone expects a type Philadelphia cheesecake. With white chocolate mascarpone mixture makes the cake especially creamy and taste always gives rise to the riddles, because hardly anyone is able to figure out what it is made. Encourages you because you will love!.