"Life is what happens to us while we make other plans"
Cups vanilla with strawberries
Do not happened I never that suddenly has been submitted you people at home and you have been able to improvise a dinner?. What is normally more difficult however is improvising a dessert, either because we don't have the ingredients that make us lack, well because we need time to prepare it we do not have. This recipe that I bring is simple and easy (and we will have time to increase the difficulty), but very effective. It is also highly recommended for long Sunday afternoons, where you want something sweet but without having to get an hour in the kitchen. In addition, with strawberries, we are in season, take advantage of them.
On one of these occasions, I came to improvise this dessert has a lot of variants that everyone likes, is lightweight, inexpensive and is prepared in a jiffy.
Ingredients tend to be in every home, and if not these, similar operating in the recipe as well. You can use basically any type of biscuit, some fruit or jam, and any kind of yogurt although I recommend the texture of the Greek which is unique.

Level of difficulty: easy (also for children)

For 4 people
Preparation time: 5 min.
Ingredients
8 avena crackers or digestives (here you can use any type of cookies you have, even of chocolate) € 0.37
4 sweetened Greek yogurt (if they are not sweetened, can sweeten them at home with sugar, saccharin, liquid or powder) €0.84
8 strawberries (or any other fruit or jam you have at home) €0.70
essence of vanilla €0.09
4 chocolate Hots €0.10
Total: €2,10 to be divided between four, 0, 52€ / person. Good, beautiful... and baratísimo.
Equipment
Chatinos of wine or other small glass
1 teaspoon
1 grater
A cutting board and a sharp knife.
Pairing
FloralisMoscatel Oro. Torres liqueur wine. Made since 1946 and is one of the most characteristic of the Mediterranean, unmistakably floral perfume and taste luscious and sensual nectar for dessert. Market exits for €6.40.
Directions
1 undo the cookies until they are in crumbs. So we can help us in an electric mixer, but it is not indispensable, since they can crumble equally with the hands. Spend the crumbs at the bottom of the bowl.
2 wash the strawberries. Chop into small pieces and put them on top of the biscuit crumbs.
3. uncover the yogurt. In the event not be sweetened, endulzarlocon sugar or saccharin, liquid or powdered. Mix well and add a few drops of vanilla essence.
4 pour the yogurt on the strawberries.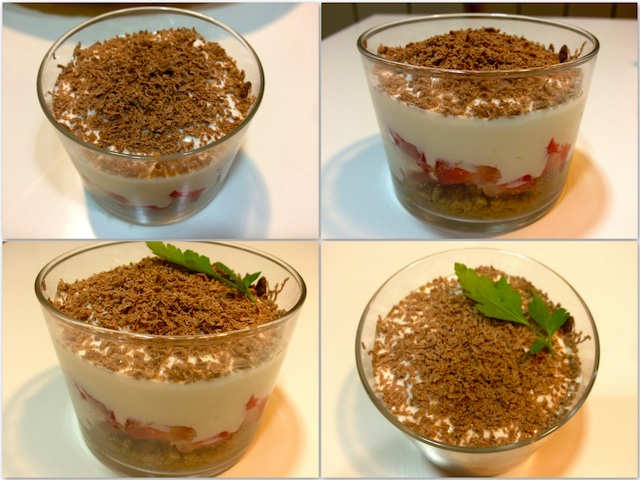 5. grate the chocolate on the yogurt using a grater
6 garnish with a sprig of mint, parsley or any other fresh green grass that we have at home, since it is only to give it color.
I hope you enjoy it!