They are well over Christmas and plays back to the routine. To cushion the blow, we're back with a delicious cake. Today we make the boycott of the diet and give ourselves a treat with this fantastic cheesecake. In addition, as you can imagine, I am super happy. Yesterday they released my program in Canal Cocina of award-winning Blogueros Cocineros in the category of gold 2013 and I am crazy, so... a cheese and pumpkin cake! to celebrate
There is a site in New York that you can not miss if you like the cheesecake. Junior´s is called and they have more than 30 types of cheesecake. When we were there it was so difficult to make up our minds that we ended up buying some 10 different portions, to try all the flavors that drew us attention.
Junior ' s It is a confectioner's shop founded in 1950, next to Times Square and that sell that many say it is the best cheesecake in the city. If you want to try the best New York cheesecake (or at least the most sued) have to go, but as I said, it will cost you decide what you ask!
Without a doubt this is one my favorite. It's a very spaced cake which is made with pumpkin, but which is very creamy and smooth texture. I serve it with a little whipped cream and it is always a success. The secret? Mixed spices that give it a unique and very special flavor.
With these quantities out two beautiful cakes 18 cm or 22 cm and 15 cm. can make half the amount if you want but it is so easy that I always do both, and freeze one of the cakes coming out. Then, the day I need a dessert thaw it at room temperature and is already. Actually it would be the amount for a 22 or 23 cm pie but very high, so the portions that is like the Americans like to take it. But I prefer to make two and leave a height that my seem easier to handle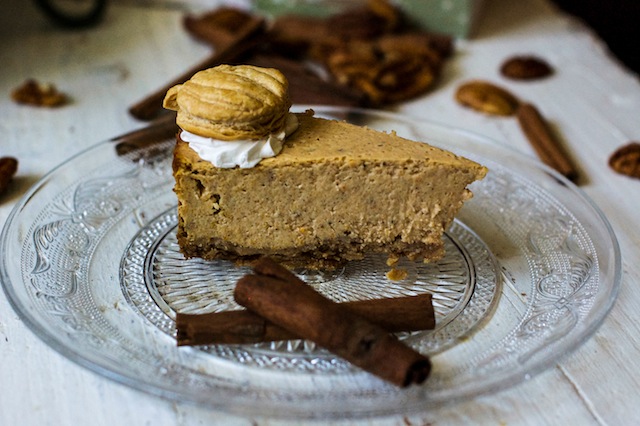 Ingredients
For the base:
1 package biscuits cinnamon type Neapolitan €0.80
50 g of sugar €0.05
60 g unsalted butter, melted €0,33
For the filling
1 kg of cheese cream Philadelphia type €3.30
250 g sugar €0.23
3 tablespoons of all-purpose flour €0.10
330 g of puree of pumpkin in Tin €0.80
2 tablespoons of mixture of spices (nutmeg, clove, cinnamon and Ginger) €0.15
1 tablespoon vanilla extract €0.15
1/2 teaspoon salt €0.02
4 large eggs at room temperature €0.48
Total €6.41 20 you rations that they come out of tart are €0.32 per serving. As cheap as delicious.
Directions
1. preheat the oven to 175 degrees, placing the rack in the Center.
2. grease a non-stick removable mold of 22 - 23 cm.
3 make the biscuit base: in a medium bowl, undo the biscuits cookies and add the sugar and the melted butter. Meclar well. Cover the mould base with this mixture gently pressing to coat entire bottom. Bake until the base is golden (about 10 to 12 minutes).
4. to make the filling, using an electric mixer, beat the cheese cream and sugar on low speed until it is soft. Mix the flour (do not mix too much). Add the pumpkin puree, the mixture of spices, vanilla and salt and mix until it is smooth. Add the eggs one at a time, stirring until each one is well incorporated before adding the next.
5. pour the filling over the biscuit base mold leaving gently smooth top. Lower the oven temperature to 160 degrees and bake for 50 minutes. If you horneáis one only cake you will need at least 15 minutes more
6. turn off the oven leaving the cake in the oven closed for two hours more.
7 remove from oven and allow to cool completely. Cover with plastic wrap and chill at least 4 hours until the cake is firm. Unmold before serving not very low temperature.
Tips and Tricks
It is served with a bit of whipped cream
Prepare it in advance and freeze it (up to 2 months will last you perfect well wrapped in plastic wrap). Then defrost in the fridge one day and you're ready to take
Difficulty: easy
Preparation time: 20 minutes more 2 hours of baking and a few hours of refrigerator
Guests: 20