"There are no secrets to success. This is reached preparing, working hard and learning from failure".
A few days ago, my brother Josele, inveterate traveler, I gave some magnificent photos taken in one of his visits to Morocco. Among other things, with his producer performs locations around the world and get unique prints. So I took the opportunity to give rein to my imagination, and I decided to cook a cake of Moorish meat with dates that served as an appetizer in a celebration which I attended with a group of friends: success!
As well in their advertising, Morocco is the closest of the great voyages. Its name in Arabic means The United Westernsymbolizing the West. Our neighbor South, with its richness and variety of cuisine, we have an important influence in Spain, and particularly in Andalusia. Perhaps the best-known dish is the couscous, although all specialties are in common which is based on simple, traditional and family recipes, away from the forefront of the kitchen, but not by them less appetizing.
The spices they are an essential part in your meal, and you'll agree with me that the mixture of colors, smells and tastes that can be seen on a walk by any Moroccan, as in the rest of Eastern Souk is a delight. Cinnamon, cumin, turmeric, ginger, paprika, saffron, coriander or Mint are indispensable in your kitchen spices, and I recognize that more and more I love to experiment with them in my recipes. I advise that when you have the opportunity to buy them in their places of origin, do not hesitate to do so. They last long and provide much more flavor. Let's Cook!

Level of difficulty: easy
Preparation time: 40 min.
Servings: six
Ingredients
600 grams of meat half beef and half of pork chopped twice (ask it the butcher to buy it. This is done so that the meat is thin and well blended) €5.00
100 g of dates €0.52
2 eggs €0.17
1 onion finely chopped €0,20
2 tablespoons of Moorish spices (you can put less to taste, but I prefer that the meat is picantita) €0.15
70 g walnuts chopped €0.71
40 grams of peeled pipes €0.50
a bit of extra virgin olive oil €0.15
100 g mozzarella shredded €0.59
a sheet of puff pastry. To my personally I love that sold at Lidl which is cooled and can be purchased in rectangular format. It is very good and the cake is very flaky. I also Cook much that sells frozen Mercadona. Actually you can use either, as for example the Cook, but which are always of frozen foods. Which are sold refrigerated and round I don't like regardless of the brand, because the puff pastry is not so crispy (CAPES) €0.80
Total €8,79. A first with this cake can be served for six Diners and if want to put an appetizer, to about 20. The price per person when served as first, is of €1.46.
Equipment
a pan
cutting board
knife
a bowl, a fork and a kitchen brush
oven and hob or gas cooker
Pairing
This dish of spiced meat red wine is doing very well. I am inclined for a tinto roble Ribera del Duero. The wine cellar that I recommend is Christopher Lopeza very good and craft Winery in Roa de Duero that I could visit some time. It has an intense, somewhat purple cherry-red colour. It combines very well the fruit and wood, enhancing way clear aroma. Its price, €6.61.
Directions
1 turn on the oven to 180º.
2. in a frying pan heat the oil and fry over low heat the finely chopped onion.
3. when the onion is soft add the minced meat and garnish with Moorish spices. Fry the meat not stop move it so that it does not form lumps.
4. when the meat is almost done, add the peeled pipes and mix well...
5. add chopped walnuts. Give a couple of turns. Remove meat from heat and reserve.
6 we will prepare the pastry. Unwrap and with a knife cut an edge of about one centimeter in width around all the iron.
7. in a bowl, beat an egg and using a kitchen brush, paint the edge of the sheet of puff pastry with egg. We have previously cut and paint it with beaten egg paste over the Strip.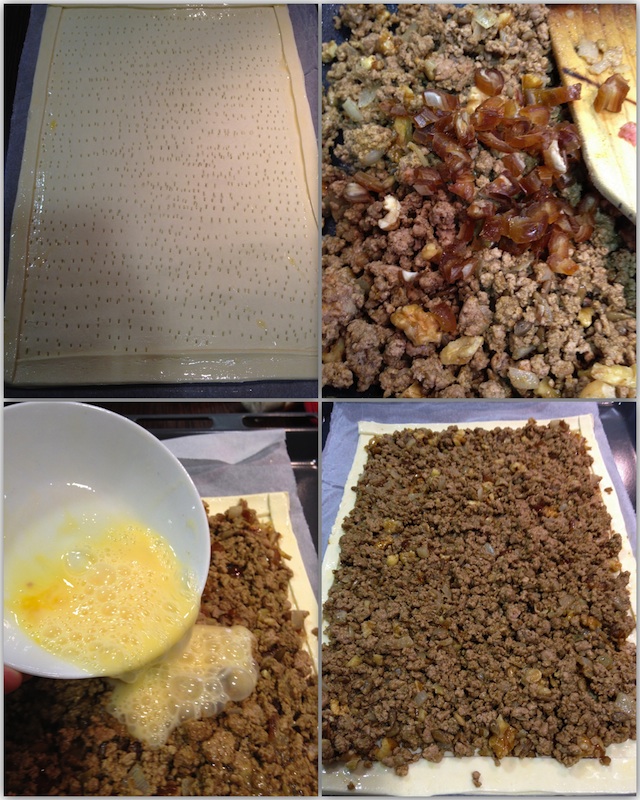 8. Once you have glued the edges, click all puff pastry with a fork support plate. So the cake will not inflate.
9 chop dates and add them to the meat. Mix well so that the dates are well integrated into the meat.
10. with the help of a spoon put on top of the puff pastry meat, making sure that the edges are free.
11 beat an egg and add it on the cake. Also add a little grated mozzarella.
12 Bake at 180 degrees for 20 minutes (depending on the power of the oven will take more or less) until the pastry is golden brown. I hope you enjoy it. If you are not mixing sweet with salty, not add you dates. I did it for the first time a few weeks of pecking as I said, inventing combinations on the fly and it turned out delicious.