Today I come with a garlic soup, a traditional Castilian soup which give a special touch, because we got her tone adding, in addition to their garlic and paprika, a good dose of chorizo, egg, and a good slice of bread fried that my kids love in my house, and I hope you also like you very much. This addicting! It is a dish traditional, from the usual and that becomes easily in a few minutes.
We prepare regularly in winter, taking advantage of the party and cold days, it seems to me a platazo more than restorative, that if in addition add chorizo and egg (poached or fried) Flemish hit becomes in a most won't. At the height of any dish of spoon which pirramos us by these dates.
And the best, the paprika from la Vera. Today is Miguel López (sisters), which I like and without a doubt one of the best. Each season they collect it, dry it and grind out fresh. And that in addition to the recipe is what I bring you today: a lot to sort of la Vera paprika fresh, freshly ground for you and it will great to this recipe, and many more. They are three types of paprika: sweet, sweet and sour and spicy and can give enough use in all your recipes as I do.
You just have to:
Leave a comment here telling me why you like, your favorite recipe and what you use, anything you want to tell me.
I like to give the page Facebook Las Hermanas
I like to give my Facebook page
Between all that they have reached with this sweepstakes will be and pimentón de la Vera Miguel López, the sisters will send you a full House lot that you can do a lot of rich recipes. Now, we're going with this fantastic and forceful garlic soup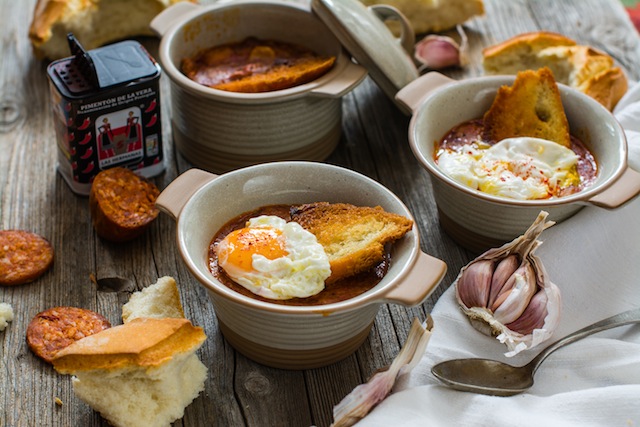 Ingredients
180 g of bread pan (so called in Malaga) or white bread
3 slices of bread
300 g of sausage to cook good quality
5 cloves of garlic
1 tablespoon full of paprika from la vera - I used The sisters because it is what I like and I used sweet, although if you prefer, you can use the spicy to give you a point of rock and roll.
100 ml. (approx.) extra virgin olive oil
Salt to taste (eye being practically unnecessary with chorizo)
1 liter of chicken or beef broth - if you hurry you can buy it already made
Directions
1 chop garlic on wheels and Brown the garlic in abundant olive oil extra virgin over low heat until they are well browned. Remove and set aside them.
2. in the same oil, you freís the slices of bread cut in half until the bread is well fried. Remove and reserve
3 saute the sausage cut in slices (that I used was large cut slices in half because it is well to become a spoon). Remove and set aside along with the garlic.
4. toast bread sliced in the same oil. I used a pair of scissors to cut it into cubes of approximately 1.5 cm. Freís well. The pan sucks oil but nothing happens. Continue Browning over medium heat until you take color.
5 sprinkle paprika on top, mix and saute a few seconds being careful not burning. Quickly add the broth, garlic and sausage and boil soft between 5 and 10 minutes.
6 correct salt. Individually serve an egg with a slice of bread fried on top, and on top of the bread. Because at home there are who prefer them poached and who prefers them with fried egg, I do them both ways, and for my egg-free because garlic soup I like more as is. Enjoy!
Tips and Tricks
Serve garlic soup accompanied by a few egg yolks raw instead of with the full egg. With the heat of the broth yolks curdle a little and be a little bit creamier
We can add about 150 g of serrano ham on the chorizo lunar, prepare garlic alone with bread and the garlic soup and make it all together
Difficulty: easy
Preparation time: 30 minutes
Servings: 5