Today I bring you the recipe for ajoblanco, the most famous cold soup of my land and that is super refreshing and very easy to make. Just 3 basic but very important ingredients
The first thing the almonds. I always use marconas because they are less likely to have have a bitter. If by bad luck falls you a bitter almond in the ajo Blanco, you'll have to discard it because the flavor that is very unpleasant. Why I bet winning horse and I prefer this type of almonds.
But if you find them us you can buy flour almonds or slivered almonds. they sell them in almost all supermarkets and are very comfortable to use and guarantee you a very rich but a little less intense almond flavor.
The second key is the oil that will provide lots of flavor and emulsify the mixture. In my case I have used O-MED Picual extra virgin olive oil.
And finally the vinegar that for me is essential since it provides the acidity and gives lots of flavor. I've used one that I have fallen in love with. It is a very aromatic vinegar and acid but less than the sherry vinegar. It's a Muscatel wine vinegar (contrary to what it may seem, it is not sweet but yes brings much aroma and flavor. In addition its color makes clear that the soup is not color
Of course can prepare it with the ingredients you have at home, but how much better is oil and vinegar much richer you will be. I hope you enjoy it as much!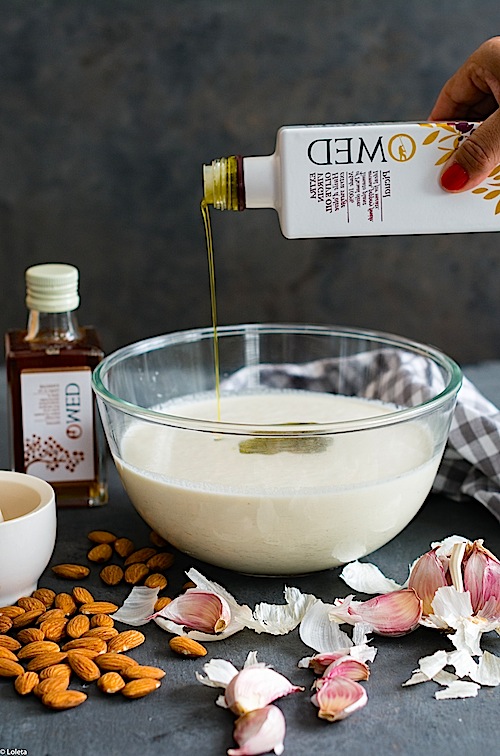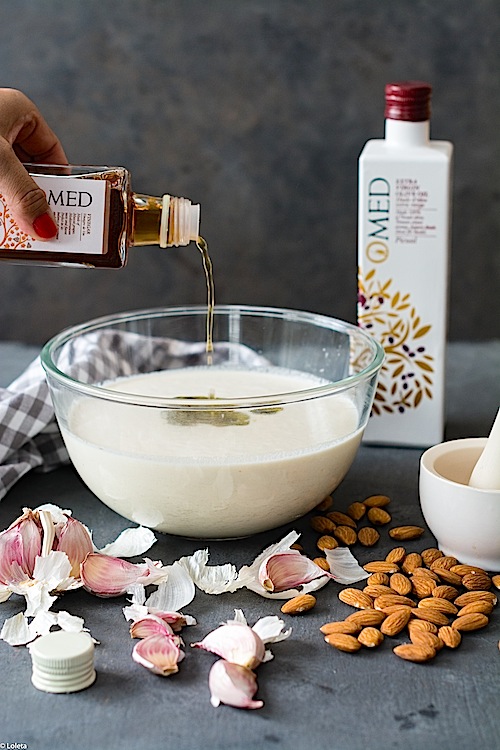 Ingredients
300 g slivered almonds
1 clove of garlic
50 ml of OMED extra virgin olive oil Picual variety
15 ml of Muscatel wine vinegar OMED (if you use a stronger vinegar might be enough with 10 ml, but depends on the acidity of the vinegar)
1/2 teaspoon salt
750 ml water
a bunch of grapes
a few sliced almonds
Directions
Finely grind the almonds with the help of a food processor. We can also buy already crushed almonds.
Add the water and salt and garlic, and blend again. Extra virgin olive oil and the vinegar and return to blend until obtaining a fine, smooth cream.
If you prefer a finer texture, now is the time of the cream through a sieve or a fine sieve. Return to the fridge in a jar and let cool well.
Serve with a few grapes and a few drops of olive oil extra. To my I like to also put some almonds fried on top to give a crispy touch
Tips and Tricks
You can replace a portion of the water with orange juice to give it a more Mediterranean touch (as Jose Carlos García does the chef)
Accompanied by the ajoblanco with a bit of ham and a slice of honeydew
Preparation time: 5 minutes
Difficulty: easy
Servings: 5