When I prepare this homemade tomato sauce always I take to do too much. Of course you can make less.
You only have to divide the quantities proportionately, but I prefer to prepare it and keep it in jars so that then I have always available for all salsa. Especially for improvised dinners of my son.
At home my mother always made the tomato sauce home and since I got used to flavor, texture and aroma. To such an extent that it was able to know was when making homemade tomato sauce only with entering the House, that day always missing bread because he loved all wet. My favorite dish of white rice with fried egg and homemade tomato sauce from my mother. It rechifla me well locked, when tomato that almost have to eat with a fork.
So as you can imagine the tomato sauce it is never missing at home. this today is that most repeat. A simple recipe that is almost alone because all you need is time and much affection, and that in the kitchen never lack. I hope you enjoy it as much as we.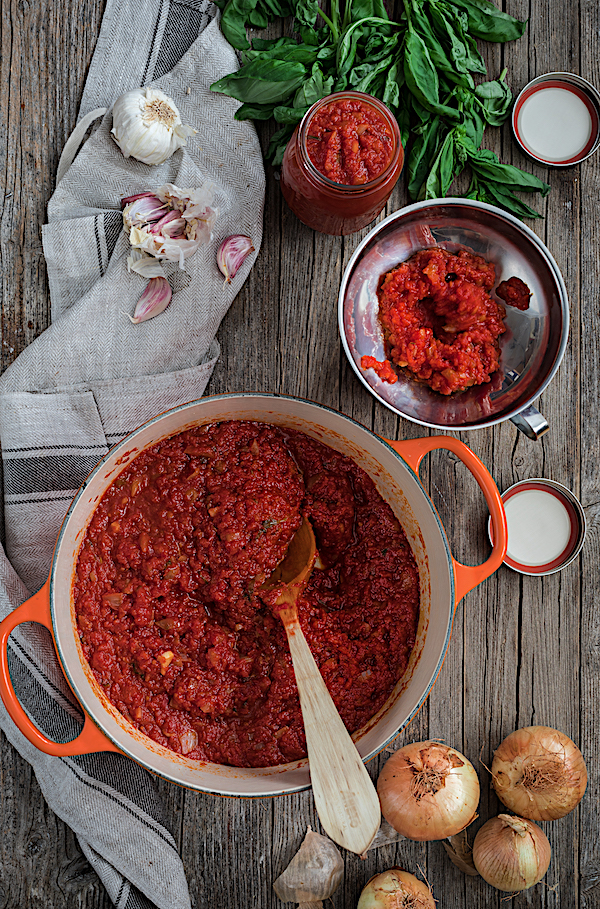 Ingredients
5 kg of tomatoes - don't ever use a single class. Branch, pear and some raf like me
100 ml extra virgin olive oil
4 very chopped cloves of garlic
2 large onions chopped very
1 teaspoon salt
half a teaspoon of sugar
a teaspoon of dried oregano
a bunch of fresh basil
Directions
Peel and remove the seeds from the tomatoes. Chop as much as possible and book
In a large pan put the oil to heat with very chopped garlic. It is important that they are more finely chopped possible. Same as the onion.
Let gently fry the garlic in the oil until browned. Then add the finely chopped onion as smaller that you can (but hand not with grinder because it loses much water and the flavor of the sauce is not equal).
When the onion is soft, add the chopped tomatoes and fry over medium-high heat for a couple of minutes until you tomato is hot.
Then lower the heat to medium-low and add the oregano, salt, sugar and Basil cut into pieces with your hands. Let gently fry the tomatoes for at least 45 minutes moving from time to time. We can cover taking care that it is completely unobstructed. We want that tomato is cold and go by evaporating water at the same time so that a thick tomato sauce is us.
Passed this time tomato sauce will be ready but depending on the water having tomatoes it is possible that we may need more time. Remove the large basil leaves and blunt: with the help of a funnel we fill our sterilized jars, cover and leave to cool out of the refrigerator before cooling them or freeze them.
To sterilize jars, the easiest way is to use the microwave. wash jars thoroughly. left middle finger in each water and heating at full power for a minute in the microwave. Meanwhile, in a saucepan with water boil the lids for a couple of minutes. fill them with homemade tomato sauce and I have my tomato sauce favorite for the coming weeks ready to use
Tips and Tricks
When red and ripe tomatoes are more time it will take to thicken the sauce but richer will be and more beautiful will be the color
Aromatizes the homemade tomato sauce with your favorite herb: rosemary, thyme, mint...
Preparation time: 1 hour
Difficulty: easy
Servings: 6 half-litre jars