Today I bring you this dish with beans from the farm with razor clams and veal dumplings, which are my latest version of cucharero between sea and mountain. For some time I wanted to make a spoon, tasty and simple dish, and my friends of Gastronomic Spain have put me in tray.
Gastronomic Spain a business of selling products online feed lifetime of Spanish origin, with delivery throughout Europe and will make the birthday of my relatives now much more fun abroad. Your website has not only individual products, but they have boxes for regions that will jump more than a tear.
Imagine your brother / cousin / friend living abroad (or at the other end of Spain), in Germany for example, and take our food very much. What would you give away for her birthday / anniversary / her saint or because today is today? As a lot of these products also received a couple of days. Picture it: receive the package, opens the box and finds everything he misses, plus all easy cooking version: premium canned, sausages, cheeses, sweets, wines. In the boxes is everything you need to have a meal or complete dinner for several people, so you can celebrate in top company. Is not it great? What I would have to have it when I lived in London!
But it is also going to go a step further, with this recipe I come to demonstrate that preserves are much more than a can or a can to open and eat. With them you can cook saving a lot of time but with all the flavor. Fast, easy and delicious cuisine that will discover a new side of traditional cuisine much more accessible to those who do not have time, or enough utensils to prepare a good spoon dish. I hope you like it as much as at home. My husband couldn't believe what I prepared with a can and a jar of cooked legumes. The secret? The good quality of the product that is indispensable, yes, and that you will find in Gastronomic Spain in any of its products. Now enjoy!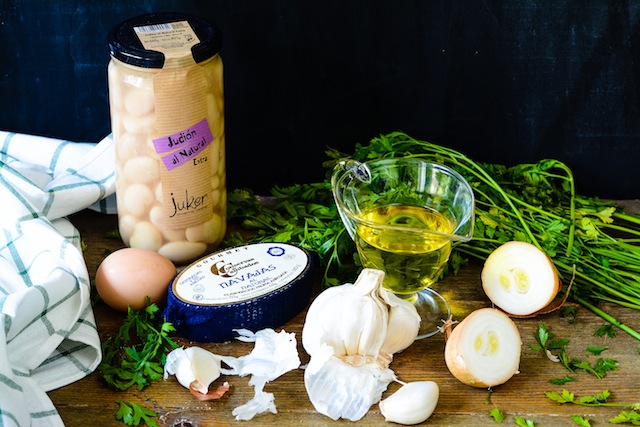 Ingredients
720 g of beans from the farm Judión baked Gastronomic native Spain € 4.47
1 lata de navajas al natural de Gastronomic Spain 5,95 €
300 g of ground beef twice € 3.30
75 ml chamomile Sanlúcar € 0.18
a little nutmeg € 0.02
1 egg €0.12
two tablespoons of breadcrumbs € 0.07
Salt €0.01
black pepper € 0.02
2 cloves of garlic €0.06
1 ramito de perejil 0.10 €
1 medium onion € 0.15
1 bay leaf €0.02
Total € 14.47 to between 4 servings with these amounts are € 3.61 per dish first, anywhere in the world and in just a few minutes
Directions
1 judiones flush thoroughly with water. Drain and set aside
2. Prepare the meatballs: the smaller the better. To do this in a bowl put the meat, add a little nutmeg, ground black pepper, a little salt and mix well. Add an egg and bread crumbs and mix. Pass the meatballs in flour and fry in hot oil. Once you fried place them on a plate with paper towels and set aside.
3. In a saucepan fry the onion with a clove of garlic over medium heat until onion is transparent. Add a little water and blend. Return to saucepan.
3. Add the drained kidney beans and broth Tin knives. Add the bay leaf and meatballs and cover with water. Add the chamomile and bring to the boil.
4. In a small skillet fry a finely chopped garlic in extra virgin olive oil. When browned, add the chopped parsley and knives, skip and take a few laps. Remove from the fire.
5. Pour the blades on judiones and serve piping hot. Now you say me!
Tips and Tricks
Accompanied by some fried bread
To thicken the sauce a bit, add some bread crumbs and boil the sauce
Dificultas Easy
Preparation time: 15 minutes
Servings: 4