I love the easy recipes and this is one of them. Someone got me a Lékué mould to make bread sticks and I loved the idea. I since then, use it for my special dinner and meals, but I had forgotten them until a couple of days ago, I had a dinner at home and made the bread sticks and just realized I had to tall you about it.
The advantage of doing the bread sticks at home is that we can decide what taste we want. It is much more fun to have bread sticks of various kinds that one. I love when I go to a restaurant and get me a basket with various breads, and I'm very keen on bread and... very panarra. Eat and make bread at home is a pleasure, a luxury of slow living. An experience that need their time to come out well but with easy cooking recipes you will get great recipes in just a blink of an eye. Today's recipe is one of those easy, very simple and quick cooking that will give you much satisfaction and that will allow you to give a special touch to your table.
I make small bouquets with them,with a string, but you can set them in your table as you like: in a nice glass, in a basket or just on a table. They are crunchy and very nice colors and are also very simple. I hope they like you.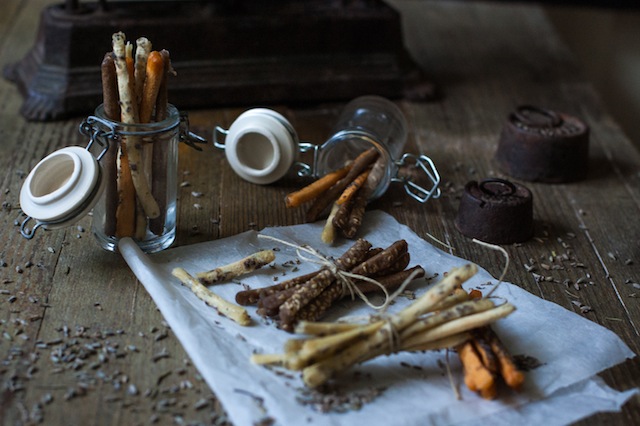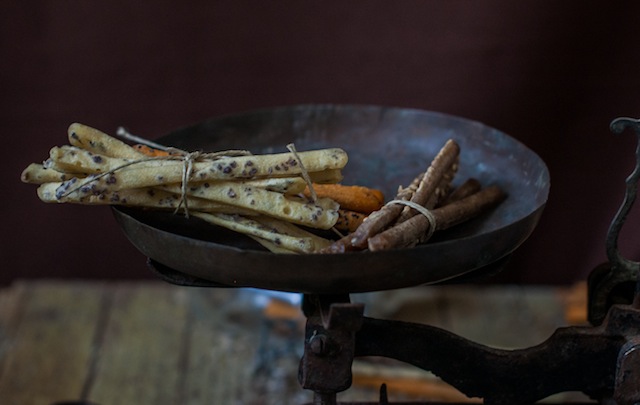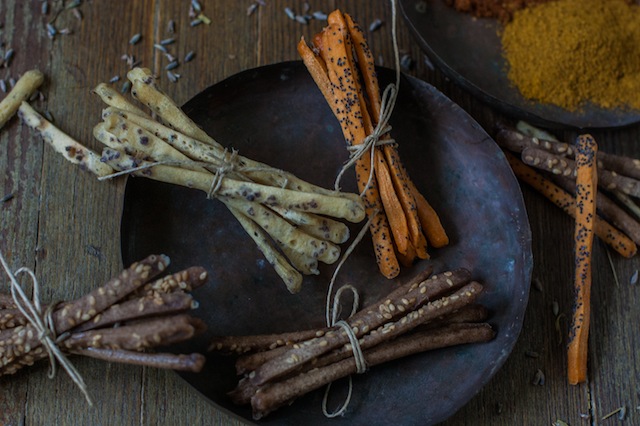 Ingredients
For dough
400 ml water €0.10
400 g of wheat flour €0,20
12 g of salt €0.01
12 g of powdered yeast €0.15
60 ml of olive oil Virgin €0,24
To flavor bread sticks
2 teaspoons sweet paprika from la Vera and poppy seeds €0.25
seeds of lavender and a little black pepper 2 teaspoons ground €0.30
1 teaspoon 5 spices and other white sesame seeds €0.40
Total €1.40 posed among the 50 sticks of bread that we will obtain, 0.03 by beak. don't you think that it is worth to try?
Directions
1 Preheat oven to 180th. Mix water, salt, and yeast in a bowl.
2. Add flour and mix until a homogeneous mass.
3. Add oil and mix bin. To my I like to do it with a scraper to make bread in the same Bowl by hand, but you can use a blender if you prefer
4. Weigh and divide the dough obtained in three equal parts and place each one in a bowl.
6. Add a distinct flavor to each bowl and mix well. Pass each mixture to a disposable pastry bag sleeve
7. Carefully fill each hole of the mould up to the mark to prevent mass out of the mold in baking
8 Bake for 15 minutes at 180 ° C.
9. Leave to cool in the same mold and then pass a grille.
Tips and Tricks
Add your favorite Spice: curry, black pepper, grated cheese...
Make small bouquets with your bread sticks to serve to each guest at the table, or place them in glasses for a different presentation.
Preparation time: 30 minutes
Difficulty: easy
Servings: about 25 tortillas