The bream to the aroma of lime and Rosemary is one of those dishes that I prepare at home when I want that my son does not protest for the fish. In Málaga it is very typical to take pescaíto frito, but it is also true that you have to take it just fried because otherwise it loses much of its thanks.
So it is discarded when I prepare you my son food for school because heat it in the microwave in the dining room is not the best. Normally the fish takes it at night at home, but when I want to include it in the menu of the week, I do it in the oven, as this bream and is delighted to be the cole. Tartar sauce makes the rest of the magic, so the fish are juicy even when it heats it in the micro.
Yes, already is that heat the fish may be sacrilege for many, but in my case I am very practical and this way of preparing it almost no fat and surrounded by fruits and vegetables, makes it light and healthy and the best, that take it without complaint, is so this bream to the aroma of lime and Rosemary preferred for all even for those who eat out of House and warm food in the micro. Result of 10 that allows you to take fresh fish without any problem. don't you think so? As you'll see.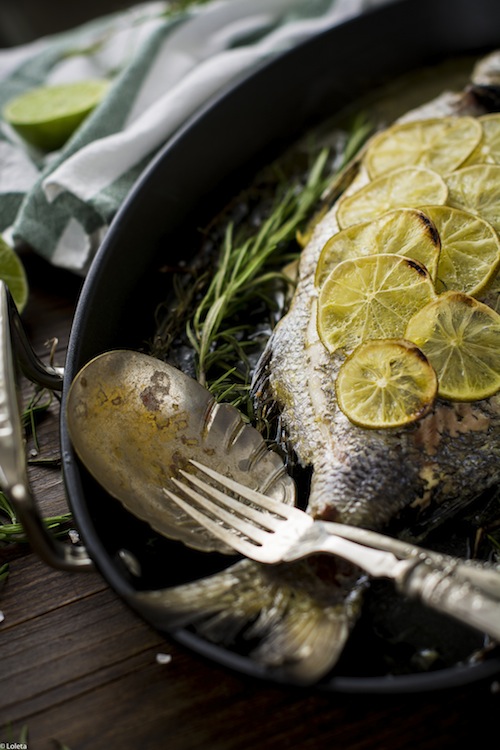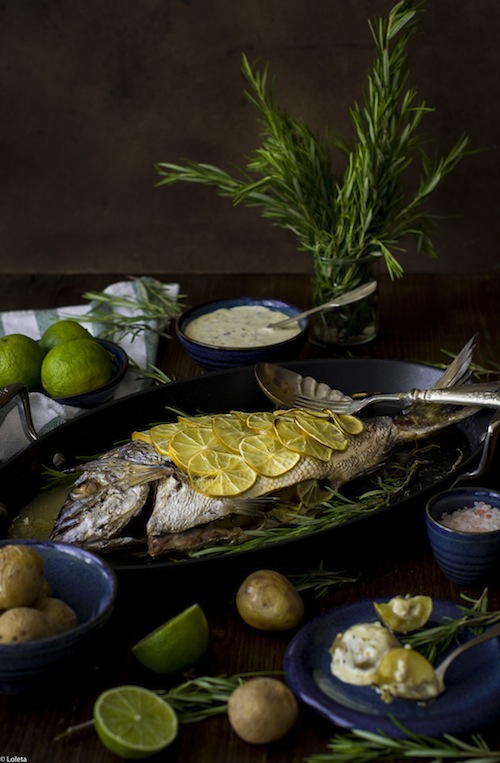 Ingredients
1 bream of 800g approx. €9.60
2 limes €0.35
a handful of salt fat €0.01
3 branches of Rosemary €0.10
10 French garrison potatoes €0.60
30 ml extra virgin olive oil €0.10
Apple Cider vinegar 80 ml €0,10
For the tartar sauce
2 eggs €0.25
100 ml sunflower oil €0,10
100 ml extra virgin olive oil €0.30
2 tablespoons capers €0.25
2 tablespoons pickles €0.25
Total € 12,01 posed € 3.00 per serving of a fresh, healthy and light fish ideal for everyone, anytime
Directions
1 ask the fishmonger that clean us scale the fish and leave it clean inside. If we want to we can ask him to remove the head but allow full herringbone.
2. with the help of a very sharp knife, cut a lime into thin slices. Book.
3. put a little salt into the fish as well as a couple of thin slices of lime.
4. transfer to a bowl suitable for oven fish. Cover the back of our bream with lime slices. Place the potatoes and some branches of Rosemary around. Add the olive oil and vinegar and baked sea bream to the aroma of lime and Rosemary to 1890 ° for about 35 minutes.
5. Meanwhile make the tartare sauce: make a mayonnaise and set aside. Boil the eggs and chop finmente gherkins and capers. Mix everything.
6. when the bream to the aroma of lime and Rosemary is ready, servor with potatoes and tartar sauce.
Tips and Tricks
You can used gilthead bream, sea bass or red snapper
It replaces the file by lemon
Preparation time: 40 minutes
Difficulty: easy
Servings: 4