Today we know the data of interest in Milan and then eat a delicious Pate of campagna home. It is easy to travel to Milan. You live where you live, there are many possibilities. The easiest plane. Milan has three airports:
Bergamo- Ryanair flies is about 50 kilometers. The easiest and cheapest way is the bus. Once went down the plane is very well signposted. There are several related lines. The easiest is to ask when it leaves the next and take the first. The journey costs €5 and makes no stops. Drops you off at the central station of Milan (Stazione Centrale) and from there you can take a taxi or the metro to your final destination. It takes around 50 minutes, but it depends on the traffic. It is not worth taking a taxi, except luxury, because it is expensive (about €100).
Malpensa -It is another low-cost airport. The best is also the bus going to the Stazione Centrale, but you can also take the train. Depending on the terminal to which fly, is more convenient to the train or the bus: If you fly with easyet is better the bus because you take it directly in Terminal 2, while if you take the train, you have to make it through a shuttle to terminal 1 and from there take the train. The bus ride is €5 and train about €10. Taxi is very expensive to get from Malpensa (about €80).
Linate -It is the airport that flies Iberia and is just 7 km from the center of the city. It is accessible by train, metro and bus. In addition, you can take a taxi which will cost you about €40.
With respect to the accommodation, I decided to rent an apartment in the city. I did it through Airbnb and after much seeing, I decided to reward the situation. It was an apartment with a bedroom, kitchen and bathroom with a situation that allowed us to come and go without problem from the Center to the House. Milan also offers many choices of hotels, and some of the Spanish hotel chains are present in the city such as NH and Melia. Each chain has several hotels of different price depending on their location and services. The options will depend on as always the budget that you have.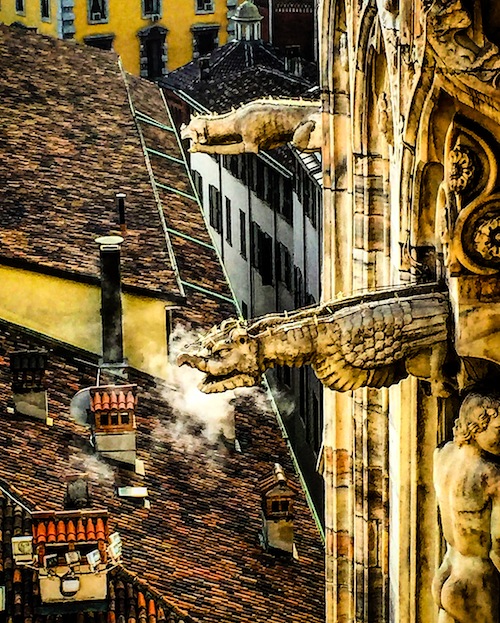 The following data of interest in Milan is to know that you can walk it perfectly. If you're used to walking won't cost you walk its streets come and go through their neighborhoods, and unless you want to get out of the zone or to return home after dinner, you can move on foot or by tram or metro without any problem.
What you can't miss is a visit to Il Duomo in Milan. The entry is compulsory and which get better is the A pass coming out of €15 if you raise the elevator and €11 more but it is worth especially for as long as you save. It is estimated that you will spend 30 minutes on the terrace because the views are spectacular and enjoy an infinite number of details that you can observe very closely.
We are in the Piazza del Duomo (Duomo square). The surroundings always tend to have people singing and dancing and usually one of the liveliest places in the city on weekends. Then you have to go through the Vittorio Emmanuelle galleries, where on the ground floor of the entrance Plaza, you can enjoy a Martini with its corresponding appetizer.
When you leave go up to the terrace of the Mall The Renascente, and you will see the Duomo from the other side. The terrace is fantastic and can be a good choice to drink something light in the food if we have not reserved and we are on weekend. Here you will find also all the brands you can imagine of clothing, footwear and accessories for woman and man.
Milan has a great gastronomic interest. You can't miss him breakfast or snack it in the Pasticceria Marchesi. There is a new street Via Montenapoleone 9 (with possibility to sit quietly and have breakfast or afternoon snack or a snack), and another, the original in Via S. Maria alla Porta 11 (you have to take the consumption of foot). Ask a brioche (there are many kinds, with stuffed with savoury and of course... sweet!). The puff is spectacular, and if you go at Christmas you have to try the panettone. Also the budini di riso, the brioche to prosciutto (with ham), and pasta sfogliatta with cream (pastry stuffed with cream) will remember them all your life. To accompany a coffee or a chocolate and orange juice.
Cova is another of my favorite bakery. Here the pasta frola It is the best I've ever taken. They are tea, but large. Mass is soft and crunchy at the same time with a sweet taste of butter. Spectacular those filled with Strawberry or red fruits jam. It has a variety of cakes. Don't try the jam and any of chestnuts. In addition, your panettone is considered by many the best of the city as well as pandoro, so here you have to stop Yes or Yes.
To eat Milan offers thousand options. It is advisable to book for dinner but we want to stay without tasting snack. My bets are as follows:
Il Taglio, recommendation of my friend Pilar Martín Val and that I loved it. It is in the zone of the Navigli, the more lively at night and where it is easy to find a place to have a drink after dinner. This place is at the same time, restaurant and shop. The burratas, mozzarella and other cheeses and sausages that you'll find when you enter will make you cry. Not tell you now the food that is served in the restaurant. Eat surrounded by bottles of wine and good oils, packages of pasta and vegetables, in a very Italian atmosphere with surprising dishes. Recommended: crostini of spinet of tuna canned, capers and peperoncino, rigatoni Al Ragù di calamari, pure sea. Dessert mascarpone mousse. Price average 30-€40 with wine.
Trippa, a trattoria in Via Giorgio Vasari, 3. Recommendation also pillar, has a friendly casual with a short letter but that will be difficult to choose. Recommended Vitello Tonatto and the venison ragu gnocchi. Dessert tiramisu is the best in Milan. Service is charming. Let yourself be advised by them on the wine and food because they always have delicious dishes out letter. Approximate price: €40 per person.
Paper-Moon, delicious fresh Italian cuisine in a very cool atmosphere. A trendy place to eat pizza, pasta or some fantastic salads. Great stuffed artichokes, focaccia and pizzas. Average price 20-25 €.
Pier 52, a very nice and elegant restaurant where dinner a special day. The exquisite service and the atmosphere cozy and chic at the same time. Delicious crispy Octopus, oysters, the fisherman and the macaroni with Joselito ham and pepper Spaghetti (Yes, incredible, with Milan Joselito ham!). For dessert, the chocolate cake is delicious. And all in a cozy place, with one city decoration. It is one of those sites that do not go out of fashion. Average price: €60.
Dolce and Gabanna Martini Bar, ideal for watching and being seen, having a snack or dinner. You won't forget the atmosphere, but neither will the price. Emporio Armani Café, worth going through and seeing the purest state of Italian design. It is attached to the store where you will find in addition to fashion, the latest gadgets.
And how not? Being close to the Alps, to better to bring you this recipe. For a long time I wanted to prepare this recipe for home-made Pate of Campagna. It is a pate that is made with different meats. The real thing takes unground, and appreciate the pieces of various meats, but at home like most with a creamy texture, so even if the ingredients do not vary, the way to do that is different depending on what you want as a result.
I do when I make it, twice the amount. I love to fill tiny molds and distribute them by the family. I also take to freeze which I am not going to consume and so have a snack home and delicious when I have guests at home.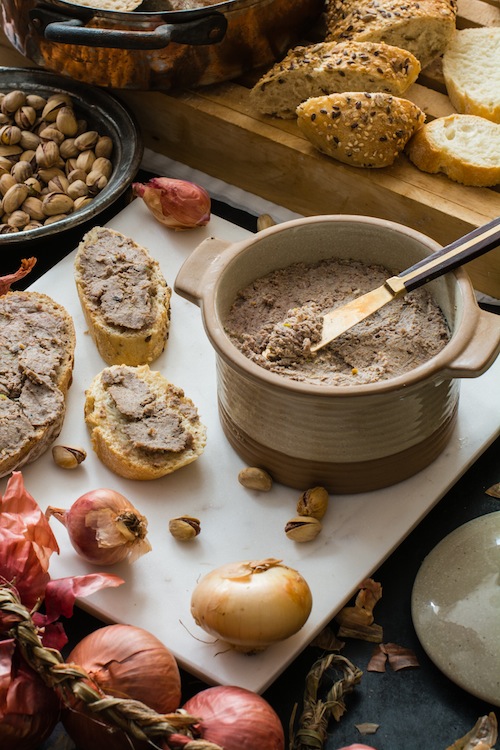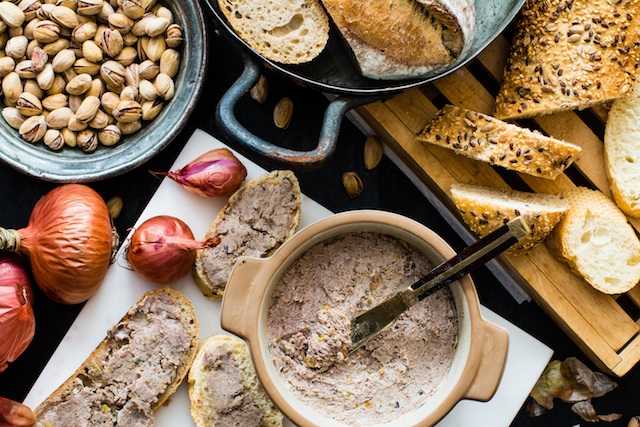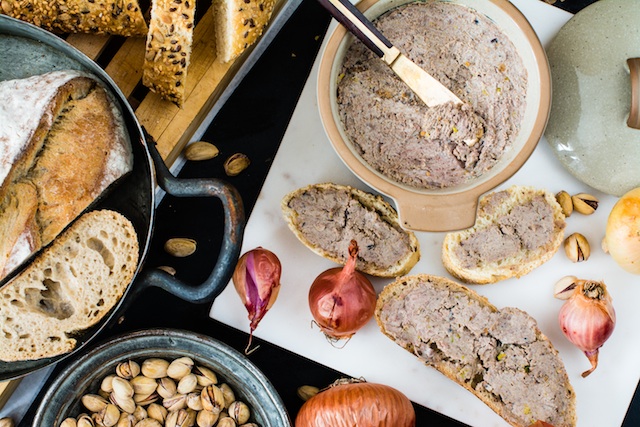 Ingredients
250 g of pork liver
250 g of pork Bacon
250 g of minced beef
200 g of fresh sausages
3 onions
3 shallots
1 a bit of thyme
150 ml of brandy or cognac
1/2 teaspoon salt
1/2 teaspoon ground black pepper
1/2 teaspoon nutmeg
6 sichuan pepper berries
6 pink pepper berries
a handful of pistachios
Directions
1 Preheat the oven to 180 C degrees.
2. remove the tripe sausages. Put in a bowl meat sausages, minced beef meat, chopped liver and chopped bacon. Mix well (I use disposable latex gloves).
3. Add the salt, pepper, nutmeg, cognac and berries. Mix well.
4 well chop onions, shallots and thyme and add to meat, all can be well integrated
5. in an ovenproof pan, fill half of it with the meat mixture. Put a few pistachios copper meat and finish filling. Put a sheet over laurel.
6 put in a container suitable for ovens filled with water the part below the oven. This will make our oven to create a large double boiler but not burn. In a half-height grid place our pate molds and bake for about 90 minutes until pressing the juice not pink sauce. If we use small containers, the time can be less.
7 past this time, remove from the oven and let cool with a weight above. We will leave the bowl of water inside the oven until it has cooled down completely and there is no risk of burning.
Tips and Tricks
If you want a creamy texture, to come out of the oven, pour the contents of the moulds in a large bowl, grind using a blender and return to different molds. place a weight over to press the content and let cool overnight in the fridge
Replaced brandy with Porto, sweet wine or armagnac.
Difficulty: easy
Preparation time: 120 minutes
Servings: 10