I am a lover of canned fish and shellfish is not a secret, and those who really know me know that with a can of good mussels I have in my pocket. Someday I will tell the story about how Dani Carnero (Restaurant The Cosmopolitan) we met and I ... yes, yes, around a good can of mussels.
But the world of canned seafood today is much more than opening a can to fill a lunch or dinner without going through the kitchen. Increasingly there are restaurants and shops that open and presented as canned flagship product, transforming the plate-shaped delicacies, so that it is increasingly common to cook and enjoy its hidden delights.
It not only preserves that are nutritious, light and healthy containing rich in omega 3 fatty acids, amino acids, phosphorus, calcium, and they are natural and have no preservatives or colorings, now also is almost more important to have the additional value as a starting point a recipe made you not believe me? I tell you and you will be surprised.
I was fortunate to attend a couple of weeks ago in Madrid GastroMeetConserva, Organized by the National Association of Manufacturers of Canned Fish and Shellfish (ANFACO-CECOPESCA) -an organization business oldest of Spain, in collaboration with the Ministry of Agriculture and the European Fisheries Fund in Madrid, besides being familiar we have a sustainable and respectful retains 100% environmentally friendly, captured with responsible fishing methods, and that is our first product from the sea in national exports (more than 120 countries around the world), we enjoyed it more teaching of the day came from the hand of my admired Diego Gallegos, known as the Chef of caviar (chef latest revelation in Madrid Fusion), we demonstrated in a show cooking unique and amazing, how to do with cans haute cuisine .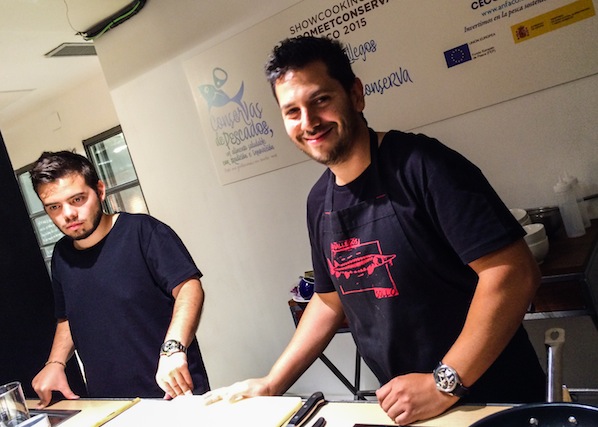 The Chef of Caviar is a big fan of canned. The restaurant is 100% sustainable and that is precisely what he likes of canned, that respect the environment and sustainability.
Diego did it again the fusion of very different ingredients from distant cultures, a common thread to transport us to taste that has nothing to do with the original partners of a can, and by kinchi, dashi, oyster sauce, soy sauce, sesame katsobushi (bonito flakes), cilantro, tandoori and curry among others, showed that the rotation can give a canned seafood.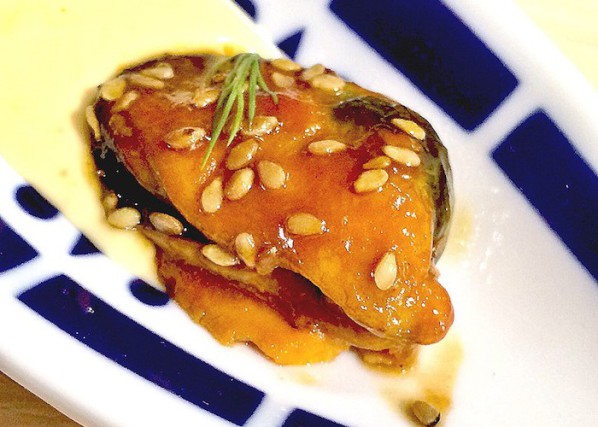 We also made six preparations fall in love, I found very original and creative. Jap mussel glazed with his pickled mayonnaise, tuna and stuffed Gyozas dark dashi market, Kimchi cockles in lime, beet salmorejo marinated sardines, scallops tartare, foam yogurt, cilantro and lime and curry anchovy. All served in a beautiful ceramic dinnerware for catering Sargadelos.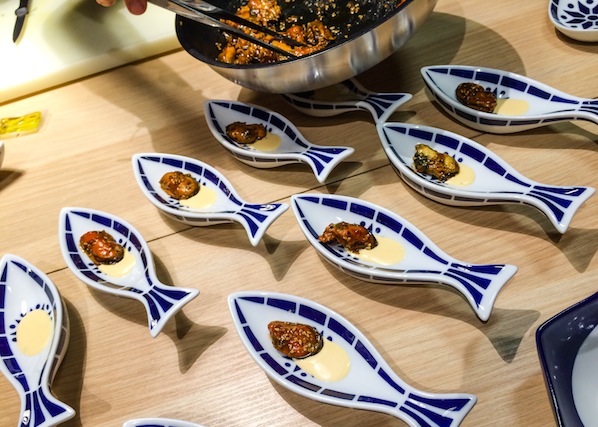 In short, a time to repeat at any time, but certainly to repeat each and every one of the recipes that Diego gave us that day. I promise to bring you some impromptu dinner soon for those that I love, but for now I leave you with a recipe that dazzled me. Probadla and you tell me ... and you know: Seize much good and many conservares companies have spread throughout the Spanish coast. Give us can well synonymous with enjoying some of the most delicious dishes we have in our shores.
Tartar of scallops with yogurt foam with cilantro and lime by Diego Gallegos (The Chef's Caviar)
Ingredients
For the tartar
2 cans of scallops in sauce scallop
2 heaping tablespoons mayonnaise
2 tablespoons of a mixture of capers, pickles, pickled onions and finely chopped
some olive oil.
For the foam with cilantro and lime yogurt
250 g yoghurt
the zest of a lime
100 g of cream (35% fat to less)
a bunch of chopped cilantro.
Directions
Drain the scallops yreservamos canned sauce aside.
Mix the mayonnaise, pickles, finely chopped drained and a little lime juice. Mix well. Add the scallops.
For yogurt foam, beat all the ingredients: yogurt, lime, cream and cilantro and blend well.
In a siphon with a load put cream yogurt
On a plate put a tablespoon of tartar and cover with foam wrapping the tartar.
Decorate with edible flowers and buds and salsa with a liquid of scallops
Note: Some images are provided by the organization