One does not decide his fate, but if the attitude in the life which then will mark our destination
When one thinks of fried fish always think in Malaga. Anchovies, which is as we known in all Spain, we are open and friendly and we like our city like the visitors. When remodeled the Calle del Marqués de Larios It got much, but nothing like the reform that has suffered the port and its quays and especially the new Pier One who has come to become the main meeting place of youth, families and adults.
Many places to eat, and of course fish sites. As that today I bring you. Tuna in all its versions is like the pig: "until the gait" saying my grandmother trying to explain that it can take advantage of absolutely everything.
The tuna cooked with onion Gets a special juiciness, but my son I always complained because although she loves tuna, doesn't like to eat onion as is. My trick? That I bring you today: pass all the tuna sauce with the help of a vessel beater so it is thick and rich. The problems ended with the kids!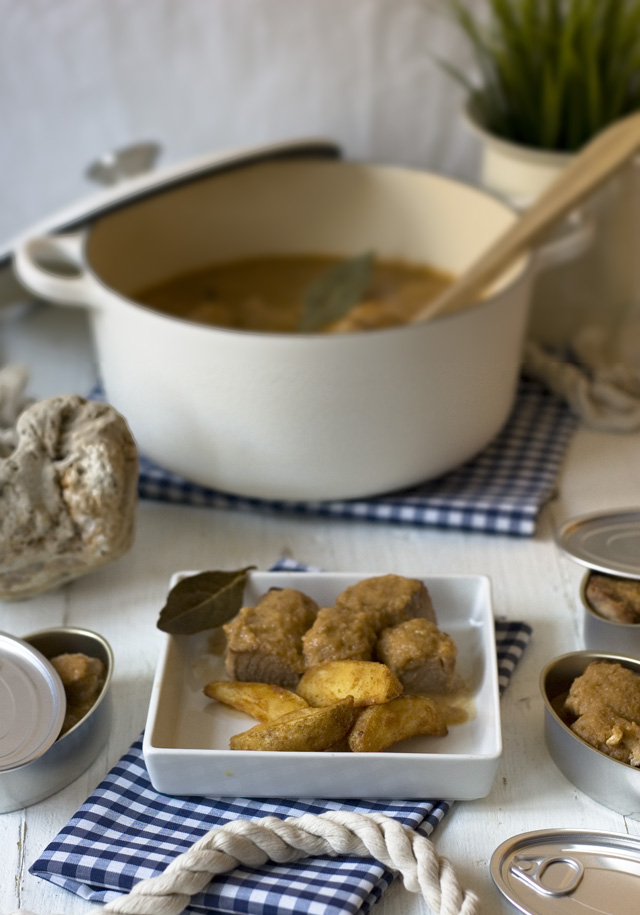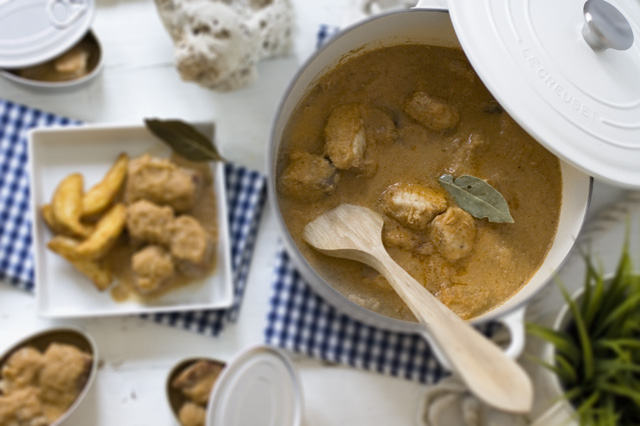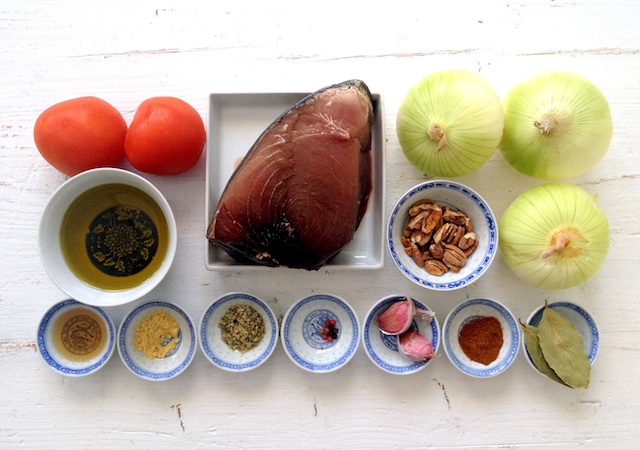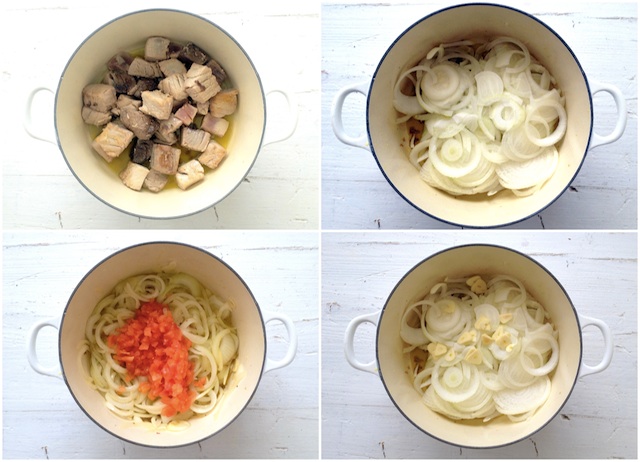 Ingredients
1 kg of tuna, preferably filet €12,00
3 large onions 300 g tomatoes €0.80 €0.30
2 cloves of garlic €0.05 150 ml olive oil Extra Virgin variety Picual star Castle, an intensely flavored oil ideal for this dish €2.40
2 tablespoons vinegar of sherry - vinegar must be good because otherwise it will not bring the flavors and aromas we seek €0.07
1/2 glass of water €0.04
1 handful of walnuts (about 30 g) 1 teaspoon sweet paprika €0.40 €0.05
1 tsp oregano dry €0.05 1 teaspoon of mustard powder (sold in foreign supermarkets and gourmet stores. La_que I use is the brand Colman's is English, but if you cannot find it you can add a teaspoon of Dijon mustard or mustard English) €0.15
3 bay leaves €0.05
1 teaspoon salt €0.02
4 grains of black pepper €0.10
5 pink pepper (I love the aroma and flavour of pink pepper that I use for everything, even candy. If you have not passes nothing but you miss the aroma so rich that it gives and the mild flavor that brings) €0.15
Total €16,51 from 8 servings you they go out, it means €2.06 per person. A good price for a delicious meal. Utensils
Directions
1 Peel and cut onions into thin slices.
2 Peel and finely chop the garlic.
3 you can ask the fishmonger to cut you in pieces tuna. To my I like to buy a large taco and I cut it at home but if you prefer, you can buy it cut. They should be tacos not very large but not very small, about 3 centimeters it is OK.
4. crush the walnuts in a mortar. Book.
5 crush in mortar pepper
6. Peel the tomatoes. Remove seeds and drain all water. Finely chop and reserve.
7. heat the oil in a pan and when it is hot, add the tuna and Brown on all sides. Remove from pan and reserve.
8. in the same oil, fry the onions for 1 minute. Then add the tomatoes and salt. Sauté until the onion is tender and almost melted tomato.
9. When is onion made and completely tender, add pepper ground in a mortar, vinegar, paprika, oregano, mustard powder, crushed walnuts and half cup of water.
10. Add the tuna and cook over heat medium for about 5 minutes more until the water has evaporated a bit and all the flavors have teamed up well.
11 remove the chunks of tuna and pass the sauce with the help of an electric mixer until you obtain a thick sauce.
12 return to put tuna in pan and pour the sauce and simmer for a couple of minutes.
13 serve with, for example, potato chips.
Tips and Tricks
My trick for children to eat tuna without protest is to pass the sauce, but if you prefer it, you don't have to pass it.
Prepare the sauce ahead and even freeze can use pretty instead of tuna though bonito tends to fall apart more easily than serve tuna accompanied instead of potatoes, white rice
Level of difficulty: medium
Preparation time: 60 minutes
Seating: 8 people
For this fish dish, I recommend a white wine of Portugal. Mateus Blanc. Fruity and light, with a very reasonable price €3.73