Os traigo una receta de esas de toda la vida, una salsa carbonara pero con mi toque como siempre. Se trata de una salsa carbonara con espárragos verdes aprovechando la temporada. Rica y sana, estoy segura de que os va a encantar.
Pero… ¡la receta no viene sola! porque con esta receta de hoy iniciamos además el sorteo de Le Creuset para celebrar el tercer aniversario del blog. Se trata de una sauté de la nueva seria de acero de Le Creuset (valorada en 169€) y de un juego de 4 mini cocotes matiére (valorado en 69,90€) para que puedas hacer tus recetas favoritas. Todo valorado en 238,90 €. Un regalazo para que disfrutes acordándote de Le Creuset and Loleta.
To participate you just you have to:
Hacerte fan en Facebook de Le Creuset

Become a fan of Facebook's Loleta
Fan on Instagram of Loleta
Share on your Facebook Wall This post Sweepstakes
Leave a comment on this post
Participa antes del 30 de abril (sólo válido para España), comparte y gana esta preciosa sauté y estas fantásticas mini cocottes de cerámica para preparar tus mejores recetas y conseguir una presentación espectacular.
Hoy os enseño la sauté para que veáis lo bonita que es con un recetón sencillo, pero que me encanta, una salsa carbonara. Es un plato típico italiano, tradicional que todo el mundo conoce pero a la que yo pongo mi toque personal añadiendo a la salsa carbonara unos espárragos verdes.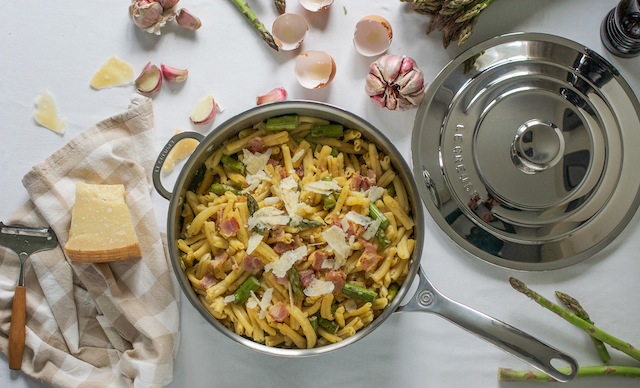 Ingredients
200 g de espárragos verdes 1,00 €

500 g de pasta de sémola dura 2,00 €

1 diente de ajo 0,02 €

150 g de bacon ahumado en lonchas 0,90 €

3 eggs €0.37
Salt €0.01
Pepper €0.02

100 g de queso parmesano en lascas o rallado 1,80 €

aceite de oliva 0,45 €
Total 5,67 € que entre seis raciones que salen, suponen 0,94 € por ración. Rico, sano y ¡barato!
Directions
1. Poner agua a hervir en una cacerola mediana. Cortar los espárragos en trozos de unos 3 o 4 centímetros de largo desechando la parte más dura y blanca (la del final). Cocer los espárragos en el agua hirviendo con sal durante unos minutos hasta que estén tiernos pero no blandos (3 o 4 minutos). Escurrir y reservar.
2. En una cacerola grande poner abundante agua a hervir. Cuando esté hirviendo añadir la pasta y cocer siguiendo el tiempo marcado en el paquete. Enjuagar con agua caliente para cortar la cocción de la pasta y escurrir. Reservar.
3. En una sartén grande, yo lo hice en mi sauté de Le Creuset que acababa de recibir, calentar a fuego medio el aceite. Añadir el diente de ajo picado y dorar suavemente. Añadir el bacon y saltear hasta que esté dorado.
4. Añadir los espárragos escurridos y saltear. Añadir la pasta y rehogar hast que esté bien caliente. Batir los huevos y añadirlos a la sartén. Con ayuda de una cuchara de palo, mover suavemente para que los huevos cuajen. Añadir pimienta negra recién molida y rectificar de sal.
5. Añadir unas lascas de queso parmesano y ¡a disfrutar!
Tips and Tricks
Put Zucchini instead of asparagus or dispenses with the vegetables for a true carbonara
Make this recipe with fresh pasta and the result will be even better
Difficulty: easy
Preparation time: 25 minutes
Servings: 6