I bring you a recipe of those of a lifetime, a carbonara sauce but with my touch as always. It is a carbonara sauce with green asparagus taking advantage of the season. Rich and healthy, I'm sure you'll love it.
But... the recipe doesn't come alone! because with this recipe today we also start the draw of Le Creuset to celebrate the third anniversary of the blog. It is a sauté of the new steel series of Le Creuset (valued at € 169) and a set of 4 mini cocotes matiére (valued at € 69.90) so you can make your favorite recipes. All valued at 238,90 €. A gift for you to enjoy remembering Le Creuset and Loleta.
To participate you just you have to:
Become a fan of Le Creuset on Facebook
Become a fan of Facebook's Loleta
Fan on Instagram of Loleta
Share on your Facebook Wall This post Sweepstakes
Leave a comment on this post
Participate before April 30 (only valid for Spain), share and win this beautiful sauté and these fantastic ceramic mini cocottes to prepare your best recipes and get a spectacular presentation.
Today I show you the sauté so you can see how beautiful it is with a simple recetón, but I love it, a carbonara sauce. It is a typical Italian dish, traditional that everyone knows but to which I put my personal touch by adding green asparagus to the carbonara sauce.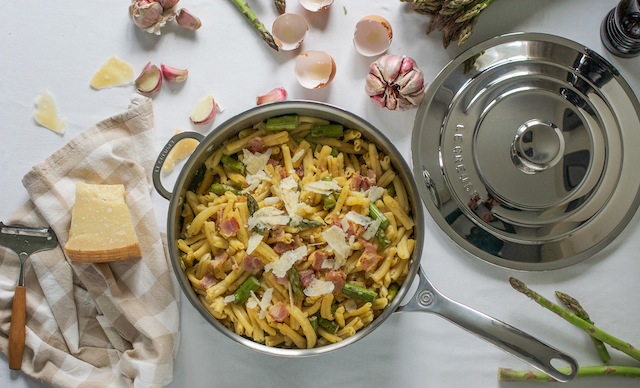 Ingredients
200 g green asparagus €1.00

500 g of semolla paste lasts 2,00 €

1 clove of garlic €0.02
150 g smoked sliced bacon €0.90
3 eggs €0.37
Salt €0.01
Pepper €0.02
100 g Parmesan cheese in flakes or grated 1,80 €
olive oil €0.45
Total € 5.67 that between six portions that come out, represent € 0.94 per serving. Rich, healthy and cheap!
Directions
1. Bring water to a boil in a medium saucepan. Cut the asparagus into pieces about 3 or 4 centimeters long discarding the hardest and whitest part (the one at the end). Cook the asparagus in boiling water with salt for a few minutes until tender but not soft (3 or 4 minutes). Drain and reserve.
2. In a large saucepan put plenty of water to boil. When it is boiling add the pasta and cook following the time marked on the package. Rinse with hot water to cut the cooking of the pasta and drain. Reserve.
3. In a large skillet, I did it in my sauté of Le Creuset that I had just received, heat the oil over medium heat. Add the chopped garlic clove and brown gently. Add the bacon and sauté until golden.
4. Add the drained asparagus and sauté. Add the paste and sauté until it is very hot. Beat the eggs and add them to the pan. With the help of a stick spoon, move gently so that the eggs curdle. Add freshly ground black pepper and rectify salt.
5. Add some flakes of Parmesan cheese and enjoy!
Tips and Tricks
Put Zucchini instead of asparagus or dispenses with the vegetables for a true carbonara
Make this recipe with fresh pasta and the result will be even better
Difficulty: easy
Preparation time: 25 minutes
Servings: 6