The cherry gazpacho is one that we do more at home in addition to the traditional. And it is that cold tomato soups are in my house the compulsory dinner that I have to be always in the fridge since arrives this time of year in which already crave light dinners or cold rather than the beloved winter soups.
When we talk about tomatoes and tomato soups cold there are thousand versions. Porra antequerana, now I bring you, it has lots of bread. In my house the salmorejo are always made with too much oil and little bread, and never with pepper.
My grandmother did as well, and so do us. It thickens with much extra virgin olive oil and is therefore very important that we use a good oil. The best we can find.
To my I love the of O-Med because they are almost artisan oils with a lot of flavor. This I use today, picual, has a taste to tomato at the end which gives it a unique touch to the gazpacho and which has also been chosen for the Food Prize of Spain as "Green fruity sour". Ye say that I am a heavy oil but is that often we don't know what we have and make a unique oil at O´MED. I have all my uncles already converts and it is this oil falls when tested.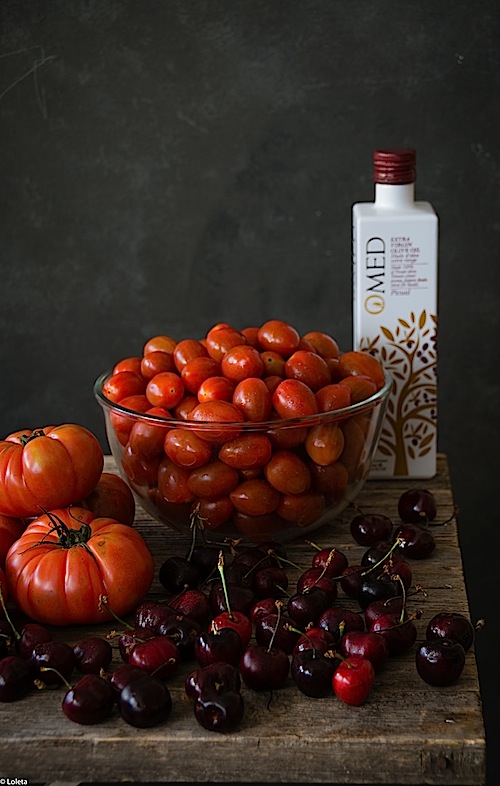 Ingredients
150 g of cherries pulp - use cherries crushed and passed through a sieve to remove the skins, or frozen cherries
2 kilos of ripe tomatoes - I used cherry tomatoes because my friend Raquel Carmona had just give me a lot. I love the taste giving these tomatoes to the gazpacho because they are very sweet, so it acopañan very well to the cherries
280 ml of Virgin olive oil extra - me faithful to O-Med because they are almost artisan oils with a lot of flavor. This I use today, is variety Picual, It has a taste to tomato at the end which gives it a unique touch to the salmorejo.
1 teaspoon fine salt
2 cloves of garlic
150 g of type telera bread or wheat (bread, bread is told here in Malaga.) It cannot be Vienna or baguette or anything like that)
1 egg
For the Basil oil
200 ml of O-Med Picual extra virgin olive oil
1 bunch of fresh basil
Directions
1. wash the tomatoes. If you use tomatoes normal, remove the top and cut into pieces to add to the Blender (you needn't peel them).
2. Add garlic to it to remove you the central strand so you do not repeat. Add the olive oil, salt and bread soaked in water. Add the egg that will give a smooth, creamy texture. Add salt
3 whisk well. Depending on the power of the mixer will take more or less to achieve a creamy texture. If you use Thermomix, two speed 10 minutes they will suffice. If you use a blender jar, you will need more time depending on the strength. If you use a mixer arm (Mole mini pimer), you'll have to do it several times, handing out the ingredients but in the end everything is again a.
4. when the mixture is ready, add the cherries pulp and mix well again.
5. once the ingredients have mixed well and has been achieved a creamy texture, pass through a sieve to remove the remains that have been left from the skins and seeds of tomatoes, etc. Salt to taste and if necessary we can add a little more garlic in the next round.
6. to prepare Basil oil there to crush the Basil with oil. We can do it in a mortar or with help of a blender. Book
5. in a bowl serve the gazpacho which will have a beautiful color. Add a child, or of Basil oil. Serve
Tips and Tricks
Substitute cherries for strawberries
Serve with chopped fresh fruit, although also can serve it with traditional ham, hard-boiled egg or tuna)
Difficulty: easy
Preparation time: 30 minutes
Servings: 10
Post parocinado