This pizza is my version of Caprese salad in pan, a crispy pizza receton of summer for which you only need a good pan.
Many are people I write many times telling me that you have no oven and although already you suit the recipe for the pizza Montanara, chips pizzas do not need oven, had long been wanting to bring you this recipe for pizza that is made in frying pan and today I bring in the form of Caprese salad.
Make the pizza in the Pan is very easy. Basically we prepare the mass as usual, but then instead of baking it, cook it in the oven. We can make it by the two sides, and end it with the ingredients in the same pan, or as I do in this recipe, finish it either.
The only thing you must keep in mind is that for this recipe it is not any skillet will have use a skillet first, which have a non-stick from first and above all a termo-difusor of top quality so the pizza is done well and not burn. I used an of my Infinity of Bra that already know that use at all hours and that are very versatile
Already you have no excuse to not prepare pizzas at home, so let's go for it. In only a few minutes, the pizza will be newly made in your table. And this today as well as pizza is Insalata Caprese, ideal for the summer, to share and to prepare in company.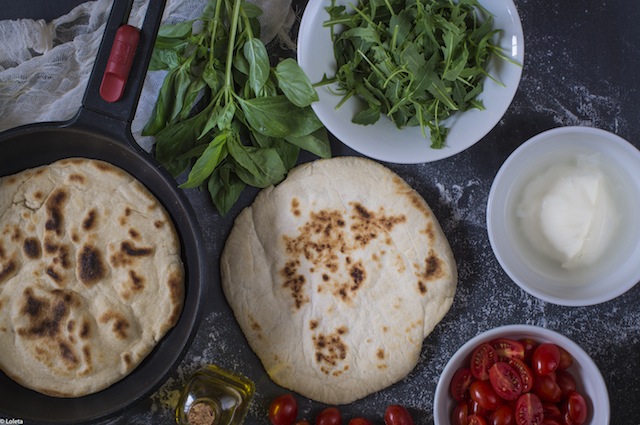 Ingredients
100 ml water €0,02
30 ml of extra virgin olive oil €0.11
a pinch of salt €0.01
3 g's dry Baker's yeast 0, €06
200 g flour €0.12
1 clove garlic, minced very €0.03
For the caprese
250 g cherry tomatoes €0.69
25 g Arugula €0.35
1 bunch of Basil 1,29 €
1 burrata or mozzarella a €0.79
20 ml of extra virgin olive oil €0.07
Total €3.54, i.e., 1.77 for the pizza more rich and cool in the summer. Not I say that not deserve the penalty try it!
Directions
1 put the yeast with the warm in a glass water and leave to stand for one minute. Add the oil and mix.
2. in a bowl mix the flour, the garlic chopped and the salt, and add the mixture of yeast. Mix with a spoon until the flour is well mixed with liquids.
3 flour the work surface and dump the dough on it. Begin to knead to combine all ingredients well. Form a ball and let stand for about 30 minutes.
4 past this time divide the dough in two. stretch one of the two balls, if you want to with the help of a roller, (although it is not the best for pizza, in this case we need a thin pizza that we do well in the Pan).
5. heat the skillet over maximum heat well, put dough on it let Brown over medium heat. Let dough is golden on one side for about 3 minutes and then turn it over and let it cook another 3 minutes on the other side.
6. remove the pizza from the pan. Put an s rocket leaves, open tomatoes and mozzarella cut into pieces and a few basil leaves. Finish with a little salt and a splash of good Virgin olive oil extra
Tips and Tricks
If like do a pizza traditional, when is has made hand put the sauce of tomato by up and the cheese mozzarella shredded ending with them ingredients that more us like.
Preparation time: 45 minutes
Difficulty: easy
Servings: 2 pizzas