One of the reasons why this blog came about was to gather all the recipes I had and used to having to write many times to share. This healthy salmon that I bring today is not mine. It is my friend's Carmen who insisted a lot on me to try it for the first time. I have repeated it a thousand times ever since then.
There are times in which we complicate ourselves in the kitchen without thinking that not always easy means no tasteless. This baked salmon with soy and miring wine is a super example of this: a fresh salmon loins marinated for a while and that is made in the oven itself!. No leftovers and always a success.
It is made with soy sauce and MirinMirin is a type of Japanese wine, a kind of sweet saki, low-alcohol, and nearly transparent amber, which is used only for cooking. There are two very different types of mirin, the mirin-fuhmi, which is synthetic, having only 1%, and hon-mirin, with 14% of alcohol and which is obtained from natural fermentation.
Used in Japanese cuisine as a condiment in many sauces, and in this case a fundamental ingredient in our recipe today. You can get it at Asian food stores and it is what we could call our wine for cooking. And today will be a main ingredient in our recipe. Here more salmon recipes.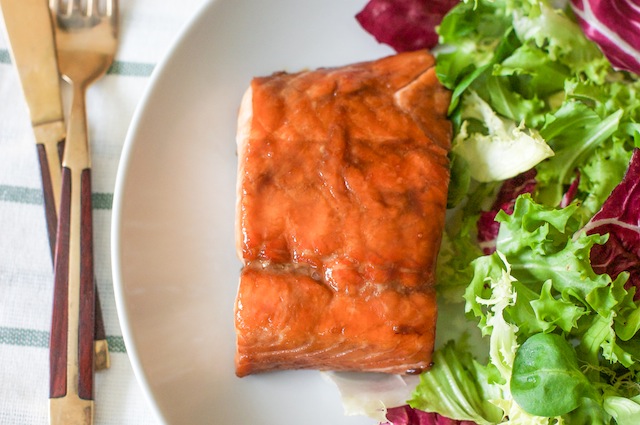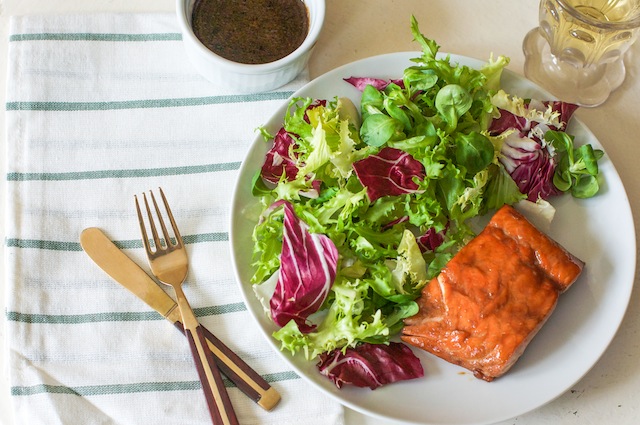 Ingredients
50 ml mirin €0.80
100 ml of soy sauce €0.40
3 tablespoons brown sugar €0.40
1 fillet of salmon without skin and spines of 400 g €4,00
Total €5.60 coming between the 3 portions you get, € 1.86 per person. Original and different and rich, rich.
Directions
1. In an ovenproof casserole place the mirin and soy sauce. Place the salmon cut into fillets and cover with brown sugar. Leave macerating for at least 30 minutes (you can marinate it up to 12 hours).
2 After this time, bake at 180 degrees for 20 minutes until salmon filets are cooked. We can keep them even more juicy by decreasing 5 minutes cooking.
3. Remove from the oven. Pour the sauce over a sauce bowl Serve with salad and the marinated salmon sauce.
Tips and Tricks
Serve salmon with quickly roasted microwave potatoes
If you don't want a sweet taste on your salmon, bake it without the sauce and simply heat sauce for serving.
Prepare a few skewers of salmon and make them grilled adding at the end the marinade sauce
Difficulty: easy
Preparation time: 10 minutes plus the 30-minute marinade
Servings: 4