Now here is the Holy week, one of my favorite weeks of the year, full of ancient traditions that each year we especially enjoyed in my city, in Malaga, where the processions are unique and worth visiting at least once in life.
This recipe today is a very easy recipe, to take at any time of the year, but this time I wanted to prepare carrot-shaped of the Easter Bunny. Something fun and original these days. You can do it with pasta brisa or puff pastry, but my as I like more is with pizza dough that already sell made in any supermarket, although I usually prepare it as a sandwich cut into very tiny triangles and serve appetizer when I have some informal dinner or snacking. I love the healthy salmon smoking and this is a super recipe that always surprises.
It is a light and healthy recipe that can be served as an appetizer, or a light dinner and very easy to prepare. Easy ingredients and easy making in 15 minutes you will get a delicious salmon cone.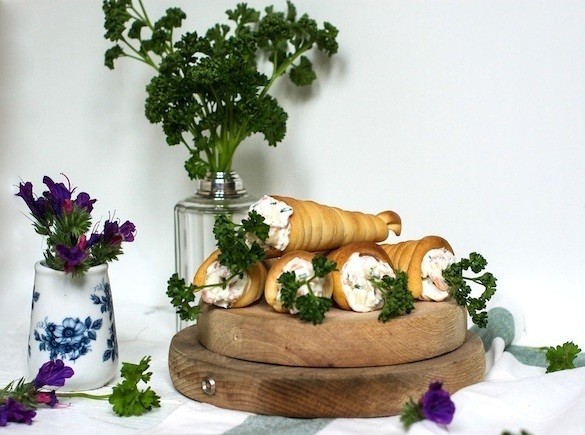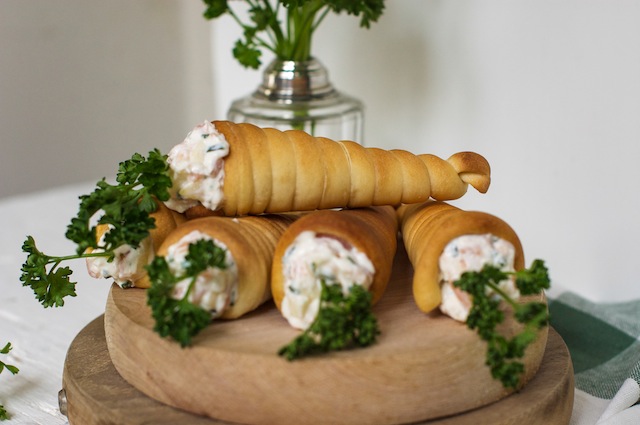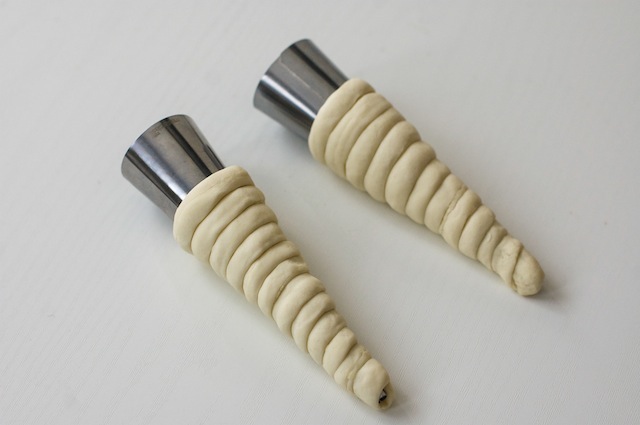 Ingredients
1 sheet prepared pizza dough square €1,30
2 fuji apples €0,75
400 g of cream cheese €1,5
100 g of smoked salmon €1.80
1 bunch of chives €0.50
Salt €0.01
freshly ground black pepper €0.01
1 a bit of curly parsley €0.30
Total 6.17 posed among the 12 cones that will leave you, €0.51 each
Directions
1 On a baking tray, place a silpat, or baking sheet. Preheat oven to 210 degrees
2. Cut the dough into strips about two inches wide.
3 Take a strip of dough and roll it onto itself forming a very long macaroni.
4 Wrap the macaron on the metallic cone starting below lining it until the dough runs out. Place on the baking sheet and continue with the next.
5. Bake the cones at 210 degrees for 15-18 minutes until browned on the outside
6. Once browned, remove the metallic cones and let cool down.
7 Meanwhile prepare the filling. Chop apples into very small cubes peeledand put them in a bowl.
8 Finely chop smoked salmon and chives and add to the bowl of apples.
9 Pour the cream cheese and using a spatula or spoon, mix well to combine. Salt to taste and add some freshly ground black pepper.
10 Put filling in a disposable pipping bag. We can also use a spoon to fill our cones, but it is much easier and faster to do it with the help of pipping bag. Cut the tip of the sleeve leaving an opening of about one centimeter.
11. Take the first cone and fill until the filling comes out the cone a little. Repeat with the rest of cones to have them all filled... Decorate with a sprig of curly parsley.
Tips and tricks:
Replace the apples for pears or any other fruit of hard pulp
Add some chopped nuts to add extra crispy
With the filling which can prepare a delicious appetizer sandwiches
Difficulty: easy
Preparation time: 30 minutes
Guests: with a pizza dough come out some