This recipe for sausage meat and onion sauce is my version of the recipe and sausages with mashed potatoes that is eaten more in Great Britain, the bangers and mash are called "Bangers" because with heat, tripe sausages break blow (bang) when cooked unless that you click before cooking.
The first time I took these sausages in meat sauce, was home of one of the families that I was a year in England. When I was studying at the College, the summers I was going to study abroad and I always stayed in families. Sometimes the family would not cook and thin back from my summer overseas, but other such as the summer home of Anabel and Jim came back with more than one kilo of more.
It is curious how the experiences you live twink mold your character and predisposition to life when you grow up. But of all the experiences in families that I had, I learned a lot. The bad, to appreciate what I had at home, the luxury of finding me food on the table every day, receiving a kiss because Yes and know me by my family protected. And good, I learned to take advantage of every minute of the day, to savour the pleasure of freedom that gave me to be away from home, feeling at once loved by the family that I had touched and moved to stop an experience that would stay with me now forever.
Anabel and Jim I will always appreciate always having discovered the real English food, teach me Wales and especially open my palate to the world of the Indian food like both ma and that completely unaware until that time.
That summer was one of the best. A large House on the edge of the sea in the small town of Little Neston in which the kitchen always smelled to glory and that Anabel and Jim were always crazy for making me laugh and indulge me.
In general always had luck with my experiences in families, in part I think that because I always see the glass half full. But that summer I had very very lucky. Anabel and Jim occupy now forever a special place in my heart, of my brother and my wedding present have maintained contact all these years. Recently, we learned that Anabel is no longer with us.
Although many years have passed since the last time we saw, it took me a pinch in the heart. They returned to my head all the beautiful memories of that summer which I keep as a treasure in my backpack, and today I want to dedicate them this recipe, in memory of everything you enjoyed that summer in your home and what I learned English cuisine and the hindu. Enjoy these bangers and mash! We go for our sausages in meat sauce.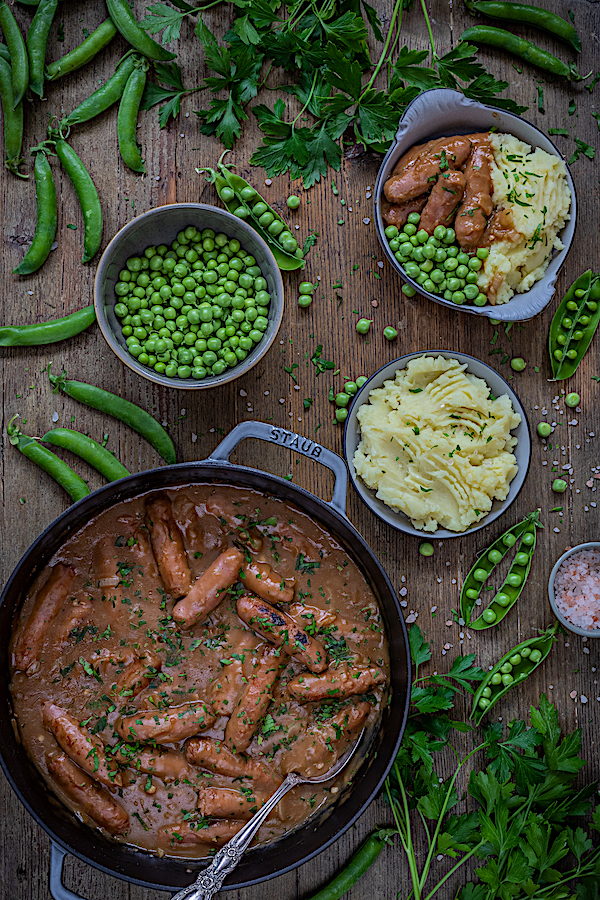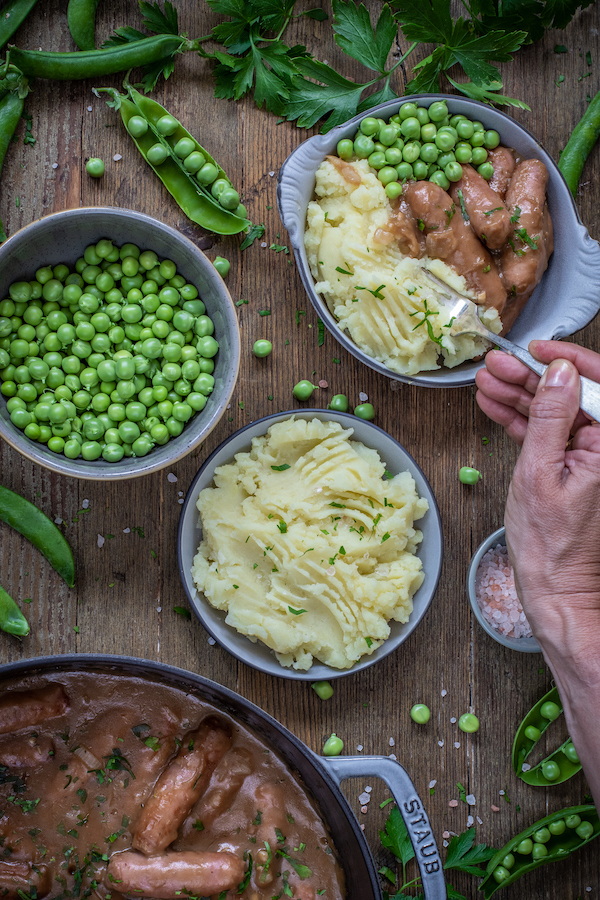 Ingredients
1 kg of sausages
150 ml of white wine
4 tablespoons of flour
350 ml meat stock
1 tablespoon of meat concentrate
1 sprig of fresh parsley
To accompany
300 g fresh peas
1 onion
2 tablespoon butter
500 g of potatoes
salt and pepper
Directions
In a pan put to boil the potatoes with skin and a handful of salt in water.
Heat the oil in a large skillet over medium-high heat. Add the sausages and saute until browned on all sides and meat is done. The cooking time will vary according to the size of the sausage.
Remove sausages to a plate and lower the heat to medium power.
In the oil that has been (if low add a bit more), Saute onion and garlic, and cook until they are golden brown (about 4 minutes).
Add the flour and mix. Add the white wine and half of the broth warm slowly and moving non-stop to prevent lumps (can use a few rods)
Add the rest of the broth and the concentrated meat, and cook over low heat, occasionally stirring until sauce thickens a bit. Salt and pepper to taste.
Meanwhile prepare the peas. In a skillet saute the onions with a little butter. When the onion is soft add the peas. Season with salt and pepper and saute one minute. Add half a cup of water and boil.
When are the potatoes soft, remove the skin, crush with the help of a fork and add the butter. Move and get to the point of salt and freshly ground black pepper.
Serve the sausages in sauce of meat with lots of sauce, parsley, chopped up and served with mashed potatoes and peas on the side.
Tips and Tricks
Use sausages you prefer white, Iberian pork or veal or Turkey.
You can use chicken broth if you prefer
Difficulty: easy
Preparation time: 30 minutes
Racion:6