These bagels of pulled pork with beer are a myth in visits from friends at home. It is not something that you can improvise, but something that becomes almost only with time and without haste. A simple and easy recipe with lots of flavor and that creates followers whenever I make it.
For me it is a great pleasure to have friends at home always. Be happy to meet without the mess of the work, in a relaxed atmosphere to get abreast of everything. There is no timetable and each one is coming as you can. On these occasions we met always prepare easy dishes that can be ready with time and allowing me to enjoy the company.
This pulled pork beer meets and exceeds all that and has become a favorite of all, although yes I say unto you, that you have to prepare it with time. The secret of this recipe is in preparing without rush, with long meat take all the flavor of the beer and is so tender as to break with a fork without the need to use a knife.
The beer must have character because he is going to give that unique touch to our flesh. I have chosen the ideal: Alhambra reserve red, a beer in Granada that I love the flavor and aroma that it gives to the meat, and that my husband has fallen in love. It is a beer of beers Alhambra, a traditional beer in which time no account and Yes making cared in the art of making quality beers.
But in addition to great work in the development of the recipe today, it's perfect to accompany these super sandwiches, which I prepared with a few poppy seed bagels. This brewing is unhurried and the result is a beer with reddish tones that I love, and with a foam that I love because it is consistent and takes down, why I prefer to serve it and not take it from the bottle. The best? Its flavor is intense, slow to enjoy leisurely drink and my friends fight over it because although it seems a strong beer by its color, then it is softer than you can think. Ideal for conversation and enjoy some time together
When I meet with my family or friends, I like to thoroughly enjoy the moment, unhurried, enjoying every laugh, every anecdote although we have told already thousand times because I still love listening to them, enjoy having them in the House. Hang out so at ease without looking at the clock.
This pulled pork with beer, love them so I hope like you very much also. Is super easy and you have guaranteed success. And in addition it gives the recipe for my barbecue sauce that is to take all the time. Let's go for it!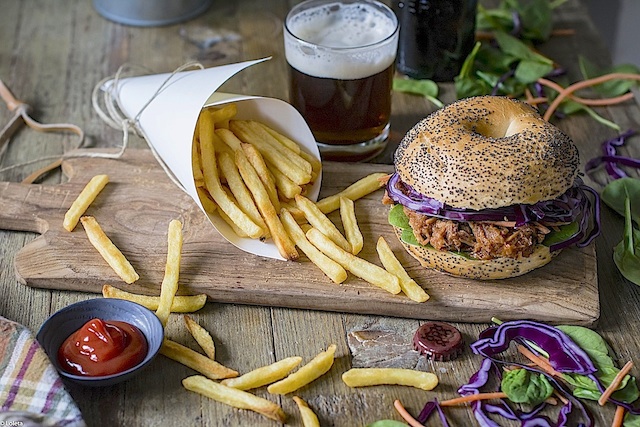 Ingredients
1600-1800 g pork ham (or chicken meat or the one you prefer)
1 onion
3 cloves of garlic
salt and pepper
1 bottle of beer
fresh spinach leaves
a bit of red cabbage
a grated carrot
For the homemade barbecue sauce
500 ml of your favorite Ketchup tomato
250 ml of water
125 ml of cider vinegar
5 tablespoons of brown sugar
5 tablespoons sugar
1 tablespoon of Worcestershire sauce (Perrins is the most common)
1/2 tablespoon mustard
1/2 tablespoon of black pepper
1. in a saucepan suitable for oven put the entire item. Add salt and pepper. Add the chopped onion and garlic cloves. Add the entire beer. Beer should be of the highest quality because it is going to give that special flavour to our flesh. Cover and let bake for 1 hour at 200 degrees.
2. last this time, lower the temperature to 160 degrees and cook covered for 3 hours, until when pierced with a fork meat can be cut without difficulty. The meat should be cooked slowly, so then it is juicy and tender. If we do it in less time, then it would be dry.
3 remove the meat from the oven. Put the piece of meat on a large bowl or a table cut, and with the help of two forks, undo in strips. If necessary, use a knife, then is that more time is needed by the flesh of baking. In that case, we refund it to the oven and leave it for one hour. Keep the sauce that is taking us all the fat that we can.
For option in Thermomix you put all the ingredients in the glass and programs 60 minutes at temperature 100 degrees in left turn with the knife cover so that the meat does not fall apart (if it is the new model TM& has knife covers, if it is not the new you will not have it, and then you put left turn and nothing else).
4. Now we prepare the barbecue sauce (BBQ). To do this in a saucepan we put the meat sauce together with all the ingredients of the BBQ sauce, and let it cook over medium heat for half an hour until the sauce has reduced well and is caramelized. The smell is spectacular. When cooled, mix with meat.
For Version in Thermomix or robot you put all the ingredients in the glass and cook 30 minutes at speed 2.5 in varoma temperature.
5 assemble the sandwiches. You can use the bread that you like most but I bought these bagels of poppy seeds which I love. Put fresh spinach leaves, top meat and finish with a bit of a grated carrots and cabbage. Enjoy!
Tips and Tricks
You can use this meat on crunchy nachos and you can have a snack of 10
Prepares a lot and freezes it you on
Preparation time: 5 hours
Difficulty: easy
Servings: 16