One of my favorite chefs is Gordon Ramsayfor many reasons, but mostly because always used olive oil for its dishes, something so rare in a foreign chef! This reminds me of the last published post count you can learn a little more about the extra virgin olive oil and its secrets. This dish of sausages with caramelized red onions is a variant of this tasty, easy recipe and very of the era in which we are.
In his latest book, Gordon Ramsay, has lots of delicious recipes, and this I present today is an adaptation of a theirs. He made it with mushrooms, but I found a purple Brussels sprouts in the market! small and beautiful, so I decided to buy them and to incorporate them into French potatoes, the tiny aompanadas sauce.
The result is this dish that you can prepare in advance and heated at the last moment, and even freeze without any problem. At home this sweet red wine sauce love them... with lots of bread! to accompany I hope you like it and you will bother to do it at home.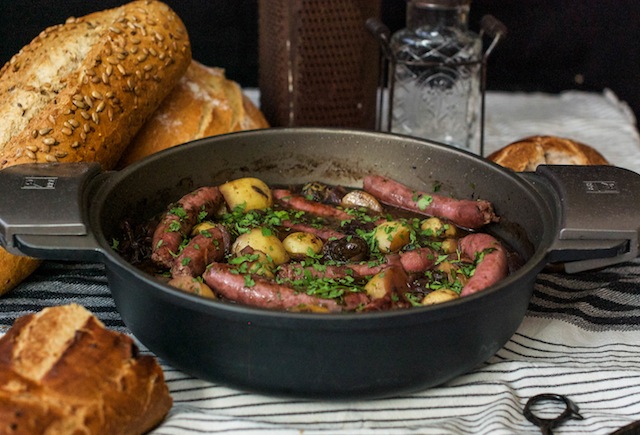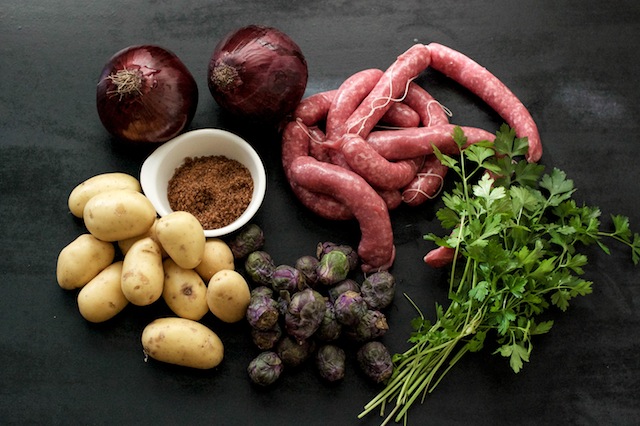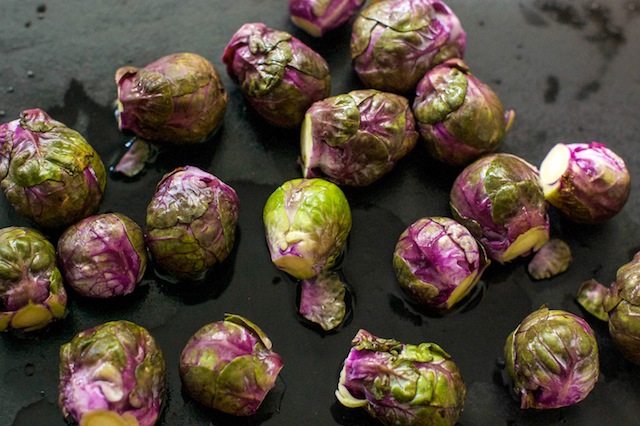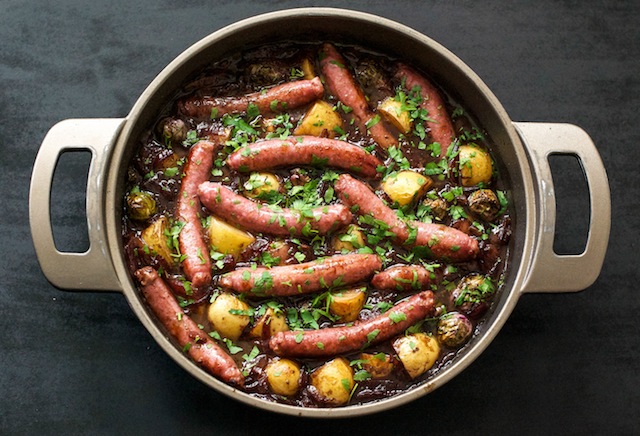 Ingredients
olive oil, for frying
1/2 kg of fresh pork sausages
2 peeled and thinly sliced red onions
2 knobs of butter
2 tablespoons soft brown sugar
a little chopped thyme
150 g of purple Brussels sprouts
500 g (small) French potatoes
200 ml of red wine
A casserole of meat concentrate
a glass of water
a bunch of chopped parsley
salt
freshly ground black pepper
Directions
1 Preheat oven to 180 c
2. in a saucepan over medium heat, heat oil and FRY sausages until they are well browned. Remove to a plate and remove.
3. Add the sliced onions and a couple of knobs of butter. Add the sugar and thyme and saute for 10 to 15 minutes over medium heat until the onion is caramelized.
4 Add vinegar and toss well. Add the sprouts and potatoes and let sear for 5 minutes.
5. Add the cooked sausages, red wine and nn little salt and pepper. Let boil for 5 minutes to allow the alcohol evaporate.
6. Add the broth and bring to a boil,
7 pass the pan to the oven and cook for 15 minutes uncovered until the sausages are cooked and sauce is thick.
8 remove from oven and sprinkle the finished dish with parsley and serve.
Tips and Tricks
Try to make this dish with a rich Creole sausage
Add your favorite vegetables, that Yes, in small pieces
Difficulty: low
Preparation time: 40 minutes
Serving 4