With these sweet potatoes hasselback roasted capon stuffed with cream sauce recipes of Christmas season and this year we started. It's a sweet creamy and very simple to prepare but at the same time a very original lining for your meat this Christmas.
Today went it a meat filled suitable for all audiences. I can tell you that my child has become addicted! It is one of the meats to La Carlotena, a capon roast ready to take at home filling and which will not need to pay attention to dazzle this holiday season.
Lining, these hasselback potatoes, is original and becomes one in the oven. We have already made some times hasselback potatoes but today is done with a different filling that goes great with sweet potatoes and sweet potatoes.
Finely cut sweet potatoes without getting to the end and we will prepare a dressing with which we roast the sweet potatoes in the oven. The result a garrison creamy and crunchy at the same time with a sweet and savory flavor that will touch you Palms at home without having to die in the attempt.
The sauce is a wildcard that at home my son takes up with pasta. I prepare enough quantity and freeze it in an ice bucket of ice so we can use it when it suits us better.
I hope you enjoy this recipe for Christmas and help you to not spend hours and hours in the kitchen to make your own happy. I wish you the best!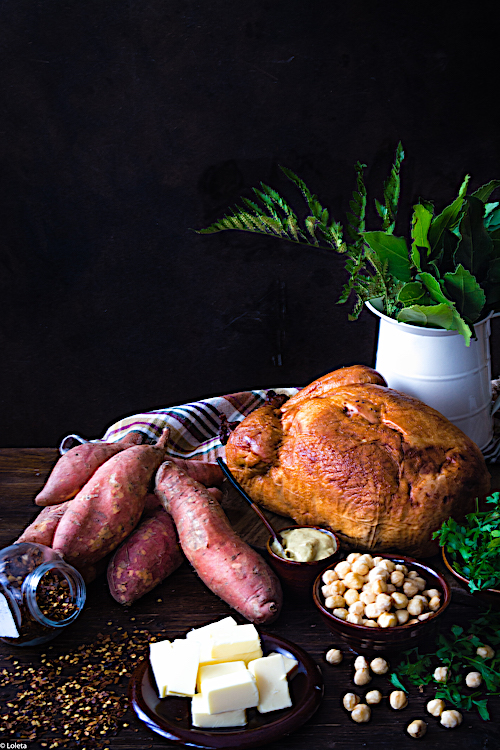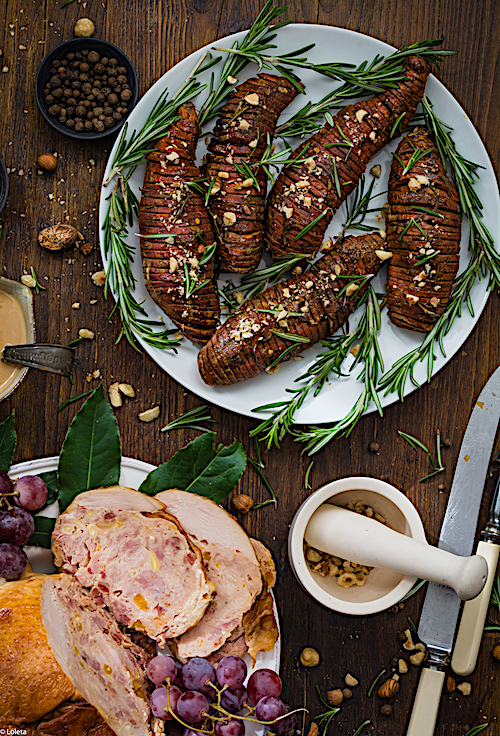 Ingredeintes
4 large sweet potatoes (about 250 g each)
2 tablespoons honey
2 tablespoons Dijon mustard
1 tablespoon of finely chopped, fresh rosemary
½ teaspoon ground cinnamon
¼ teaspoon freshly grated nutmeg
½ teaspoon salt
½ teaspoon of dry chile flakes or powder
¼ teaspoon freshly ground black pepper
2 tablespoons butter
2 tablespoons chopped hazelnuts
1 tablespoon chopped, fresh parsley chopped fine
For the sauce
2 shallots
50 ml of brandy or cognac
a few black peppercorns
250 ml liquid cream
1 tablespoon of meat concentrate
Directions
Preheat the oven to 190 degrees. Remove capon stuffed with the Carlotena of the fridge.
Mix the honey, mustard, Rosemary, cinnamon, nutmeg, salt, pepper and black pepper in a small bowl and move with a spoon until well combined. Book.
Wash potatoes and, if necessary, scrape them so they are flat and firm on the cutting board.
Place a stick of wood on each side of the sweet potato (I use the Chinese wooden cutlery) and with the help of a sharp knife, cut the potatoes as thinly as possible without you get to the end. Sticks will help to avoid it but you have to be careful, because the sticks may not be sufficiently high to cover them completely.
Put sweet potatoes hasselback on an oven tray with a brush or spoon tip the mixture of honey on them, taking care of that mix well between the blades.
Put a little butter on top and a bit of fresh rosemary. cover with foil aluminium and let bake for about 45-50 minutes.
Then remove the hasselback potatoes from the oven, uncover and top with some chopped hazelnuts. Return to bake for a few minutes. Serve with a little parsley chopped on top.
Place the capon on a baking tray and bake 8 minutes. Remove from the oven and cut into thin slices.
Meanwhile, in a saucepan put the shallots with a little butter. When soft, add the brandy and peppercorns and bring a boil. Then add meat concentrate and wait until it is fully integrated. Pour the cream and bring a boil. Blend until obtaining a fine sauce (can pass it through a sieve if necessary so that it is smooth and creamy).
Serve the meat with our fitting and sauce very hot.
Tips and Tricks
You can use potatoes instead of sweet potatoes
You can freeze the garrison and thaw at room temperature the day you want to consume it
Preparation time: 80 minutes
Difficulty: easy
Servings: 6
POst sponsored by La Carlotena