Indian chicken with butter. Murgh Makhani or Indian Butter Chicken, is a typical dish in the region of Punjab, Northwest of the India. The chicken is marina overnight in a delicious blend of spices that will make their texture and flavor to change completely.
It is then cooked in Makhani, a sauce made with butter, tomato and spices. Ideally, serve it with rice and Naan, one of those breads more typical of the India that also can do is aromartzado with herbs and different ingredients.
In all Indian food shortage never no breads, sauces, rice and the Curry and this Indian chicken with butter. Murgh Makhani or Indian Butter Chicken that I bring today is one of the Favorites at home. You can decide what level of spiciness you want putting more or less chili powder. If it want to little spicy, not put since both them spices tandori as the Garam Masala, are already a little spicy of by itself, so id carefully, although to us, as already know us going much the rock & roll,
If still your Indian chicken with butter. Indian Butter Chicken or Murgh Makhani is a little spicy. Don't be alarmed: mixed with rice all the resentments they lowered and if you do a raita Fixed issue. Delicious and creamy this chicken is converted in an of your favorite, so give him a chance.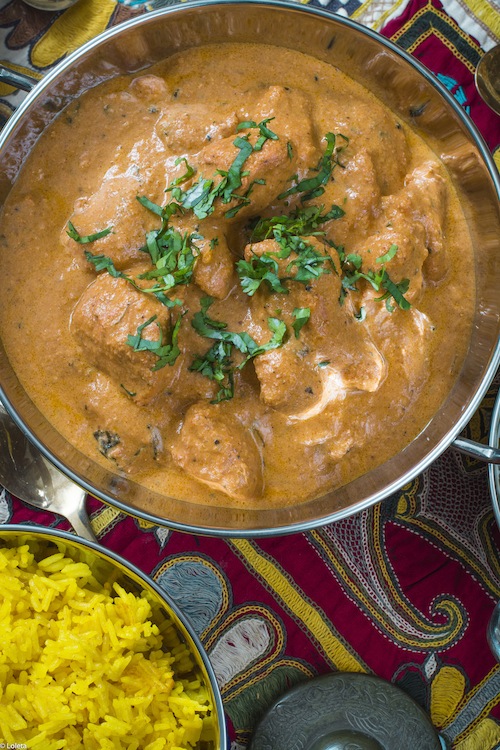 Ingredients
2 yoghurt Greek 0.38 €
2 tablespoons tandoori spices €0.35
500 g of chicken without skin or bones cut into chunks €2.35
1 onion, chopped 0.32
1 tablespoon fresh ginger grated €0.15
1 clove garlic, minced very €0.10
2 tablespoons water €0.01
3 + 2 tablespoons sunflower oil €0.09
1 teaspoon Garam Masala €0.18
1/2 teaspoon turmeric or turmeric €0.07
1/4 teaspoon chile (optional) €0.15
1 tin of tomatoes 400 g crushed €0.43
200 ml of fresh cream €0.40
50 g butter €0.25
1/2 tablespoon dried fenugreek (fenugreek) €0.06
1 teaspoon salt €0.01
Total €5,29, i.e., €1.32 per each of the four portions you get with these quantities.
Directions
1 in a bowl mix the yogurt and tandoori masala in a large bowl until well blended.
2. Add the chicken and move to cover evenly. Let marinate in the refrigerator for at least 3 hours (as always the best leave it overnight).
3. in a hot skillet, add the chicken and browned all over, about 5 minutes. Remove from the Pan and reserve.
4. heat the remaining 2 tablespoons of oil from the pan. Sauté the onion, garlic and Ginger until it is well browned everything. Sprinkle the Garam masala, the turmeric and chili powder and cook 1 minute more. Dump the tomato crushed in it mix, lower the fire to medium-low and cook some 10-15 minutes until the tomato is well fried.
5. then add the chicken and cream and cook with butter or Indian Butter Chicken Indian chicken to a boil. Add the butter, fenugreek leaves and salt. Reduce heat to low and simmer, uncovered until chicken pieces are fully cooked (about 15 to 20 minutes). Finish with a bit of chopped cilantro.
Tips and Tricks
This dish freezes very well so I do a lot and take to freeze a part
Difficulty: easy
Time of preparation: 40 minutes more time of marinated
Servings: 4