"Do good time of your life again to repeat?"
Risotto de queso y anacardos butifarra with pecorino
Italy It is one of those countries that never disappoint, and his way of cooking either. If you like the beauty, history, art, architecture, the pleasure of food, fashion or simply being surrounded by friendly people, this is your country. Their language is also one of the most lyrical and melodic, has a lot of romantic corners in each city to travel around, in search of adventure alone or in company. Happens as to Spain always leave you a good flavor of mouth you are a part of Italy that you go, either for its gastronomic variety or by its cultural variety. North, South, Islands or the Mediterranean and Adriatic coasts are generous when it comes to impress the visitor.
Despite having a globally known and apparently so exploited kitchen, considerably surprised many and various forms that express themselves with food. Have you ever tried a lasagna made with meatballs?, isn't it?... and do the pizzetas? would not?. Well, leave it for another day, today go for a risotto, which brings me that taste so characteristic of Italian cheeses.
I'd just get myself a pot of the French brand "Le Creuset", and was crazy for brand new it. That coupled with the superb book "The silver spoon" Italian cuisine that the Magi had brought me the previous Christmas, did that Sunday I decided to "invent" this recipe that joins the Italian technique of the risotto with a few ingredients that, while they may seem strange, conducive swimmingly. No afraid to invent and test some new ingredient that you like. Sometimes the choice is not the best, but others you will be surprised creating unlikely and delicious blends. Sure this recipe surprise you by how are the flavors.
The most important thing when making a risotto is rice. They are rice with high content of amylase, which makes part of the starch to dissolve and you of rice that creamy touch so characteristic of the risotto, so I recommend that you seek one arborio or carnaroli. You can find them at El Corte Inglés and other large surfaces.

Difficulty level: intermediate
For 4 people
Preparation time: 40 min.
Ingredients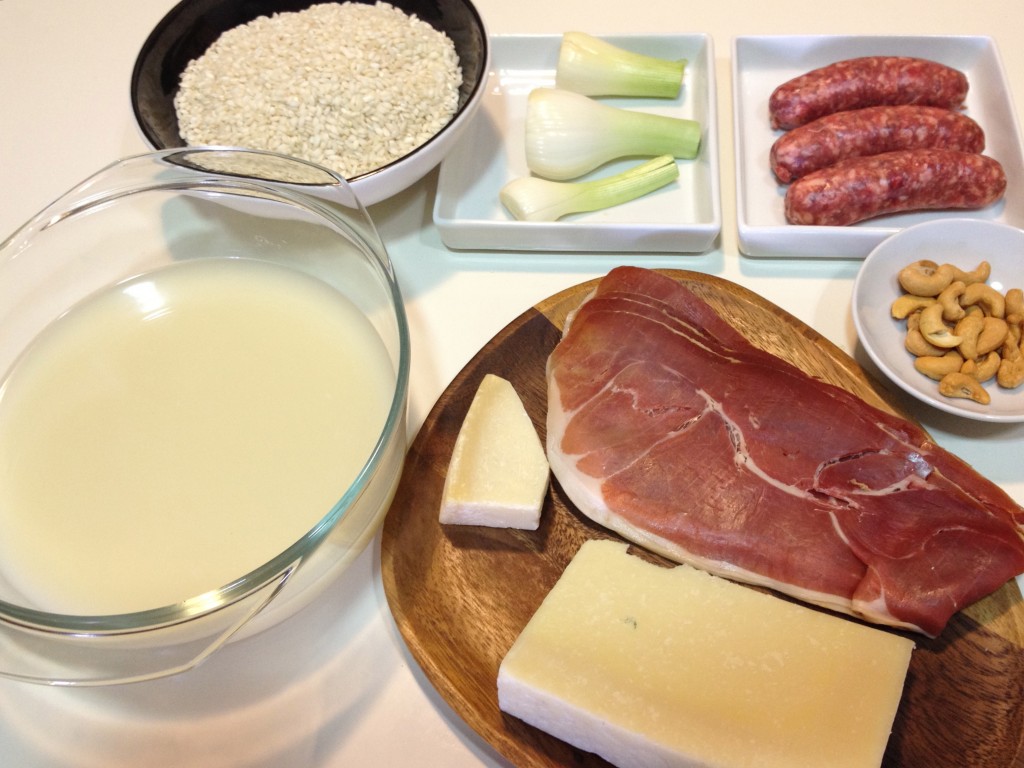 A quarter of a cup of olive oil, some fresh parsley, a bit of salt and freshly ground black pepper. €0,50
50 GR butter €0.26
400 grams of rice carnaroli or arborio (are the two types of rice for risotto) €2.39. You can buy it at El Corte Inglés
100 g cashew nuts sliced €0,75
2 or 3 very chopped fresh chives €0,75
150 g cheese pecorino (sheep's cheese Italian) €2.25
60 g Parmesan reggiano grated €1,69
1 fresh sausage (€1.50) or 6 white fresh sausages (€1.50) or 3 sausages Creole (€1.80) chopped without casings. Creole sausage gives it more flavor but if you don't like someone can make the recipe with fresh white sausages or fresh sausage.
1'5 litres of chicken broth hot €2.40
4 slices of serrano ham €1.17
1 glass of wine white or pink €0.28
Total: €14.24 to be divided between four, 3.56 €/ person. Great price huh?
Equipment
Large saucepan and a frying pan
H

orno

Microwave oven

The glass ceramic gas cooker
Wooden spoon, chopping boards, a sharp knife, various containers, etc.
Pairing
For this dish I would take some Rose from D. O. Navarra as for example, wineries Julian Chivite, Gran Feudo Rosado on Lees 2010. Is a young and fruity, very suitable for rice. This wine grape varieties are tempranillo, garnacha and merlot. Its price is not very exaggerated, about €6.70
Directions
1. using a sharp knife, remove the Creole sausage, sausages or sausage casings, and chop it.
2. in a skillet, fry the sausages until they are well done. Once ready, drain the oil well and set aside in a dish.
3. in a pan put oil and butter and heat over medium heat. Once it is hot, add the finely chopped onion. Saute until the onion is soft.
4. Add rice and give a few turns until the rice is almost transparent. Then add the chopped cashews. It must be borne in mind that to make the risotto, as opposed to for example the paella rice dishes, we can not stop moving with the wooden spoon, since otherwise, the rice will not loose all the starch that we need to make it creamy.
5. Add the glass of wine and cook until the alcohol has evaporated (a couple of minutes approximately).
6 then start adding the stock with the help of a saucepan. Add the broth slowly: Add a ladle of hot broth, and moves with the wooden spoon until the broth has been consumed. Then add another ladle of broth, and so until we have added almost all the broth. Normal is that rice has reached its optimum point you have to add it all, but you have to try it, because it will depend on the hardness of the grain of rice, and it is possible that us upon or which is missing us a little. In that case, add what is missing with water.
7. When are we about 2 buckets for add, add the Creole sausage and grated cheese, and moves to mix well. Turns off the fire, add remaining two saucepans of broth and covered. Let stand 5 minutes. To my personally I like that rest to do it in the oven at 180 ° C, but for that you need a pan that you can put in the oven. If you do not have it do not worry because with covered rest, rice comes out just as good.
8. While the rice rests, make the Serrano ham chips in the microwave.
9. after having rested 5 minutes at least, serve the rice with a chip of ham over and decorated with a bit of fresh parsley. Buon appetito!