"Don't dream your life, live your dream"
Paella rice with ribs and sausage
A few days ago, ordering photographs, appeared some of the visit to the medieval village of Pedraza and river gorges Duratón, in Segovia. It is highly recommended to visit in the winter period because stone, cold and snow, make a nearly perfect combination. Within walking distance of each other, just half an hour by car, in an only day of sightseeing can appreciate the beauty of the towns and landscapes of Castile. Do not forget to buy in Pedraza bread loaf and sausages of the place. The shoes to visit the Hoces del Duratón must be suitable for hiking because the last stretch of fifteen minutes walk on a dirt road.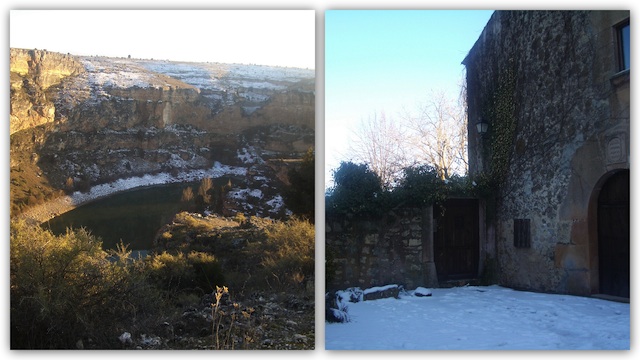 The landscape is outstanding, we observe in the sickles vultures and some copies of roe, and I would say, until we saw Hispanic goats our round, however, even the route by car, does not stop surprising. Crossed to turn a deer on the road delighting everyone. The trip was a success. I recommend it without a doubt if some time you take close, especially with children, they are wonderful.
Recalling that day, and out of the winter season, I decided to cook the rice in paella with strong and characteristic of the winter, foods such as ribs and sausage. Came to my memory that feeling so pleasant that often have had in childhood to bring us closer to the fireplace or cuddle us into a table stretcher. Approached on Sunday, and wanted to find some Iberian ribs and onion sausage. I took master Berlanga's the sausage making in rice baked Valencia and took advantage of that learning, to develop this paella. It is a dish simple and cheap ingredients. A trick preparation: don't forget you drill casing with a fork all over before you begin so that you do not burst during cooking.

Difficulty level: intermediate
For 4 people
Preparation time: 45 min.
Ingredients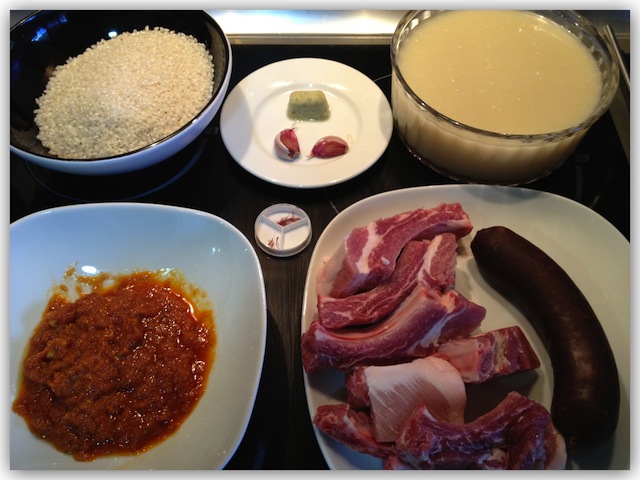 400 Gr. rice pump (approx. 3 cups). €1,50
500 gr. ribs of pork (if possible). €2.19
Half sausage onion (Iberian also to be possible). €0,99
2 cloves garlic peeled, without threads and cut into slices. €0.15
Tomato, garlic, onion, olive oil, laurel, thyme and Rosemary sauce. Approx. 250 gr. (must do before and have it ready). €1,50
Hot ham stock: double and something more than rice, as 7 cups (failing that, natural ham stock brand Aneto). €3.06
1 cube of the size of an ice cube of bite (mixture of olive oil, garlic, parsley, almonds and toasted saffron, all very chopped in a blender). €1,50
A quarter Cup of olive oil, some strands of Saffron and salt. €0,50
Total: €11.39 to be divided between four, only! 2,85 €/ person, and... much love!
Equipment
Paella with internal diameter 50 cm. (for a layer thin rice, baking much better)
Barbecue (fire) of gas with gas cylinder
Microwave or hob to heat the broth
Slotted spoon, chopping, boards aluminium foil, various containers, etc.
Pairing
The red Bodegas Rodero (D. O. Ribera del Duero) like always, because it does not fail, but there is one that particularly caught my attention when we went to the winery, and personally met Carmelo, attentive and delivered from his work, the Crianza 2007. It is of the Tempranillo and Cabernet Sauvignon grapes and has an aftertaste to wood which I love. Its price is €15.85. Finally, I advise you to take it rather colder than usual, between 14 and 16 degrees.
Directions
1 Brown the garlic with oil, and is lightly FRY seasoned ribs to medium by 10/15 min. I like to carry the ribs until its crunch point for this paella.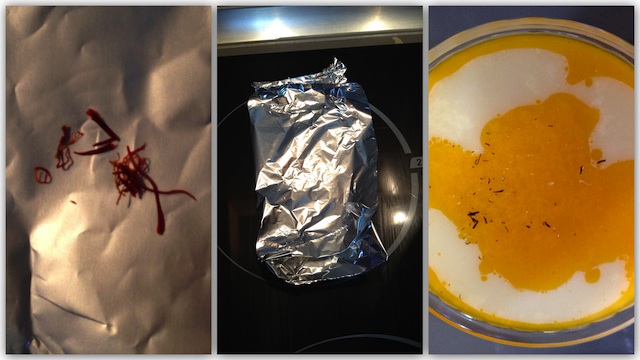 2. Meanwhile, toast the Saffron threads in the hob wrapped in aluminum foil for no longer than 10 seconds. Then crush them on the same paper and add them to the ham stock to give flavor and color. (careful! you really are toasted very fast). Finally, heats up in the micro stock with the perforated black pudding and saffron for 5 minutes.
3. once crispy ribs, added the sauce, in this case the tasty aromas of Adria book like "The family kitchen" (tomato, oil, garlic, onion, bay leaf, thyme, Rosemary, and salt) for two minutes. Then browned rice 5 minutes.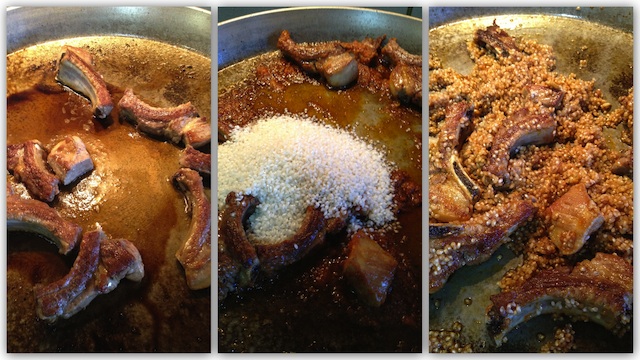 4. it is measured the volume of the 400 Gr. of rice in cups or scoops (for example). In my case, occupy 3 (depends on the size of Cup you use). Therefore, reserve broth ham about seven cups, 6 as custom sets of rice twice, and one more, to finally water demand according to go seeing the firing of the rice while it is cooking. I put heat back into the micro stock (2 min) at maximum power. All stock must be very hot when we add it to the paella, since otherwise it would break the rice cooking.
5. now it is time to add the cube of the size of an ice cube of minced (garlic, oil, saffron and toasted almond, all crushed) that will give you a special, noticing touch, but without being. You have to stir while the rice is removed.
6. then, pour hot broth (the sausage aside for later) and is removed along with the rest of ingredients, which exactly double the volume of rice, as we have said, 6 cups. We apply the Technical paella rice cooking cooking fits the type Valencia if you are not yet very fluent. We tried salt, and after pouring the broth, let it 1000W heat for approx. 5/7 minutes, taking care that fire to spread by all the paella evenly.
7 we will reduce the fire below, and will keep you about 10/12 min. Now place the sausage in the middle to the end of cooking (turn it every few minutes to make it equally).
8. Once completed the time, irrigate with the half cup of broth that we still distributing it equally, this makes sure there is liquid in the paella by evaporate.
9 cover the paella with aluminum foil, and climbs the fire back to medium-high a couple of minutes so that evaporation of the last Cup, to take effect. The couple of minutes shuts off the fire and leaving the role aluminum, rice which stand for at least 5/7 minutes and finish cooking.
10 stir paella completely before serving, and the rice in the dish will get the homogenous texture, since never become equally grains from the Center to the perimeter. To serve, the pudding opens and flakes, serving the taste of each one. A rib must also be included for each portion.
17. Bon Appetit!. Remember that the secret of this paella is get cooking with a thin layer of rice. You've got the firing perfect if kids dishes only remain loose in the same beads.