"Life is what is happening to you while you insist on making other plans"
César salad has a thousand and one ways to present it, but say that Italian chef Alex Cardini, the restaurant there is a unique recipe and original of the 1930s that was owned by his brother César, He won in a contest, becoming universal. They say that it was initially called "Fliers salad", and coming from an Italian recipe for times of crisis, and later, due to its acceptance, the own César recorded her and took her to worldwide fame. Other versions are running the name of comes from the Hotel César, supposedly owned by the same person.
It turns out to be a contemporary and urban salad, to be considered originating in Tijuana (Mexico). Reminds me of cosmopolitan cities such as London, New York or Hong Kong Since it is a recurrent dish there, those that when you travel in this type of cities and somewhat tired try local cuisine, you mentally returns to the West. And speaking of Hong Kong, I really liked your Skyline because, apart from its "high tech" architecture, there was one detail that made it special. In the afternoons, the buildings located in the first line of the island of Hong Kong, offer a panoramic spectacular from the peninsular part of Kowloon, because illuminate artistically for 15 minutes in tune with the music of the local radio stations.
The unpronounceable original name "Worcestershire" sauce known as Salsa Perrins accompanying the César salad, has its origin in Indian cuisine. Due to the contact maintained with the United Kingdom, it was imported to the British Isles, catching on in Europe in the 1930s. Consists of vinegar, molasses, corn syrup, water, chilli, salsa soybean, paprika, tamarind, anchovies, onions, shallots, clove and garlic. Another well-known recipe where the sauce is also used is the famous Bloody Mary. Try it in different side dishes and sauces in few doses because it is strong, you will see that good taste brings.

Level of difficulty: easy (Ideal for children)
Preparation time: 15 min.
Seating: 4 persons
Ingredients
For salad
1 flavorful leaf lettuce (the original is Roman, but I like a lot of the Asturias Batavia type or) Trocadero of Murcia). I used this and it is the secret that the leaf of lettuce have much flavor. €2.15
About 100 gr. fried bread croutons "croutons" or croutons (or purchased failing). €1.42
1 egg cooked and sliced into thin slices. €0,13
Parmesan reggiano (approx. 300 Gr.), but if you like cheese, add all the one you want €7.17. If you do not have this, you can use any other Parmesan
A little pepper to end €0.05
For salsa (it is as a more liquid mayonnaise)
1 egg raw €0,13
Half a glass of olive oil 0'4 (going phenomenal), gradually shedding €0.40
1 tablespoon WORCESTERSHIRE sauce more commonly known here as sauce normal Perrins or Worcestershire sauce €0.30
Juice of half a lemon, salt and pepper €0,20
Total: €11,95, to be divided between four, €2.99 per person
Equipment
Ladle and mixer
Cheese Grater
Tables of cut, various containers, etc.
Pairing
I propose for this dish a white, with enough acidity to hold everything. For example, Domain of tasks D. O. Bierzo 2010the grape variety is godello. Its price is around the €14.75
Directions
1 cooked hard egg, and cut into thin slices
2 wash the lettuce leaf by leaf, they drain and dry with kitchen paper. Added water should not be. Chop into three or four pieces each sheet, do not cut very small, but enough so that they eat comfortably, and set aside.
3. grate the Parmesan cheese. To my I like particularly grating for this dish with a medium sieve. We reserve it to add it to the end.
4. in a large dish or plain source, place chopped leaves of lettuce, croutons and boiled egg.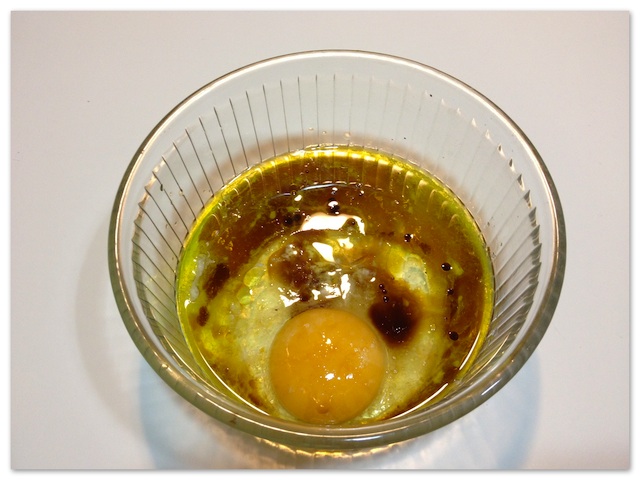 5. to make the sauce, proceed as if you were to beat mayonnaise: in Blender jar add the raw egg, a pinch of salt and pepper, is squeezing half a lemon, is added the tablespoon of salsa Perrins, and a little oil. It begins to beat incorporating the rest of oil gradually until it mount non-stop rolling. It is ready when it has mounted but the sauce has a good texture liquid.
6. to conclude, the sauce is poured just before serving is distributed by the salad and add the cheese alike. Is salpimenta a little bit and be ready to eat. Exquisite!
7. a recommendation: the César salad is known worldwide for its successful flavor and simplicity. They can add you all the imaginable ingredients: chicken, ham, shrimp, breaded, etc., but try to make it a day as it is, without any additive, you'll see as you enjoy the essence of the flavor.