"What you hear it forget, what you see what you remember, what you do learn it".
The risotto It is a classic dish of Italian cuisine, especially in the North. In Venice they prepare some delicious risottos with seafood and fish fresh, incredibly tasty, and in Milan for example, is the famous risotto alla milanese, dish typical of the Centre of Northern Italy, ox marrow and Parmesan.
A good and authentic risotto is a dish that is cooked only following to the foot of the letter a recipe, needs something more, a rigorous and Orthodox Rite that must be carried out with great faith, love, and... accompanied if can be a good glass of wine. In this post, I will give you one of my best secrets to produce a risotto... fantastic!. To scrumptious... In fact, not be if you have cooked this of sausage and cashewsdo not yet?... you have crime.
As our rice paella, also lends itself to be elaborate it with seasonal products: mushrooms in fall, asparagus in winter, vegetables in spring… I advise that the ingredients are of the highest possible quality, which will make our risotto to go round.
We are going to clarify an issue that constantly ask me in cookery courses. Many people who think that the creaminess that has this type of dishes is due to the use and abuse of the butter or of cheese. However, it is an error commonly accepted, which brings sweetness to the dish is the type of bean's rice on the one hand, and the way cook it on the other.
Regarding rice, not all varieties of rice used to work out the risotto. It must be a rice with just starch content, short, with a grain size between small and medium, and a cooking point almost to the Dente. Starch released, unlike in the types of rice and cooking in the dry paellas that do not move, is what will give us the creaminess of this dish.
On types of rice. There are several I recommend using:
Vialone Nano (used in the area of the Veneto and North of Italy) very fine, and
Baldo, Carnaroli or Arborio, being the last two which more easily we can find in Spain. The finest of them all are the Carnaroli (also, is that I like more to my) and the Vialone Nano, but the Arborio also goes very well. The Baldo However it does not have such creaminess.
To order the Vialone Nano, I take when someone you know is going to Italy because here even I could not find it. However, you can find Carnaroli in del Gourmet of El Corte Inglés in tubes mark Sivaris and other specialty stores, and the Arborio in hypermarkets and supermarkets in a few boxes of the Gallo brand.
On process:
I will say that as important as rice is the spoon (or blade) wood that we need to use throughout all the production of the risotto. Since rice is added it is very important to not let move it with the wooden spoon in the pan to help release all the starch. You don't have to add cheese or butter in industrial quantities.
These are my secrets to make the creaminess of this dish so special. Try them!
Another basic ingredient of risotto is the hot. This rice is prepared by pouring little by little the broth over the Pan where we cook. The broth must be tasty, with much substance, and should be added to hot.
The wines must be prepared in advance, although I must confess that many times I have used the wines that sell prepared (I use Aneto because it is where find me natural and tasty) with excellent results, so if it gives you lazy prepare the broth, you don't prepare a risotto and use one prepared meat, chicken or fish depending on the ingredients that you are going to use.
Finally, the famous cheese Parmigiano Reggiano (parmesan) is the most common of those used in the risotto, although for me it is a sin not to use Pecorino. I have to say that cheese is not compulsory, and while it gives a touch of unique flavor to some risottos, others are made without cheese. If you add this it is important that you use a cured strong flavored cheese.
Parmesan and pecorino are great with rice and bring a touch of acidity that congenial very well with the sweetness of it. Parmesan can be found in most supermarkets either in wedges well on bags already shredded cheese. Pecorino instead is a bit more difficult to find and there is almost always to finish at El Corte Inglés unless we have a good cheese factory specialising in the neighborhood.
It is important that the cheese is rallado finely. The best is to use a grater thinly for a rain of cheese which will blow without any difficulty with our rice once it is finished. If you do not like cheese, it's not necessary to add it except in those risottos that cheese is a fundamental part of the ingredients, such as rice fried in breadcrumbs and butter if you do not like, can be substituted by olive oil.
And risotto with marisco or "ai frutti di mare" It is a dish that is part of the most classic Italian cuisine and I hope you like it. At home, fingers are chuparon... Live l´Italia Bella!

Difficulty level: intermediate
For 4 people
Preparation time: 40 min.
Ingredients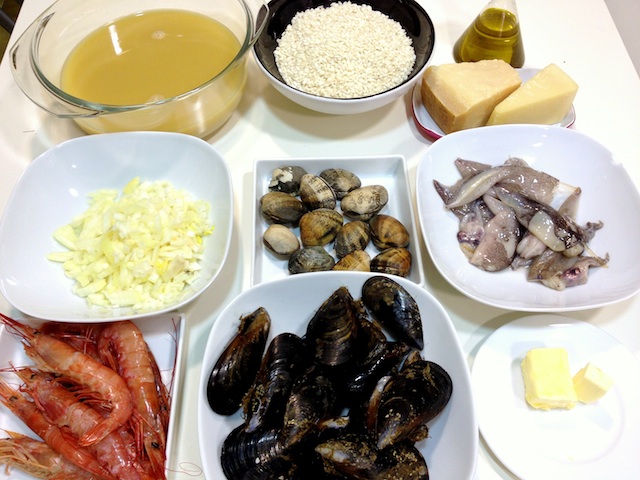 A quarter of a cup of olive oil, a handful of chopped fresh parsley, a bit of salt and freshly ground black pepper. €0,50
50 GR butter €0.26
400 grams of rice carnaroli or arborio €2.39 (can purchase you in El Corte Inglés)
2 or 3 very chopped fresh chives €0,75
500 g mussels €0.85
250 gr of clams €1.75
250 gr clean squid and cut €1.00
300 g of shrimps, prawns or langoustines €2,00
40 grams cheese pecorino (sheep's cheese Italian) €0,75
50 g Parmesan reggiano grated €0.60
2 tablespoons of natural tomato sauce (tomato without skin or seeds very chopped and last in the frying pan with a little oil,) or organic tomato sauce €0.40
1 glass of white wine €0.28
1 litre of fish broth hot €2.40
Total: €13.93 to be divided between four, 3.48 €/ person. A good price for a main course of luxury!.
Equipment
Large saucepan and a frying pan
Microwave oven
The glass ceramic gas cooker
Wooden spoon (it is very important that rice moves with a wooden spoon so that the grain does not suffer and not break)
Tables of cut, a sharp knife, various containers, etc.
Pairing
For this dish I would be with some Italian wine. On this occasion I recommend a target: Company AgriverdeTrebbiano d´Abruzzo Riseis, 2005, containing a selection of the best strains of indigenous white grape Trebbiano d'Abruzzo area. It is a white with clear expression of white fruit, with good texture and a fresh and intense, mouth that goes very well with pasta and rice dishes, especially with fish and seafood. Your price €9,00
Directions
1 Peel the prawns and reserve shells.
2. in a frying pan with a little oil sauté the clams. Book.
3. in a saucepan with a small phone of water bring to a boil the mussels. Strain the water cooked mussels and reserve.
4. put our broth to heat over medium heat.
5. when clams and mussels are warm, clean the shells and reserve.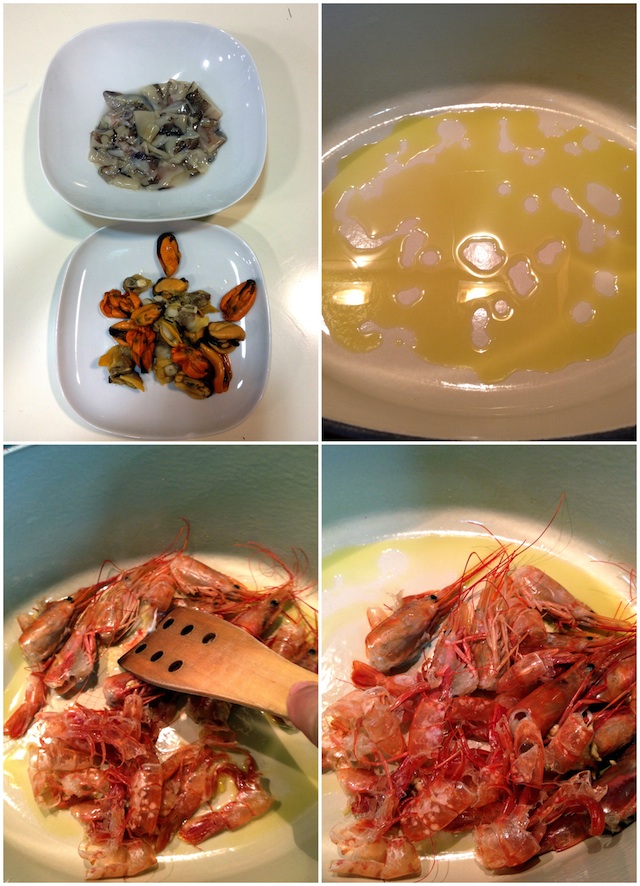 6. clean squid and cut into pieces (I asked the fishmonger clean them up and troceara them so that I saved...). Rinse thoroughly under water, drain and reserve.
7. in the Pan we go to make the risotto (I use Le Creusetbecause phenomenally distributes the heat, and they come out stunning) we will begin by adding a splash of olive oil. We saltearemos the prawns to fire shells between by the heads with a spoon or wooden spoon so that they release all their juice and coral tightening.
8. remove the shells of shrimp from the pan only juice.
9. Add a little butter or olive oil (I in this case I added butter, but we can also do it with olive oil) to the Pan and wait for it to warm.
10 add chopped onions and saute until they are soft and they have caught a bit of color to medio-suave fire.
11. Add the rice and mix well by hanging around with our spoon or wooden spoon so you impregnate other ingredients. From this moment on we will not stop constantly move the rice until it is finished. It is very important to move it all the time to help you release all the starch that will give our risotto that creamy texture that we like.
12. once rice is sauteed for a couple of minutes, add the glass of wine and move until the alcohol has evaporated. You will notice this because you will smell so much wine.
13. then add the clams and mussels clean shells and sliced squid and give a couple of laps so they mix well with rice.
14. Add a glass of water having boiled mussels. Good move until the rice has absorbed almost all the liquid.
15 Add the natural tomato sauce and toss until it is well incorporated.
16 Add clean shrimp and start adding the stock with the help of a ladle. We will not add another ladle until rice has not absorbed almost all the stock that is in the Pan, and all non-stop move the rice. When there are only a couple of buckets by add, add them hit.
17. at that time cover pan, remove from the fire and let rest for about 5 minutes until the broth has disappeared almost in its entirety.
18 Add the chopped parsley and grated cheese and serve immediately. Buon appetito!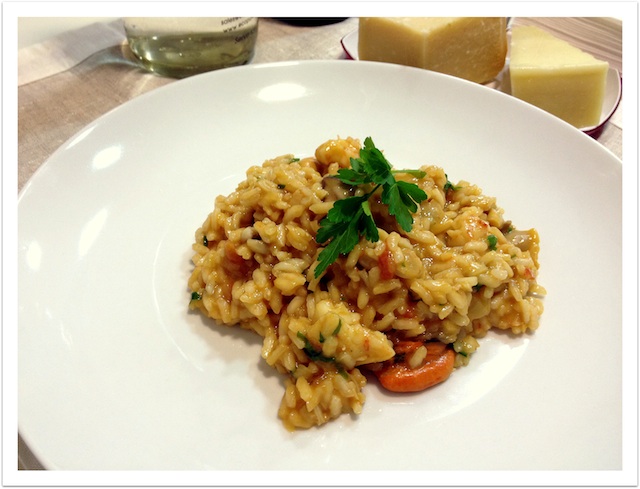 Do you want to see the rest of Italian recipes posted on the blog? Linka HERE
Tips and Tricks
If you don't like butter, replace it with a bit of olive oil.
To more quickly, you can use the flavorful broth of fish of Aneto
Keep all prepared around the table. The risotto is served in its point