"Happiness is a wonderful article: how much more is given, more is left to one"
Paella rice with vegetables in Spanish
I will tell you one thing. I have spent a week-end of the busiest, and that it was testing. We have attended three courses or cooking workshops, as more like it, and I've had the opportunity to give me a caprichito in one of the newest and most interesting of rice which is bursting in Madrid: Rice Bar Pump. I wanted to try their rice and meet to Christophe, his soul.
Courses will prepare a few specific posts later, with more time, because they have been proposed wonderful: the first, one of Pan gourmet in the Still, with the super master Francisco Tejero that left me completely hallucinated; the second, one that was great: the demystification of the Japanese, actually called course of Sushi taught by the brilliant and funny chef Chema Isidro in La Bella Lola. Finally, also in the Stillagain the master Jose Luis García Berlanga taught us techniques for cooking rice, among others, an authentic recipe of Valencian Paella.
But today I will focus on the project Christophe Pais It has undertaken in its Chueca bar: Rice Bar Pump. Jose Luis García Berlanga spoke of it and passing through the tripitiendo still the course of rice in his desire to know and learn about. And no reason was lacking reviews, is a student (if already can be called thus) very, but very outstanding. The restaurant which has assembled is on the street Alberto Figueroa, at number 33, practically in front of the San Antón Market and if you like rice, do not hesitate to try it. In my opinion, it is making a hole in a very short time among the best rice dishes in Madrid, it has a future and without detracting from any, it has nothing to envy, in its form and style, to places as famous and recognized as Samm or Casa Benigna, among others. It offers a genre of high quality, different and low-fat backgrounds very achieved.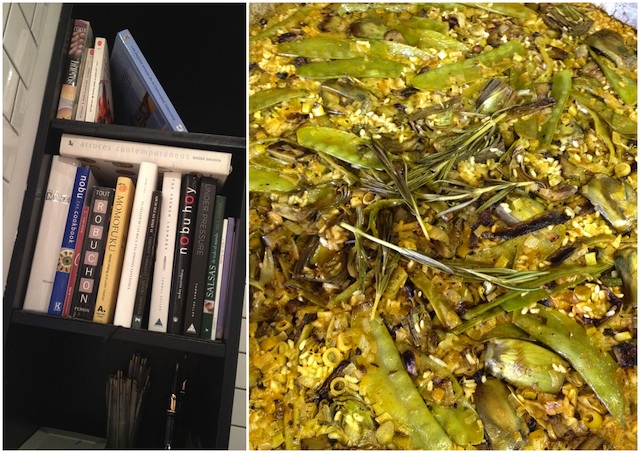 Christophe must feel like the Hunter hunted. I knew of it precisely through a colleague my first course of rice (is that this word of mouth among) stoves, it is amazing) that he recommended me visit his blog... and I became addicted. It started with a magnificent and recommended cooking blog that was deftly called "You Can't Call It Cooking (I've already told you about it ever before) and it happens like many of us, who don't come professionally from gastronomy but for some reason or another, we have to take out the love and passion we have for the gastronomy and cooking... in my case I add the agencyalso from tiny. And he has done it, has taken the step forward the brave and has pulled in the ring. The other day confessed me a not insignificant percentage to visit its restaurant thanks to the blog. After having known him, I admire you for its transparency, its efforts and its relentless pursuit of quality in the kitchen and gastronomy products. He is seen with a great guy, and a lover of what makes.
I think that he has a sixth sense and "smell" that we do this. From the beginning he was always vigilant and very attentive service. Finally, we share a good time to talk talking about cuisine and rice dishes. It is simple, close and with very clear ideas. Of the Rice Bar Pump I will tell you that it is very small, with only six tables, but nice and cozy. The letter is not very extensive, but that we like the rice, with a couple of types of paellas us is more than enough. We liked especially the tartaric the atún cooked with egg yolk which gives a smooth, creamy texture... to my I liked, is more I would say that it is the best I have ever tasted. We decided for a rice with squid and vegetables… Mon dieu! As the says what piece of rice!, has a background of luxury that blossoms on the palate, with a deep flavor, the grain is very tasty and the accompaniment of vegetables on tiny portions of chopped carrot, Zucchini, Eggplant and red bell pepper makes it especially delicious. The grain used is the senia, which in his opinion, is that better acquires the flavour of the Fund or stock of the three varieties of the D. O. Valencia: senia, Bay or the famous pump (I have to try the senia in my rice, I will tell you). Unlike others, it has rice in small paellas, and notes with the corner of his eye as it has to be smoking the paella to be served at their point. It is in everything, you have obsession for detail and perfection.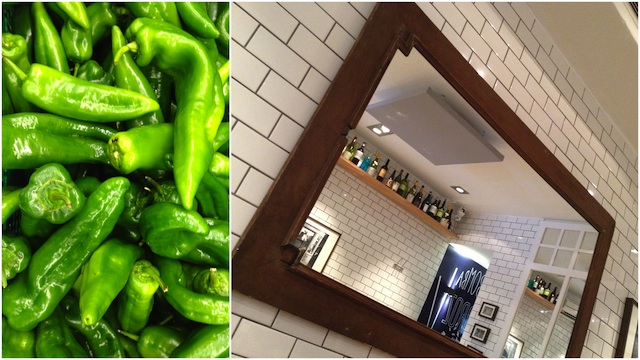 Nice talk we had, I'll take his explanations about the importance and the quality of the proteins in the funds, measures and techniques for the perfect "paella" and his constant references to the encyclopedia of the Modernist Cuisine and the book Contemporary Rice Quique Dacosta; also his obsession with quality, his passion for cooking, his clarity of ideas, but above all his great kindness. I'm really looking forward to start to take courses... Highly recommended visit, that Yes, sometimes that is not cheap. Thank you Christophe. Here's level!
Come on!, how not?, with a tasty... today, old-style vegetables. Are you willing?

Difficulty level: intermediate

For 4 people
Preparation time: 60 min.
Ingredients
400 Gr. rice pump (approx. 3 cups). €1,50
2. clean chopped artichokes in category. €0,70
1/2 bunch fresh green asparagus. €0.98
100 gr. of fresh beans chopped €0.34, but without removing the sheath
100 gr. green beans €1.10
100 gr. of peas €1.05. You can find it in El Corte Inglés, is a bean-like vegetable, but more thin and more tender taste
1. very finite chopped Leek. €0,50
1 tray of fresh garlic also very finite cut (250 gr. aprox). €1.00
2. very finite chopped chives. €0.66
2. garlic peeled, without threads and cut into slices. €0.15 (I used frozen crushed garlic of the siren for this paella)
Tomato, garlic, onion, olive oil, laurel, thyme and Rosemary sauce. Approx. 250 gr. (must do before and have it ready). €1,50
Broth cooked or stew hot mixed half with vegetable stock: double and something more than rice, as 7 cups (natural broth from stew and vegetables brand Aneto) €3,10. If you are a vegetarian, use only vegetable stock.
A bit of parsley (I use the La Sirena), and a few strands of Saffron to give flavor and color. €1,50
A quarter of a cup of olive oil and salt. €0,50
Total: €14.58 to be divided between four, 3.65 €/ person. Unbeatable price for a delicious paella
Equipment
Paella with internal diameter 50 cm. (for a layer thin rice, baking much better)
Barbecue (fire) of gas with gas cylinder
Ladle for the sauce (if you have not previously prepared)
Microwave or hob to heat the broth
Slotted spoon, chopping, boards aluminium foil, various containers, etc.
Pairing
I decide for a Rioja classic, Sierra Cantabria cuvée Crianza 2007, with grape 100% tempranillo from Bodegas Sierra Cantabria. I tried it years ago and I was surprised and I occasionally like to follow it. It is very elegant, with a cherry and an end to Oak. It costs €12
Directions
1 go by parts with the prior preparation of vegetables, that each one has its one. Most importantly this paella is the order of cooking of the vegetables:
Artichokes: Cleaned and they cut them for staying with the tasty part, I cut them in 4 each. Don't forget gloves staining. I didn't them lemon because I wanted to give you dark to paella.
Garlic: The dark green part of the stem, remove and cut flush with the bulb of the root, so that they are clean and in this case, are cut very finite and pass unnoticed
Chives: We do the same as with the garlic, sliced them and let them finite cut. This child is.
Leek: Also cleaned and cut into julienne finite and small
Asparagus: More hard stalk removed them, and cut them into slices
Green beans: Withdraws only the strand (not the pod) and cut into 2/3 pieces
Beans: Also withdraws only the thread, not the pod, and they chop to make bean inside (into pieces of approximately 2/3 cm.)
Snow peas: He removed the thread and ready
2 Brown to fire half the garlic (crushed in this case) with the oil for 2/3 minutes and begins with the roulette of vegetables. First is Sauté beans with a pinch of salt until we try them and they are to the take and tender, like a 7/8 minutes and deviate to the perimeter of the paella. Then seasoned beans (as smaller pieces, take less to become), about 5/6 minutes, also must and try removing them to the edge. Third sliced asparagus, with another pinch of salt for 4/5 minutes, tested them, and when they are to the date will withdraw to the perimeter. Everything is soon removed because heat from the perimeter and the final cooking of the stock will eventually do.
3. Meanwhile, toast the Saffron threads in the hob wrapped in aluminum foil for no longer than 10 seconds. Then crush them on the same paper and add them to the already mixed stew and vegetable broth to give it flavor and color. (careful! you really are toasted very fast). Finally, is heated in the micro broth with saffron for 5 minutes.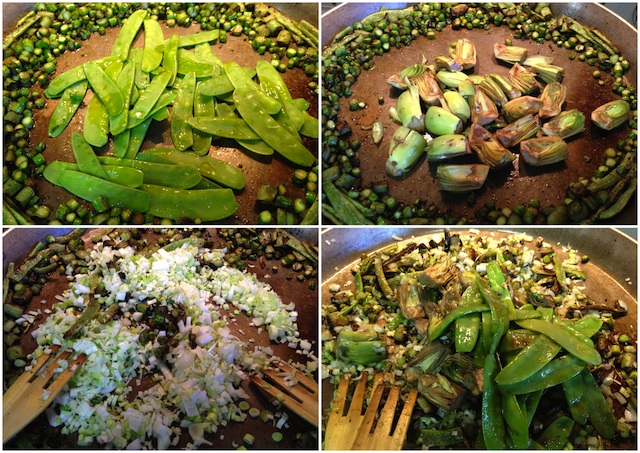 4 after you sauté the snow peas seasoned by 7/8 minutes until they are tender, as before. The next step will be artichokes, with a little salt, by another 7/8 minutes, and finally the onion, leek and garlic chopped with another pinch of salt for 3/5 minutes until slightly browned. Then all the vegetables we cooked, mixing them are stirred. Add the already-made tomato sauce (tomato, garlic, onion, oil, bay leaf, thyme, Rosemary and salt, previously prepared), and stir for a couple of minutes more. All over medium heat
5. to finish before the broth, add the 400 Gr. of rice measured in cups or scoops, remove for 5 minutes so golden brown and release a little. This is very important
6. in my case, rice occupies 3 cups (depends on the size you use). Therefore, reserve broth from stew about seven cups, 6 as custom sets of rice twice, and one more, to finally water demand according to go seeing the firing of the rice while it is cooking. I get to be heated in the micro stock (2 min) at maximum power. All stock must be very hot when we add it to the paella, since otherwise it would break the rice cooking.
7 and started cooking: Add the hot broth and stir together with the other ingredients, which exactly double the volume of rice, as we have said, 6 cups. We apply the Technical paella rice cooking If not see you even with confidence and ease to control the timing and degree of cooking to the Valencian type. We tried salt, let it 1000W heat for approx. 5/7 minutes, taking care that fire to spread by all the paella evenly.
8 we will reduce the fire below, and will keep you about 10/12 min. Virtually all of the broth will be evaporated at the end
9. Once completed the time, test the grain, must be something less than to the Dente, little done, and if required, irrigate with the half cup of broth that we still distributing it equally, this makes sure there is liquid even in the paella dish by evaporation. Before covering the paella with aluminum foil, put you a few sprigs of Rosemary to give aroma, you will notice the depth of the flavour of the grain.
10 cover the paella with aluminum foil, and climbs the fire back to medium-high a couple of minutes so that evaporation of the last Cup, to take effect. The couple of minutes shuts off the fire and leaving aluminum foil, if we want to do a bit of socarrat artificially, if it is not "pegadillo", you can give it another couple of minutes to fire very, very strong. Then cut the gas and let the rice sit for at least 5/7 minutes and finish cooking.
11 stir paella completely before serving, and the rice in the dish will get homogeneous texture, since never become equally grains from the Center to the perimeter.
12 ready!. Enjoy the dish, because it is unique,... very elaborate and can see otherwise bring the orchard in the paella.