Today we have Octopus with red beans and Thistles, and it is that it was finally time:! We are drawing on the blog! The first celebrating the fourth anniversary of the blog and all thanks to my friends in BRA, with which you are going to Cook as real professionals. At the end of the post you have a winner! Look to see if you're your
From today, you have the possibility to make them with this magnificent batch of products of Cocina con BRA, in a very simple way. If you're thinking get the latest in frying pans and cooker express, follow the steps you describe below and participate in the raffle. As you can imagine, I not only love them in the kitchen, but I have become essential.
The new line of BRA Infinity It's the most that you could dream for cooking. Pans have the removable handle which not only facilitates a lot your stack, they also allows you to cook them in the oven to not having to get the handle.
Plus you can earn in this batch the fantastic Efficient cooker express with which you can prepare your favorite dishes much faster. To my love to use it for legumes because it allows me to decide on the fly what I eat. This recipe today I used it also to cook a fresh octopus without froze before and that in just 12 minutes was perfect and tender.
To participate you must:
Become a fan of Kitchen with BRA on Facebook

Hacerte fan de Loleta Life, Market and Cooking en Facebook

Share on your facebook wall this sweepstakes

Leave your comment to this recipe on the blog (don't let your mail is missing, as it is registered to leave the comment on the blog). You have to leave the comment at the end of the post you are reading.
With all this, you can take these fantastic products BRA:
Bra Infinity Frypan 20 cm

Bra Infinity Pan 24 cm

Efficient express pressure cooker
We'll do a draw I enter all participants who meet the requirements, the scope of it is limited to Spain, and if you're lucky, you will receive at home all this gift that BRA and Loleta want you for always being there. Cheer up! and it participates in this first sweepstakes of which we will do in the next two weeks on the occasion of the fourth anniversary of the blog. We will keep the draw opened up to 16 Wednesday. We are birthday and want to celebrate it with you, so we will have many surprises dedicated to all fans of Loleta. It is the least we can do to thank you for your loyalty, your love and your continued support.
And now we are going with the recipe that comes with Octopus with red beans and Thistles. A dish of spoon and vigil to accompany the cold days that we remain and continue with lent that prontio will take us to the thrones, the scent of orange blossoms and the French toast. Easter is just around the corner and with this recipe we hope it with the spoon on the plate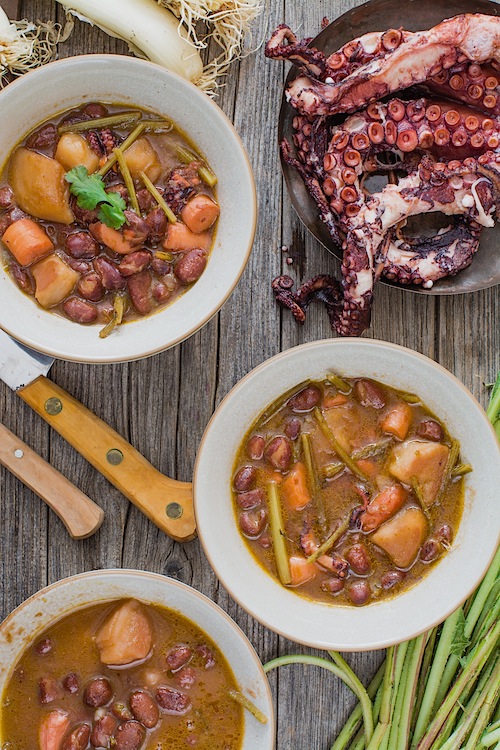 Ingredients
1 Octopus of 1.5 kg €10,5

50 ml extra virgin olive oil €0.12

3 cloves of garlic €0.15

1/2 onion 0,10 €

1/2 green pepper €0.10

1 tomato €0.25

1/2 teaspoon sweet paprika or spicy €0.05

350 g of red beans €0.80

2 potatoes €0.35

2 bunches of thistles €0.60. In this recipe for Octopus with red beans and Thistles, they are essential but if you can't find them, you can use instead spinach or chard, as you prefer.
Total €13.02, i.e. 2.17 per serving of a warm and comforting dish of spoon that also does nothing fat
Directions
1. clean the Thistles. To do this, and with the help of a sponge, remove thorns from stems and rinse well to ensure that I removed all the Earth.
2. in the cooker express put the Octopus. In level 2 Cook the Octopus for 12 minutes. Which I used was a fresh octopus that I not froze or nothing and came out perfect because you like the pressure cooker huh?.
3. when Octopus are ready, allow the pot to cool and chop it. Reserve water that Octopus is released and save the Octopus in a bowl.
4. in the same pot put oil, garlic, onion and very chopped pepper and tomato peeled and grated. Over medium heat, let all cook until vegetables are completely done. Add half a teaspoon of paprika and a little brown being careful not burning. Grind using a blender.
5. then add the beans and cover with water to cook the Octopus. Add the potatoes cut into slices and cook in level 2 for about 12 minutes. Passed this time, release the steam and open the cooker.
6. then add the wonderful clean and cut into pieces and Octopus. Octopus with red beans and Thistles salt to taste, and cook for 10 minutes until the beans are tender and the tender Thistles.
7 serve very hot
Tips and Tricks
For an extra flavor in this Octopus with red beans and Thistles, add a bit of harissa

If you prefer to do it with chickpeas instead of red beans

Difficulty: easy

Preparation time: 40 minutes

Servings: 6
The winner of the draw was:
'menu_position' => 110
Congratulations pillar stop! Soon I will contact you to arrange shipment of your gift. Thank you very much for participating and now... Let's enjoy it!