This lent of chick peas, cod, prawns and spinach stew is a favorite of my husband. At home we are very of soups and at this time of year I love to prepare them.
Is it cooked with a vegetable base and legumes with cod, very traditional in lent but at home we do throughout the year. My friend Raquel Carmona, of the blog The Gargantua, only prepares it with prawns, but my I love with cod and spinach also and always follow this recipe which is what my grandmother taught me a long, long time ago. Raquel has a photograph beautiful (in fact it is photographer's profession), and I love the type of dark photography that makes. Instagram account is one of my favorites and in addition to all that is love, so I recommend that you go by your blog because you will love
The soup base is the broth. I prepare it using some fish bones, shells of prawns and a few crabs that give it lots of flavor. This is also the base of the broth for my paellas of fish and is only rice to take good taste if it has cooked in a good broth, as well as legumes.
As I have said before, we are super fans of spoon dishes. Why in the blog have dishes of beans, verdins, lentejas and almost all the vegetables that you can imagine because we like a lot. This cod with prawns soup is very easy to prepare because I use cooked chickpeas, which lightens the preparation muchsisimo and almost allows me to eat it in half an hour without having to remember to leave the chickpeas to soak.
It is also very tasty, and because it carries everything a little, is probably my favorite. Do you dare? Because we will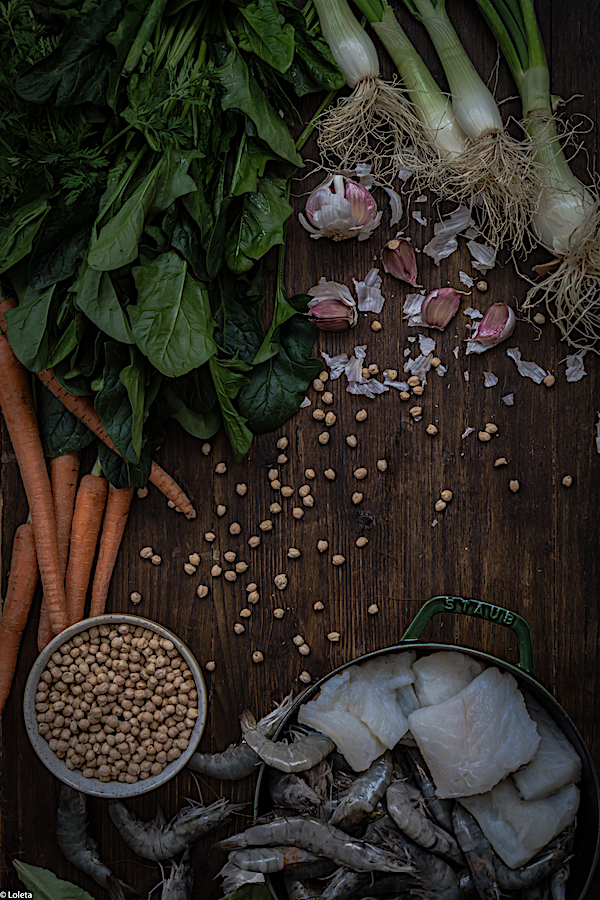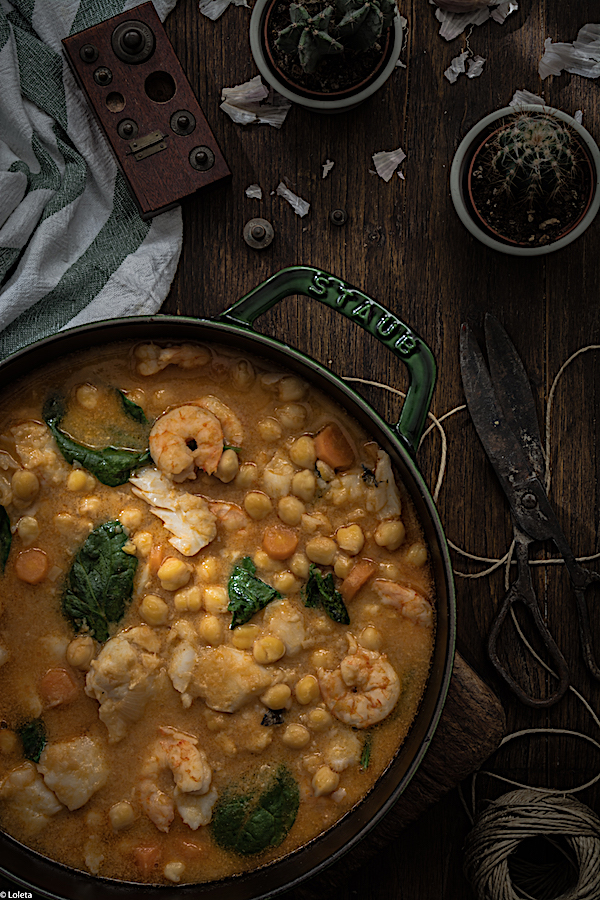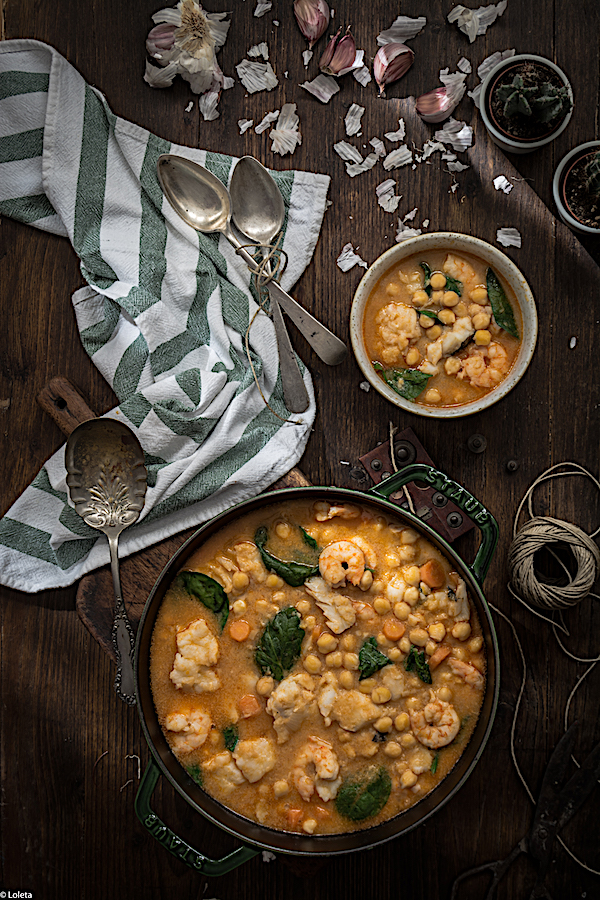 Ingredients
500 g of cooked chickpeas
1 onion
2 cloves of garlic
500 g of prawns (I buy them frozen)
500 g of small crabs
1 spine optional fish and (can we ask is the fishmonger)
500 g of salted cod
12 bunch fresh spinach (or a bag of fresh spinach)
2 carrots
some flour
extra virgin olive oil
salt
Preparaciion
Desalt the Cod. For elo put it to soak in water for 24 hours changing the water every 6-8 hours.
Open the pot of chickpeas and rinse thoroughly. Book
Peel the shrimp heads and shells. book. Chop the onion and the garlic.
In a pan with a little oil sauté the heads and shells, crushing well order to absorb all its juice. Add crabs and thorn if we use it, along with 1 liter of water and two bay leaves. Bring to a boil. Drain well and reserve the broth, discarding shells and crabs.
In the same saucepan, sauté the onion and garlic. When bine soft, add juice of shrimp heads and let it boil. Using a hand blender, blend well until obtaining a fine puree or tripping lumps. Book.
Pass the pieces of cod (well rinse and dry), flour. In the same pan, heat a little olive oil. When hot, Brown the pieces of cod. remove from the pan.
Return to pan the onion puree, broth and chickpeas along with the chopped carrots and Cook 10 minutes. Then add the cod and shrimp and boil another 10 minutes until carrots are tender. Finally, just before serving, add the spinach. Salt to taste and serve hot.
Tips and Tricks
You try to do this same dish with white beans
Replaced the spinach with beets
Preparation time: 45 minutes
Difficulty: average
Servings: 4