This cod with potatoes is a recipe that year after year we repeat at home when Easter approaches. Although I love to prepare the Cod with Tomato or Biscayan cod that always comes out delicious.
It is the favorite recipe of my nephew Pablo and one of the ones that my sister likes the most because Pablo takes all the vegetables without protest when they are crushed in the form of a sauce. There is a delicious sauce that only needs a loaf of bread to complement it and that children love.
I love traditional recipes and at this time of year, in Lent, there are so many rich recipes to prepare that my kitchen bustles almost every day at this time.
In short, a perfect recipe for this season of Lent that I like so much or for any day of the year because it is very easy and very tasty. do you dare? Well, come on!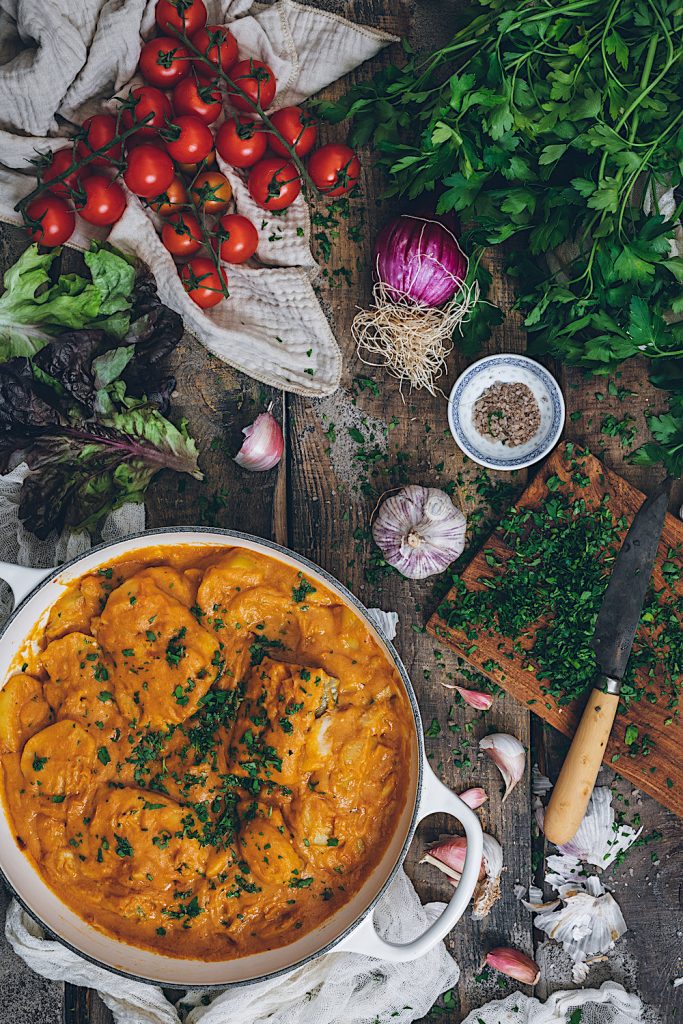 Ingredients
2 Tablespoons extra virgin olive oil
3 cloves garlic, chopped
1 barquette of fresh garlic
1 fresh onion
1 leek
1 teaspoon ground sweet paprika
some saffron
2 grated tomatoes without skin
1 glass of white wine
3 slices of desalted cod
3 diced potatoes, sliced
salt to taste
Directions
In a saucepan brown in the oil the garlic very chopped. Add the garlic. When they are soft add the onion and leek very chopped.
Add the paprika and saffron and let the vegetable poach gently. Now add the grated tomato and let it sauté for about 5 minutes until the water has evaporated and the tomato is well locked.
Pour the wine and take a few laps. Put the slices of cod with the skin up. After 5 minutes we turn it over and let it cook for another 5 minutes.
Remove the cod from the saucepan and crush the sauce.
Put a tablespoon of oil in the saucepan, and place the cooked potatoes cut into slices.
Let the potatoes brown for a couple of minutes on each side. Cover with the sauce and return the cod with the skin down. Let a soft boil and serve with a little parsley on top
Tips and Tricks
You can add some peppers
Difficulty: easy
Preparation time: 30 minutes
Servings: 3