You know what I like to invent and mix, merge different ranges with different flavors, and while for some people it is a sacrilege to change traditional recipes, to my I've always found it's the most fun kitchen stuff. The recipe that I bring you today of chickpeas with cod.Chhole hindu, is of those, amusing.
He was eager to publish a recipe for chickpeas with cod, very typical of the Vigil These days, but I wanted much give a touch different, something different while maintaining the essence of the dish. And I remembered a few chickpeas which I took in an Indian restaurant in Little Nestonin the County of Cheshire in the United Kingdom, thousand years ago, and that seemed to me to be great.
Chana Masala, Chhole, is a typical dish from the North of the India whose main ingredient is chickpeas (chana). In the area of the Rajasthan it tends to be a dry dish, without broth, which is how I tried it the first time and still have not forgotten me. Did not cod, no stock, only the chickpeas with tomatoes. I've changed them a little and the truth is that the fingers have sucked at home. The recipe that I give to you today, have the spicy just, although as a my I love rock & roll, I add half a teaspoon of chili powder (is not in the recipe, but if you are of those who like the spicy uploaded, you can add it).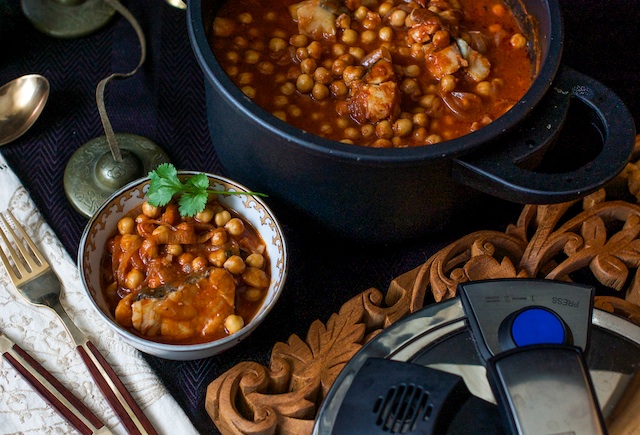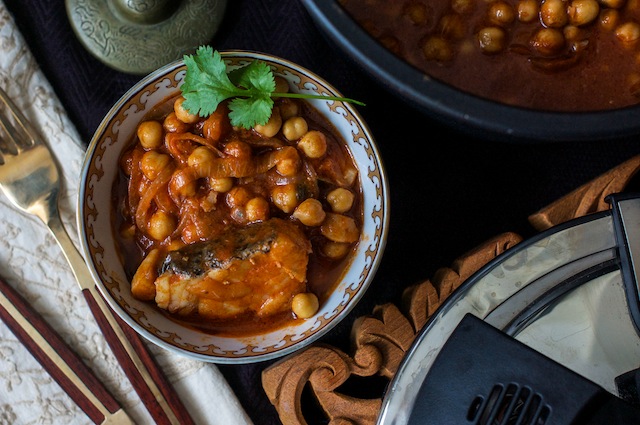 Ingredients
1/2 kilo of chickpeas €0,75
water to cover the chickpeas €0.01
2 tablespoons vegetable oil €0.03
2 medium-sized onions, chopped €0.60
2 teaspoons garlic paste or 3 chopped cloves of garlic * €0.06
2 teaspoons grated fresh ginger * €0.06
1 tablespoon coriander ground €0.22
2 teaspoons of cumin ground €0.25
1/2 teaspoon of dried chilies crushed €0.15
1 teaspoon of cumin seeds €0.12
4 tablespoons of concentrate of tomato 1.00
400 g desalted 3.00 sliced cod
350 ml of water €0.01
2 teaspoons garam masala €0.25
Salt €0.02
* My latest acquisition in my path of purchases by the neighborhood of Lavapiés (Madrid), was a jar that mixes grated ginger and garlic, and so I don't have to worry about having fresh ginger. I love ginger, but not I always have it at hand where I live, so this seemed perfect. It is Mark Natco Foods Ltd., which is the Indian brand of spices par excellence.
Total €6,53 per serving. Leave 6 well released rations so they are just €1.08. A strong and rich and above all with a very original touch plate.
Directions
1. finely chop the onion. Put a teaspoon of mixture of garlic and Ginger crushed in a large saucepan along with the chickpeas and half. I used the new Efficient Express BRA, but if you don't have Pan express, you can use a large pot (in this case you'll have to cook the chickpeas for at least two hours until they are tender). Cover with water up to the limit of the express cooker and close. I had them cooked 25 minutes and they came out perfect.
2. once the chickpeas are tender, uncover the pot and strain the chickpeas. In the same pan, heat the oil. When it is hot, add the cumin and wait for it start to jump. Then add the remaining onions with another teaspoon mixed garlic and Ginger paste and let Cook.
3 take the pieces of cod and seal up and down over high heat. Remove cod from pan and reserve.
4. in same pan, add the tomato concentrate, chili, garam masala and simmer. Then add the drained chickpeas and sauté.
5. after a few minutes, add the cod pieces and the water, and boil for 7 minutes until the cod is tender and has released all of its flavor. Garnish with a few leaves of fresh cilantro.
Tips and Tricks
If you want to use already cooked canned chickpeas
Serve with naan, papadams or any other Indian bread, and yogurt or Cucumber Raita that it will cool much the spicy dish
Difficulty: easy
Preparation time: 1 hour
Servings: 6