These chickpeas with cod have become the favorite dish of the Lent at home and on the way more easy and quick to prepare and eat chickpeas with cod at home. It can be prepared in many varieties with or without egg, with or without cod and you can even add a few fresh spinach.
For Easter the chickpeas with cod stew is a dish required in all houses in Malaga and in almost all the cities of Andalusia, a very traditional cuisine that I reinvented a bit today above all to make it more simple and quick to prepare in a version without c Aldo and also very healthy.
In my case the cod skips lightly with the chickpeas, but if you prefer you can fry it before. These chickpeas with cod are my super quick version of our Malaga vigil stew but without broth.
A dry version to which I add a few eggs to finish. Of course these chickpeas with cod do not replace, or intend to, to the vigil stew, but it is a different way of eating the same ingredients. This time I have not added the spinach, but you can try to add them right at the end so that they are to the take and not too soft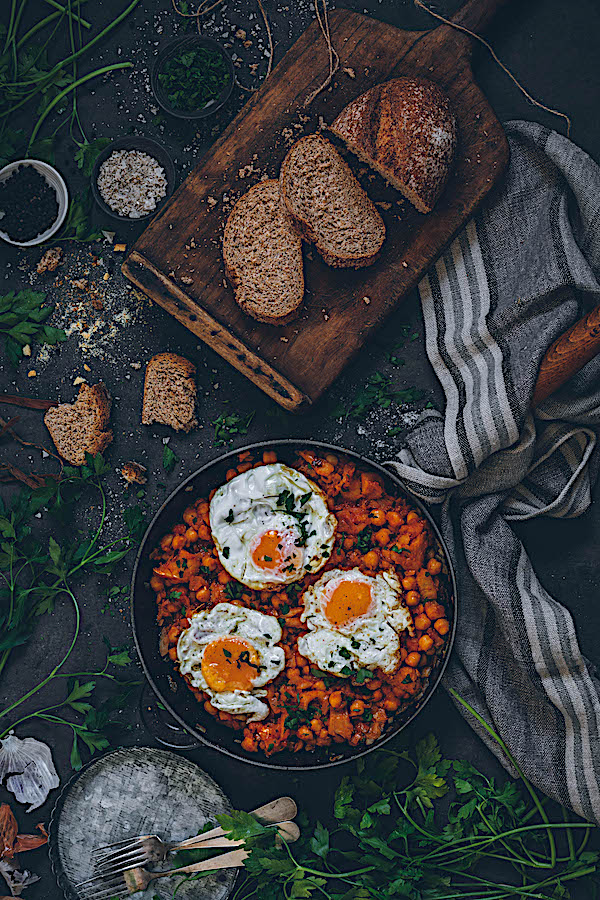 Ingredients
2 Tablespoons extra virgin olive oil
1 onion
1 clove of garlic
1 tin of cooked chickpeas
200 g desalted made crumbs
1 bunch of fresh parsley
3 tablespoons of tomate frito casero
3 eggs
Directions
In a skillet saute the onion half and garlic clove very chopped with oil to prepare it. Add the rinsed and drained chickpeas and leave toast. Book
Saute in the same pan the other half of the onion and the garlic clove very chopped with the cod and the chopped parsley and cook a couple of minutes.
Mix the two preparations, and add tomato. Move well.
Make some holes in the chickpeas and crack the eggs into the holes.
We curdle the eggs in the skillet or end of curdling them in the oven at 200 degrees on the grill for a couple of minutes
Serve hot sprinkled with chopped parsley.
Tips and Tricks
Add spinach leaves to have a modern version of the typical stew of vigil from Malaga
Preparation time: 15 minutes
Difficulty: easy
Servings: 3