These scum with mushrooms and ham are one of the favorite dishes of spoon from my husband. I started them to wanting to avoid the fats in recipes after a holiday of Christmas during which we had caught some that another unwanted kilo.
It was necessary to continue to eat well, but had to lower the rate of fat, so I decided to be verdinas with mushrooms was the scum at home. Sometimes we think that to make a plate of vegetables is good we need to add sausages and meat give more consistency.
And indeed with sausages they gain in consistency, but my fat over not going and I always cook sausage and sausage apart to not add more fat to the dish. This version of scum with mushrooms and ham is my perfect.
The issue is that we already saw last Christmas, as almost all threads almost always. I made my beluga lentils without sausage and wanted to change third. I had at home a scum and I had bought in the market mushrooms and mushrooms, so I had clear the combination would be that day. And it turned out to be the winning combination because since we've eaten it thousand times.
The secret is to let them simmer and add the mushrooms at the last moment. With these scum with mushrooms you chuparás you fingers healthy and light, but you chuparás them yourself, I promise you.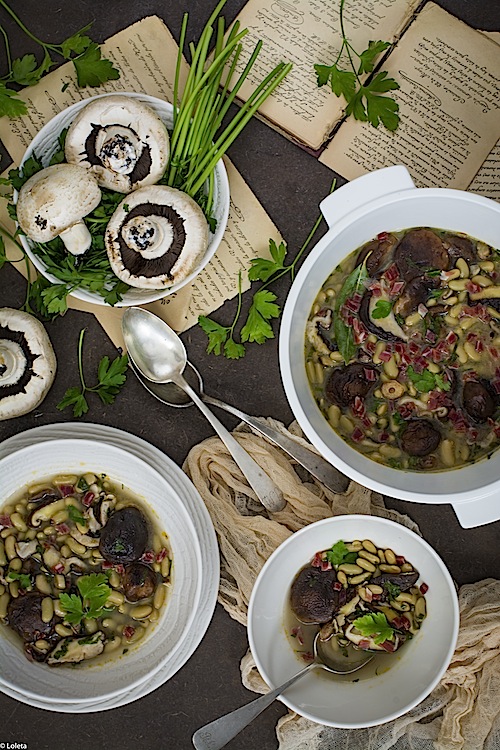 Ingredients
500 g of scum
1 onion
2 Tablespoons extra virgin olive oil
2 Bay leaves
5 cloves of garlic
1/2 glass of white wine
250 g of mushrooms (I used shitake)
a splash of Chamomile
a bunch of parsley
100 g of ham without Bacon cut into slices
All utensils used in the preparation of the scum with mushrooms, and photographs is of Revol, my favourite porcelain kitchenware brand. The dishes are of the line Arborescence and the cocotte is the Revolution.
Directions
1. the night before to soak the scum.
2. in the morning, wash and drain the scum. Chop the onion and two cloves of garlic. In a large pot heat aceite.y sauté the onion and garlic over low heat. When it is ready, grind it using a mini pimer or food processor.
3 return to the Pan and add the Bay leaves and the scum. Curbrir with water. To a boil over medium-high heat.
4. when the scum break to a boil, then add the wine. Thus asustaremos the scum (stop the boil), which will make the scum's tender without peeling the skin.
5. once break a boil, lower the heat to medium-low and cook for about two hours.
6. when the scum are tender, saute the mushrooms in a pan: put a splash of oil and Brown the garlic. When Golden add mushrooms.
7 Saute and add Chamomile. Bring a boil and add a tablespoon of chopped parsley. Move and tip the pan on the scum. Finish with chopped up ham
Tips and Tricks
For a vegetarian version, do not add the ham
Express can use beans to a version already cooked, although it is not the same result also are very rich. Us salaríamos step 5 and else equal.
Add a good piece of morcillo if we want a more consistent version
Difficulty: easy
Preparation time: 2 hours and a half more soak time
Servings: 5