This chicken cocotte with white wine be converted into a fixed dish in your kitchen days. It's easy, healthy, light I best of all is that almost done alone. Being meat cooked in cocotte out tender and soft but very very juicy. If you have iron cocotte, you can use a pan but it must be suitable for the oven and if you have not you can roast on a grill tightly covered with aluminum foil.
Being covered does not evaporate juice and chicken bones almost one out of the oven. One last, you'll see. It also lets you add verduas that you like that with roasted chicken, tender, almost caramelized out. At last a planazo ideal place to end this week.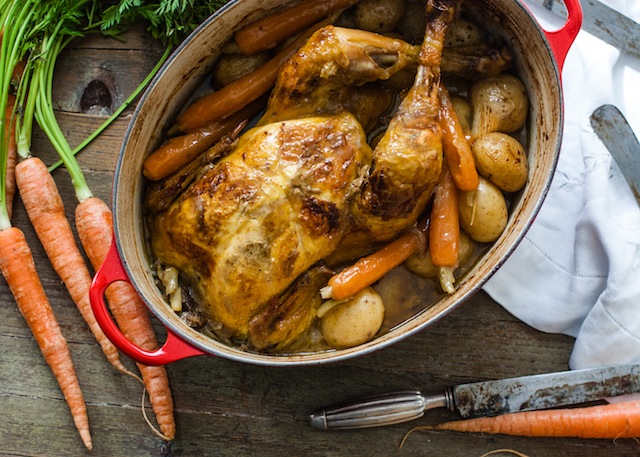 Ingredients
1 chicken, 2 kg. approx. - You know that I always use Choke
salt
pepper
2 tablespoons raspberry mustard (if you do not have you can use Dijon mustard)
4 carrots
8 small potatoes
3 tablespoons extra virgin olive oil
1 onion, finely chopped
3 cloves garlic, minced
150 ml of white wine
150 ml of brandy, cognac or port wine
Directions
1. Preheat oven to 190 degrees.
2. Salpimentar While the chicken inside and out and a brush co kitchen with mustard paint it inside and out. Once well seasoned tie with cotton string: pass below the line, crossing it over the chicken and tie the legs on one another so that it is well collected.
3. Thoroughly clean the carrots and potatoes depriving the skin. Reserve
4. Place the cocotte the heat and add the extra virgin olive oil. Over high heat, brown the chicken on all sides and remove. Reserve on a plate.
5. Brown in the same oil the garlic and onion over medium heat. When they are, raise the heat to brown the carrots and potatoes. Add the wine and brandy and cook over high heat to evaporate the alcohol.
6. Set aside the vegetables on both sides of the cocotte and place the chicken inside. Cover the pan and place in preheated oven at 190 degrees for 1 hour (you may need a little more time, but usually, 1 hour and a half left in his point).
7. Uncover and turn on the broiler. Brown a couple of minutes the skin. Remove from the cocotte, remove the string. Serve with vegetables.
Tips and Tricks
You can cut it if you have a large pan to roast
Add your favorite vegetables
Dificultas Easy
Preparation time: 1 hour and a half
Servings: 6