The recipe that I bring today is the roasted pork that I have always prepared, and since the first time I made it about 15 years ago, I never move it not a coma because it always works for me, even if sometimes I may be tempted to introduce a new touch. This roast porc with prunes, dried apricots and sweet wine sauce is an easy recipe without complications that only requires patience in the roasting time and much love. The rest is done itself
The Roast allows the meat to slowly cook retaining their flavors and properties and giving a unique flavour. It is a must in the buffets of my parties whether in summer or winter, and a favorite of my friends. Serve it with two sauces: its own juice roast pork and another more sweet for those who enjoy the mix of the sweet and sour in the meals.
As garrison I never miss the potatoes baked or boiled, but you can also accompany it of a salad or the vegetables that you like and it will be also fantastic (try these creamed spinach). It is an ideal dish for special occasions in which we tend to be very busy because it allows meat and sauces to be prepared a few days earlier. The day you are going to serve it you just need cut the meat into thin fillets and warm sauces
Pork leg is macerated for one day what makes the meat take the flavors well. Meat is watered with wine during roasted so that the result is a juicy and tasty meat. Let me know... but I am sure it will be a success!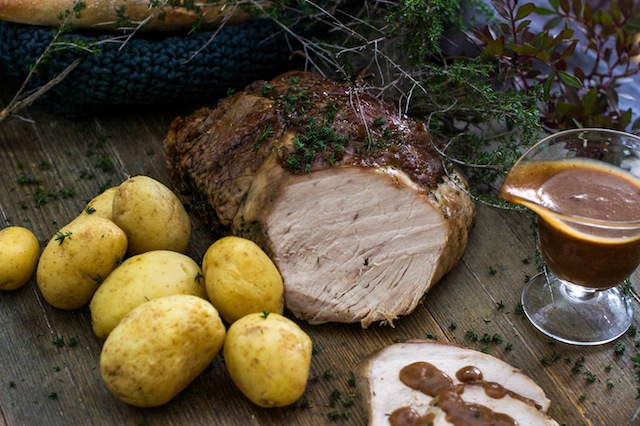 Ingredients
2 kilos and a half of pork leg €10,00
150 g of white lard €1,30
a handful of coarse salt €0.10
3 cloves of garlic €0.15
1 bunch of fresh parsley €0,10
some branches of fresh rosemary €0.10
some branches of fresh thyme €0.10
two tablespoons of extra virgin olive oil €0.11
150 g of pitted prunes €0.45
100 g of dried apricots €1.00
2 sticks of cinnamon €0.15
1 orange €0.30
1 lemon €0.25
2 cups of sweet Oporto wine or sweet wine €0.70
1 bottle of white wine €2.00
Total €16.81 posed between the 12 portions that at least come out this delicious roasted, €1.40 per person. A delicious, delicate and perfect dish for a holiday without spending much.
Directions
1 Dry well meat using paper towel. If the meat is moist butter will not stick to the meat.
2. in a bowl, mix the butter with the salt, and rub the entire piece of meat with this mixture.
3. in a mortar, crush herbs with the garlic and oil. Massage throughout the meat. with this paste Cover with a cloth or plastic wrap and let stand in the refrigerator or in a cool place if it is winter until the next day.
4. Take out of the fridge the piece of meat and preheat the oven to 200 ° with heat up and down.
5 ONce the meat has lost cold and is at room temperature, take it to the oven and roast for 20 minutes.
6 After this time, water meat with a glass of white wine and lower the oven temperature to 160-170 degrees.
7. Continue cooking for 1 hour more watering every 20 minutes with white wine. The total time will vary with the size of the meat. The total time will depend on the meat weight. After this time, test the juice inside the mat: If the juice is clear meat is ready, but if the juice goes red, we then leave it some more time. It is pork and the meat should be well done.
8 Remove from oven and let cool completely. Meanwhile prepare the sauce: in a saucepan, put pitted prunes, dried apricots, cinnamon, orange skin and lemon and orange juice, port wine and a glass of the roasted meat juice.
9 Simmer until alcohol has evaporated. Grind using a blender or food processor and pass through a sieve to get a thin and creamy sauce.
10 Serve the meat at room temperature with the sauce very hot and accompanied by your favorite garnish.