Chicken Baked with potatoes a classic but this time bring you it different and you'll love.
At home, we eat much chicken. It is a lean meat, fat and very versatile that it allows to prepare it in many different ways and that makes it not look that we eat the same thing. Happens for example to rice, also its can be prepared in many different ways completely changing the dish.
To my I love also, and we do not fight. My kids eat in thigh and thigh and I breast which I love.
During many years in the reported of the chicken in house, to my I touched her breast. My mom would always buy whole chickens and were in any case, to my breast I ever played.
Today it is my favorite meat, because nothing I don't like fat, so at home we complement each other very well.
Today I also teach you to debone the chicken back so you can submit it toYes nice and you also save a lot of time.
To roast the chicken as well, you save half the time you normally emplearías in roasting the chicken. So double advantage.
A healthy and simple dish with lots of flavor and low calorie that also will give a touch to your table to serve it open in Butterfly shape. I hope you like it! You leave the video so don't you lose detail.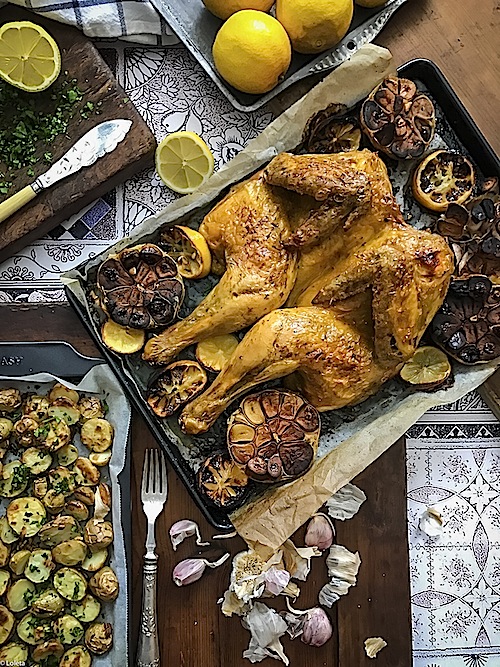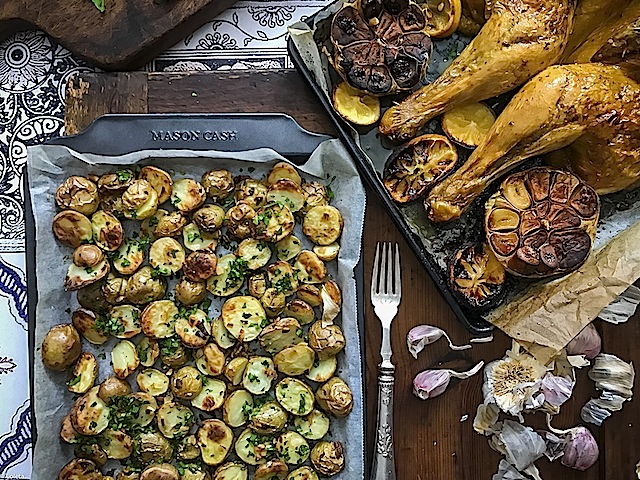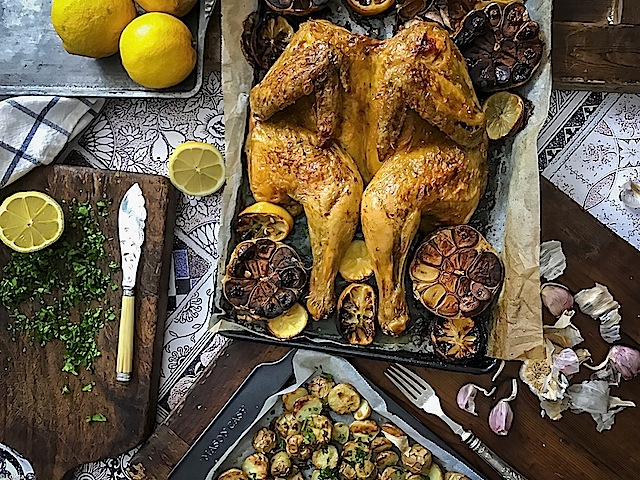 Ingredients
1 free-range chicken, whole 1, 5-2 kg
4 heads of garlic
3 lemons, cut into 2 cm slices
2 Tablespoons extra virgin olive oil
salt and freshly ground black pepper to taste
For potatoes
400 g small potatoes (the smaller that you can)
4 cloves garlic 1 bunch of parsley
50 ml extra virgin olive oil
salt and freshly ground black pepper to taste
Directions
1 preheat the oven to 220 ° C
2. place the chicken, breast-side down, and with the thighs attached to us. With a sharp kitchen shears or poultry shears, cut along each side of the spine. Remove and discard it.
3. open the chicken and cut the breastbone to get the breast bone. With a Picot of knife go cutting the bone of the breast to to remove it completely.
4. Add salt and pepper this part. Cut the garlic in half and thick-sliced lemons
5. place a paper of baking on a tray of oven. Drizzle with a little olive oil and place the chicken skin side up. Put the garlic and lemons around. We can also add potatoes to make it all in one.
6 sprinkle with salt and pepper and drizzle with a little oil. Bake for 40 minutes. Much faster than a baked chicken without opening that it would take just twice.
7. cut the potatoes by the half. Finely chop the garlic. In a bowl mix the potatoes, chopped garlic, oil, salt and black pepper. Tip the potatoes on a baking tray with paper baking sheet, and bake at 200 degrees for 20 minutes.
Tips and Tricks
With this way of preparing the chicken you can decide when you want to roast it because it takes only 40 minutes to roast
Add your favorite vegetables in the tray ytendras 2 in one, which is what I always do: put the vegetables around the chicken allows you to roast at the same time
Difficulty: easy
Preparation time 65 minutes
Servings: 5