Today we're going to take a walk by Playa de las Catedrales, in Galicia and when we finish we will have a delicious white chocolate Berliner, a soft cream with vanilla that melts in the mouth and is very creamy and smooth.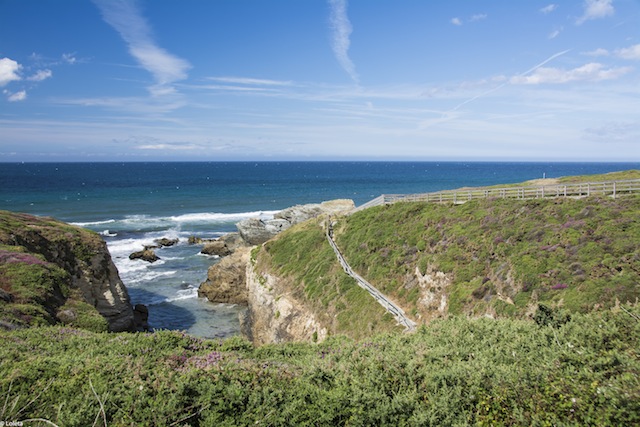 No doubt the Cathedral beach is one of the prettiest beaches I've seen in my life. Located in Ribadeo, on the coast of Lugo (Galicia) but very close in Asturias, is in fact called Aguas Santas beach.
It is called Playa de las Catedrales by the set of cliffs, some with more than 32 meters, which have been eroded by the wind and the sea, and that form arches and spectacular vaults leaving a beautiful landscape in which it is considered to be one of the most spectacular beaches in the world.
If you want to visit the beach of the cathedrals at a certain date, should make a reservation since there is a maximum quota of visits a day. With this in mind, I thought we would be on the beach at ease, being able to stroll. However, it was a little disappointment. Not by the beach and much less, but because it seemed that half Spain had chosen that day to visit. Upon leaving, I asked how it was going to the beach before limiting the visit, and told me that you can't imagine. The visit is limited to 5,000 people a day, but it seems that all went to the same time that day.
With everything and that the beach is absolutely magical. It has the added attraction of the ups and downs of tide, so not all hours you can visit because at certain times, the tide is so high that there is no beach. If someday a genius out of a lamp and asked me for a wish list, visit this beach of the cathedrals alone would be one of them. The spectacle of the sunset, chopped sea and the Galician sky cause a magic that rarely has the opportunity to enjoy.
And now we are going with our super recipe for white chocolate Berliners. An easy recipe that requires patience, but that from today will be one of your bests. Let's get started!
Ingredients
For the white chocolate Berliners (recipe from my favorite book of Thomas Keller)
520 g flour €0.31
10 g dry yeast -€0.10
75 g sugar €0.05
9 g of salt €0.01
210 g of whole milk, at 23 ° C €0.15
2 large eggs €0.25
1 teaspoon vanilla paste €0.30
55 g unsalted butter, at room temperature €0,27
50 g e white chocolate chopped €0.30
8 egg yolks size L 1.00 €
110 g sugar 0.08
30 g of cornstarch €0,20
550 g of milk €0,35
30 g unsalted butter, at room temperature €0,15
1 tablespoon pure vanilla extract €0.30
1 l of sunflower oil for frying €1,90 200 g of vanilla sugar for batter ( if you can't find it usa sugar adding half a teaspoon vanilla powder) €0.35
Total €6.07 that among the 19 white chocolate Berliners that are coming out with these amounts are €0.32 per each Berliner with cream filling.. Isn't this a good reason to get to make them right now?
The bowls and boxesas well as the cutters and flour sifter used for the elaboration of white chocolate balls of Berlin are of from Tala Cooking
Directions
1. The day before finishing the white chocolate Berliners (or doughnuts or donuts), grease a bowl and reserve separately. Place flour in a bowl of an electric mixer and place the kneading hook. In a separate bowl mix milk with yeast and wait a minute.
2 Pour the milk over flour mixture and add all remaining ingredients, except butter and mix at low speed for 4 minutes. Add the butter in small pieces and slowly, incorporating after each addition before adding the next. Stop the mixer and scrape the sides and bottom of the bowl and release dough hook. Mix for a total of 30 minutes on low speed.
3. Place the dough on a lightly floured surface. Turn left to right, from right to left, then top to bottom and bottom to top forming a 'package' with the seam at the top. Put the package on the bowl with the part of the folds down, cover with foil plastic (I use a shower cap for my masses) and be left to ferment for 1 hour.
4. After this time, repeat the folding process, place it back in the bowl, cover again with the shower cap or plastic wrap, and refrigerate overnight.
5. Meanwhile make the cream You can leave it ready for the next day... Put the milk in a saucepan and heat over medium-low heat until it boils. In a bowl whisk together with rods (I did it with the mixer) the egg yolks with the sugar and the cornstarch until the buds change to a lighter color. Then pour a little hot milk in the bowl and dissolve well.
6. Add more milk little by little moving rods. Then return the mixture to the saucepan and cook over medium-low heat, stirring constantly, until the mixture is thick and you have reached 82 C in a digital thermometer. Remove from heat and add the butter, white chocolate and vanilla paste and beat for a minute or two. Pass through a sieve or strainer so that the cream is fine and let cool down with a piece of plastic wrap directly on the surface to prevent a skin forming and cool completely in the refrigerator.
7. On the following day remove the dough from the refrigerator. Lightly flour the work surface and dough sheeters to a circle of about 28 cm in diameter. With the help of a b or 7 cm round cutter, cut circles of dough. With the cuts again form a ball and start again knead to cut more balls. Final leftovers can be formed into small balls. Cover with plastic wrap click on balls of Berlin (doughnuts or donuts) vanilla cream and place in a warm, moist place for 1 to 1 1/2 hours. I leave it in the oven.
8. After this time, heat the oil in a pan to 180 ° C approximately. Remove the plastic wrap and prepair a plate with a paper towel and have a grid of chilled prepared and a bowl with vanilla sugar.
9. Gently take a donut and put it in the hot oil. Fry the dough for 2 minutes, then turn it over and FRY on the other side for 1 minute, until they have a golden brown color. remove from oil and place on plate with paper towel. then put it on rack to cool for 5 minutes or so, and then pass them through the vanilla sugar. Return to place on rack to cool completely.
10 Put the custard cream in a pastry bag with a round tip Insert the tip into the donut and fill with cream until it begins to come out of the donut. Freshly made they are delicious!
Tips and Tricks
It is best to fry one first and check whether the dough is well cooked inside. If it is not we must leave them a little more time in the frying oil.
You can freeze them once fried
Difficulty: high
Preparation time: 2 hours plus resting time = (3 hours plus over night
Servings: 19 Berliners plus a few balls without filling